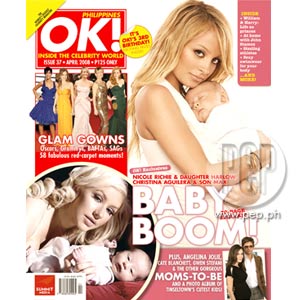 IMAGE 0
---
We wentcrazy when Brad Pitt and Angelina Jolie hooked up. We sympathized with theearly demise of promising young actor Heath Ledger. We shook our heads to BritneySpears and Paris Hilton's crazy antics. Face it: Hollywood's hottestcelebrities are our favorite guilty pleasure!
It is forthis reason that OK! magazine, thebiggest Hollywood title in the world, was launched three years ago in ourshores to cater to the Hollywood-loving Filipino. OK! Philippines has been on the frontline to provide you with thelatest on Hollywood with juicy info, beauty tips, in-depth stories, and fashionfeatures month after month.
ThisApril, OK! celebrates its third anniversaryin the country with another jampacked issue filled with inside scoop on yourfavorite Hollywood stars and royalty! Check out OK!'s exclusive pictures of Hollywood partyphile turned mommy NicoleRichie and baby daughter Harlow, and Grammy winner Christina Aguilera with her unico hijo Max. Plus, we revel in thebeauty of Hollywood's hottest preggies like Cate Blanchett, Gwen Stefani, and AngelinaJolie!
ADVERTISEMENT - CONTINUE READING BELOW
As an addedanniversary treat—OK! is givingaway lots of exciting prizes! So grab your copy of OK!, now available in magazine stands and bookstores for only P125.