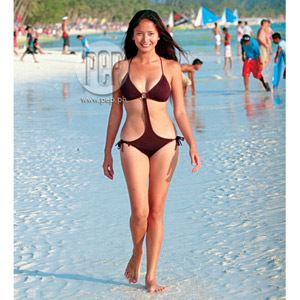 IMAGE 0
---
Boracay is one of the favorite destinations of localcelebrities during summer. The island is famous for its white sandand calm blue waters— perfect for relaxation. Sleepless nights are for party people. After sunset, each station in Boracay has its own event, soinstead of bar hopping, like in Manila, celebs go station hopping to enjoythe night away and forget their workloads for a while.
While these stars enjoy the offerings of Boracay, PEP (Philippine Entertainment Portal) isbusy keeping tabs—where they hang out, what they wear, and what they do on the island. This tradition firststarted in YES! magazine and now continues in PEP.
This year, PEP made its second to trip Boracay togive readers a glimpse of what celebrities do on the island during Holy Week.
But first, here's a list of celebrity beach bums frequently spotted taking a break in Boracay in past years.
ADVERTISEMENT - CONTINUE READING BELOW
Katrina Halili. FHM's Most Sexy Katrina Halili proved that she deserved to be on the cover of the men's magazine twice when YES! and PEP spotted herlast year walking around barefoot and wearing only a brown one-piece bikini. Ona different day, Katrina showed off her curves in her zebra print two-piecebikini.
This week, Katrina finished a photo shoot for her firstcoffee table book. Guess which place she chose for the pictorial.Boracay, of course. In an interview with PEP contributor NelsonCanlas, Katrina related, "Last year ko pa siyang naisip gawin pero ngayon langako nakapag-decide na, 'Sige, ito na yung tamang oras.'"
Polo Ravales. What's the use of being a Cosmopolitan Hunk if Polo Ravales doesn'tshow off his nice abs in public? And whereelse but at the beach.
Polo said he frequents Boracay Island everysummer, particularly during Holy Week. Last year, he was spotted by PEP enjoying a cold drink from Jonah'sFruitshake. He was wearing only shorts,and an mp3 player plugged in his ears—the perfect look for a guy who haschanged from flabby to hunky. A self-confessed gym buff, Polo has every right to gotopless in Boracay.
ADVERTISEMENT - CONTINUE READING BELOW
Keempee de Leon. Keempee de Leon is another avid visitor of Boracay during HolyWeek. He may not be known as hunk actor (his popular character in Bahay Mo Ba 'To? is a gay guy namedHarold), Keempee could still boast masculinity while on the beach.
When PEP spotted him last year, Kempee was wearing the usual men's swimwear,board shorts. In one of our Boracay gallery photos, the caption went, "Keempee walkingalong the fine sand of Boracay in his cargo pants. The comedian was seenhanging out with a bunch of friends at Jonah's."
Ehra and Michelle Madrigal. Sisters Ehra and Michelle Madrigal also get their yearly dose oftanned skin in Boracay.
For three consecutive years, including this year, YES!and PEP saw these two former FHM cover girls flaunting their sexy bodiesalong the beach.
After a short photo shoot with the sisterslast year, Michelle shrieked, "Eto yung suot ko last year!" The younger Madrigal sister suddenly got conscious of her beach wardrobe in previous years.
ADVERTISEMENT - CONTINUE READING BELOW
Meanwhile, Ehra explained to PEP contributor NelsonCanlas why they always go to Boracay during Holy Week. "Karamihan ng friends koand family ko nandito rin [sa Boracay], so dito na kami parati kapag Holy Week."
Wendell Ramos. This Bubble Gang mainstay is also a regular beach bum in Boracay. For several years that YES! had been monitoring the celebritysightings in this popular beach, Wendell was featured in its "BoracayBlast" section every summer.
In 2006, he was seen playing with his junior nicknamedDedell, his son with former wife Jet. Then, last year, the formerCosmopolitan hunk was seen hanging out with his friends.
Bianca King. Thisformer FHM cover girl simply loves the sea because she's a divingenthusiast.
In the two years that she was seen in Boracay, Biancadid not go underwater to see the beauty of its corals and fishes. Instead, she enjoyed tanning herself under the sun, which is the "in" thing during summer, especially formestizas like her.
ADVERTISEMENT - CONTINUE READING BELOW
Paolo Contis. Former child star Paolo Contis is also a self-confessed Boracay beach bum. Every year, this Babangon Ako't DuduruginKita actor never fails to visit the summer paradise. This year, Paolo was with hisgirlfriend Isabel Oli, proving that their relationship is stillgoing strong.
As a gift to his fellow actor, Paoloinvited Mark Herras when he found out that the latter has never been toBoracay.
On another note, Paolo commented on the populationdensity of Boracay during Holy Week. Hetold GMA News, "Kilala ko na yung mga tao dito, e. Kilala ko na yung mga tao, so kahit marami sila, okay lang."
Say Alonzo. The popularex-housemate of Pinoy Big Brother admits that she loves the beach,especially Boracay. Like Paolo, Say isalready at home in Boracay as she knows a few people there.
PEP spotted her last year having a snack while touring some of the island's hot spots. She wasa participant to the Nestea Beach Volleyball Celebrity game.
ADVERTISEMENT - CONTINUE READING BELOW
Viva Hot Babes. FormerViva Hot Babes members Maui Taylor and Gwen Garci are two of thecelebrities who enjoy the nightlife in Boracay.
In summer of 2006, YES! saw Maui dancing sexily witha non-showbiz guy named Yuli. At the time, she was still with Sen. Bong Revilla's son, Bryan.
That same year, Gwen was seen hanging out with her formerboyfriend Andrew Wolfe, although their relationship was already on the rocks. In fact, Gwen told the YES! photographer that Andrew was withanother girl. The photographer reported, "May ibang girl daw si Andrew, pero panay din dikit niya kay Gwen."
Then, in 2007, photographer had a blast in taking photos asGwen gamely posed on the beach. Gwenwas not seen with any guy last year.
Aside from these two sexy ladies, another former Hot Babe,Jaycee Parker, was also spotted in Boracay two years ago with her boyfriendDanilo Barrios.
ADVERTISEMENT - CONTINUE READING BELOW
The Revillas. Boracayis not only for young celebrities who want a break from their hecticshowbiz schedules. The whole family,too, can fight the scorching heat of summer by going to the beach.
This is what the Revillas usually do during Holy Week. Last year, PEP saw the family of senator-actorBong Revilla and wife Lani Mercado having fun on Boracay's white sand.
This year, according to PEP's photographer, fewercelebrities visited Boracay. In the articles of PEP last Holy Week, the celebrities we surveyed preferred tostay home and spend quality time with their families. Others changed their destination because they thoughtBoracay would be crowded.
Nonetheless, PEP still managed to catchsome candid moments of the celebrities in Boracay last Holy Week.