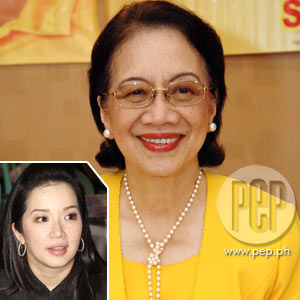 IMAGE 0
---
Kris Aquino's announcement yesterday (March 24) that her mother, formerPhilippine president Corazon Aquino, has colon cancer brought a lot ofsupport from well-wishersall over the country.
Members of the Aquino family are also aware of thenumerous well-wishers and that Cory herself smiled when she was told aboutthis. Before reading her statement, Kris reportedly promised her mother thatshe would not cry.
Truly, the strength and steadfastness of a daughterannouncing to the whole country that her mother has colon cancer may have inspired the public to hope, pray and recall the formerpresident's role in restoring democracy after martial law.
CHEMOTHERAPY. Kris noted this multitude of supportfrom the public by informing them her mother would start her chemotherapysessions today (Tuesday). Senator Benigno "Noynoy" Aquino Jr. also said thathis mother would start chemo in a "mild, continuous dose," and may eventuallyhave to undergo surgery.
ADVERTISEMENT - CONTINUE READING BELOW
Noynoy and Kris declined, however, to say at what stage theirmother's condition is. Kris only revealed that the "actual confirmation" of Cory's diagnosis came last Wednesday, March 19.
THE PEOPLE POWER OF PRAYER. Believing in the power ofprayer, Kris said that her family decided on telling the public about Cory'scondition in the hopes of getting every Filipino to pray for the formerpresident. When asked if her mother would fight, Kris said that her motherwould not falter in her faith.
"When she found out, she said, 'Is that so? Well, then Godwill take care of me,'" Kris said about the moment her mother found out she had cancer.
A devout Catholic,Cory had always been known to turn to her faith in God, saying,"Everything is according to His will."