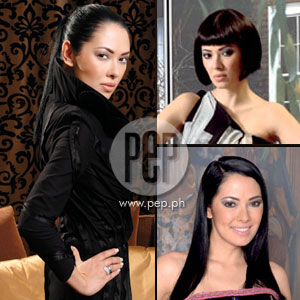 IMAGE 0
---
Ruffa was born to one of the royal couples of showbiz, Eddie Gutierrez and Annabelle Rama. As the only girl in a large brood of eight, she was unavoidably daddy's girl, and she admittedly grew up a spoiled brat. At 14, after spending her growing-up years in the United States, she came home to Manila to join show business.

Equipped with good looks, a charming personality, and obvious intelligence, she was warmly embraced by the showbiz world. By the time she was in her early twenties, she had earned enough to buy real-estate property in a posh neighborhood in Beverly Hills in Los Angeles, California.

Stardom became her stepping stone toward the attainment of her childhood dream-to become a beauty queen. In 1993, she was crowned Binibining Pilipinas-World. Representing our country in the Miss World Pageant in South Africa that same year, she brought home the title of Miss World Second Princess.
ADVERTISEMENT - CONTINUE READING BELOW

In the course of her travels, she caught the attention of a young, handsome, and rich Turkish gentleman named Yilmaz Bektas. He married her in 2003 in a lavish wedding ceremony in Manila; took her vacationing to London, Paris, the South of France, and the Maldives; and fathered her two lovely little angels, who can now speak three languages: English, Turkish, and a little Filipino.

At press time, after spending more than a month in Manila, Ruffa was back in the arms of Yilmaz. They were set to tour Barcelona, Spain, where they and their two daughters are relocating soon from Istanbul, Turkey.
"Magre-rent muna kami ng condo for a month before we go looking for a place to stay for a long time," Ruffa says in the YES! interview almost a month before her April 1 return to Istanbul. "Kasi, you can't find the place that you really want to stay in na overnight, di ba? It takes time. But it's gonna be so much fun!"
ADVERTISEMENT - CONTINUE READING BELOW

If that's not a charmed life, then we don't know what is.
THE WORKING GIRL. Although 75 percent of her life is spent in Istanbul and in the other parts of the world where Yilmaz takes her, Ruffa makes sure that the remaining 25 percent is still spent in Manila. Since late last year, she has been coming home more often.

And not just that. She has been keeping herself busy—hosting, acting, doing commercials and magazine shoots. In fact, her most recent Manila sojourn was for the taping of Philippines' Next Top Model, the local version of Tyra Banks's America's Next Top Model. Ruffa hosts the franchise show, which premiered on March 13 on RPN-9 and airs every Tuesday at 8:30 p.m.
Ruffa says that Yilmaz, after four years of marriage, has already loosened up about her going back to work.

"He's really changed a lot," says Ruffa. "I mean for him to even, like, send me here? For the first three years of our marriage, hindi talaga. And I really devoted naman my time to my family. So, siguro he trusts me more na rin talaga."
ADVERTISEMENT - CONTINUE READING BELOW

But this does not mean that Yilmaz has stopped being the jealous guy that he is.

"Nagseselos pa din siya, ha?" she laughs. "Hindi na mawawala daw 'yon. He said until I'm not 60 daw, he's gonna be selos with me. 'Sweety, by 60, I'll be menopause...' Pero ganoon daw talaga 'yon pag love, di ba? I don't know. Kasi ako, nagseselos din ako sa kanya. Hindi mawawala 'yon."

Still, Yilmaz's jealous fits are no longer as frequent as they were in the past.
"Before we got married, ay, nako, all the time. But now, it depends on Yilmaz's mood. I remember one time, we were in a charity function in Istanbul and this one kalbo guy kept looking at me—as in, talagang tingin siya nang tingin. Hindi naman siya nambabastos. Actually, he was the husband of one of my good friends, and he just kept looking at me, talking to me, and siyempre kailangan I talk back, pero one sentence lang, kasi nininerbiyos nga ako, because nasa tabi ko si Yilmaz.
ADVERTISEMENT - CONTINUE READING BELOW

"You know, he didn't get selos. Kasi, he said, 'You know what, it's not about the other person when he talks to you, it's about you, on how you look at him.' So siguro he knows that the guy was kalbo and I don't even care, di ba? He's old na, so talagang when I look at him, blank stare lang.

"Sabi ni Yilmaz, 'I saw your eyes, and they didn't sparkle.' So, bakit daw siya magseselos?"

Laughing, she adds: "So, when I look at people, talagang laging blank stare. Hoy, in fairness, ha, I don't even look at real guys anymore. I surround myself with girls and gays na lang."

Ruffa says she deserves his trust.

"May sinabi siya sa akin before na, 'You know, it's not important what you do when you are in front of me, but what you do when you are far away from me.' Sabi ko, 'Sweety, I protect our family name, 'no!'
ADVERTISEMENT - CONTINUE READING BELOW

"I'm honest naman with him, 'no! I tell him everything. 'Tsaka, hoy, in fairness naman sa akin, hello, ang bait-bait ko nga, 'no! I don't even go out at night, 'no! I'm home by seven [p.m.] unless I'm working, di ba?

"Ilang beses na akong ini-invite sa mga party-party, birthdays. Sabi ko, unless it's lunch, I can't go. Kasi si Yilmaz, pag gabi, medyo ano na 'yon, he gets worried and he gets nervous."

But why work, we ask, when other women would probably kill just to have a taste of her easy life?

"Well, you know, they always say that acting is in the blood," she asserts. "Like, even Susan Roces, she's been gone for so long, she got married, but she'd come back once in a while."

The public may find this hard to believe, but there are still a lot of women out there who, like Ruffa, will work for a sense of fulfillment. Money comes in only second.
ADVERTISEMENT - CONTINUE READING BELOW

"Magkano lang ba'ng bayad sa akin sa taping, ha? Kulang pa sa isang bag ko 'yon, 'no? Minus the 30 percent pa ng manager ko, hellooo! You know, all my staff, I have to pay for their plane tickets. It's really like abonado talaga ako.

"Like doing the Philippines' Next Top Model. I was living in Turkey when they offered that to me, when Tito Wilson [Tieng, the franchisee] called my mom and dad, and they said that, 'We really like Ruffa for the role.' I told Yilmaz nga: 'See, Sweety, I'm still getting offers even if I'm living here in Turkey.'

"And you know, parang it gives me a voice also at home na I can be a homemaker and, at the same time, I can be a working girl. As long as I keep my family first, di ba? I just want to continue doing the things that I love doing because it gives me the chance to be a better person, a better wife, and a better mom."
ADVERTISEMENT - CONTINUE READING BELOW

Besides, working and having a sense of purpose, she says, keep any woman sane.

"If I'm always at home naman and I'm bored, baka I'd end up, like, doing a luka-luka thing. Siyempre, a woman who is bored is like a nagging woman. Baka ina-nag ko si Yilmaz every minute when he is working and I'm like, 'Where are you? Da-da-da-da...' You become masungit, you look older."
Ruffa also credits Yilmaz for another thing.

"My husband is still the breadwinner, definitely. And you know, he doesn't even ask how much I make. He doesn't even take one single penny from whatever project I make.

"You know, he just wants me to be happy. That's why he allows me. But that's as long as the project is something that he believes in."
But she also credits herself.

"I make sure na hindi ko naman sila napapabayaan. Like, I'd be spending time with them ulit. I want to stay there in Istanbul naman. You know, be with my husband—until I have to come back to Manila in June for the finals of the Philippines' Next Top Model."

JETSETTERS. Ruffa's work in Manila has benefited her daughters—Lorîn, 3, and Venice, 2—who are now among the country's newest celebrity endorsers. It also favors their Lola Annabelle, whose daily prayers start with: "Sana dito na lang tumira si Ruffa at ang mga apo ko."
ADVERTISEMENT - CONTINUE READING BELOW

The kids usually travel with Ruffa. During her recent visit to the Philippines, she arrived alone, and when Lorîn and Venice followed weeks later, they had to travel with their nannies.

"Sasama dapat 'yong isang driver-security sa kanila. The problem is, this guy can't speak English. So, what's the point naman na sumama pa siya? Pampasikip lang siya sa eroplano, 'no, e, fully booked nga 'yong plane? Emirates Airlines is always booked, like, you can hardly get a chair. It takes, like, one week to get booked.

"'Thank God, kilala namin 'yong ibang flight attendants ng Emirates. 'Tsaka may kakilala ako sa Dubai [the stopover between Istanbul and Manila], so inasikaso talaga sila."

Still, Ruffa couldn't help getting nervous.

"My gosh, hindi ako nakatulog that day—thank God, the next day, when I had taping, hindi halata sa mata ko—because every minute my mother-in-law would call, my sister-in-law would call, Yilmaz would call. Tumatawag din ako sa contact namin sa Dubai. And then finally when they landed in Dubai, I asked what happened.
ADVERTISEMENT - CONTINUE READING BELOW

"As soon as they got on the plane, natulog na daw 'yong dalawang bagets, and they woke up na lang pagdating nila sa Dubai. Two hours sila doon. Naglakad-lakad sila sa lounge. And then si Venice daw, bibong-bibo. Kaway daw nang kaway na parang Miss Philippines. Si Lorîn daw, nago-observe lang, quiet lang.

"And then ang daming gustong magpa-pictures. So, sabi noong friend namin na from Emirates, 'You know, hindi ko naman anak sila, baka naman ma-offend si Ms. Ruffa and Mr. Yilmaz, 'wag n'yo namang kunan, kasi ako ang responsible at this point.' Pero hindi naman sila naging madamot sa pagtsika-tsika sa mga kababayan nating Pinoy."

Since Lorîn and Venice are always with Ruffa, they, too, have received job offers. On an earlier trip this year, they did a TV commercial for Nido Fortified Milk. But first there was a hurdle they had to overcome—Yilmaz. While he's okay with the idea of his wife working, it's a different story with his little girls.
ADVERTISEMENT - CONTINUE READING BELOW

"My God, it took me like two months to convince him, 'no! At first, he said yes, and then he goes, 'Yeah, okay, you can do it, but just don't use the kids. Use other kids.'

"Puwede ba 'yon? So, sabi ko, 'Who am I gonna use?'

"He'd say: 'There's so many kids in the Philippines.'

"'Sweety, it's an endorsement, you know. It's got to be me and my own blood.'

"Then he goes, 'I'll ask my dad and if he says yes, then I say yes.'

"So, siyempre, my God, sa pamilya nila, wala namang nagkokome-commercial 'tsaka movies, 'no? Gusto kong sabihin na, 'You know what, it's not even gonna be shown in Turkey, it's gonna be shown a million miles away, so wala kayong kamag-anak na makakapanood noon.'
"So I told my father-in-law and he's like, 'Well, what's the product?' Sabi ko, Nestlé. Aba, e, Nestlé, meron din noon sa Turkey. Sikat si Nestlé, 'no. So, pumayag siya-silang dalawa ng mother-in-law ko.
"So, sabi ko kay Yilmaz, 'Beee!'
ADVERTISEMENT - CONTINUE READING BELOW

"'Tsaka, sabi ko, 'Sweety, you know, endorsements are better because, first of all, they're not gonna get you if they don't believe in you. They'd spend millions and millions of pesos for the ads. If they're gonna get you, then you should be proud.' Siyempre, wala lang. Hindi lang siya umiimik."
Ruffa says Yilmaz has already seen his girls' first TV commercial, where they co-star with their mom as well as with Marjorie Barretto and Marjorie's own kids. Ruffa brought a recorded copy of the commercial to Istanbul and showed it to Yilmaz.

"Tuwang-tuwa siya!" she laughs. "You know what, para siyang naiiyak."

ENDORSEMENTS. Ruffa seems to be getting her second wind in the product-endorsement arena. After she did the Pantene shampoo commercial with friends Gretchen Barretto, Dawn Zulueta, and Angel Aquino, she received a lot of inquiries.
"But you know naman, the inquiries, minsan, hindi natutuloy either dahil sa schedule, sa budget, or hindi na ikaw ang napili na final."
ADVERTISEMENT - CONTINUE READING BELOW

Ruffa says that Jun Lalin, the Gutierrez family friend and publicist, has been kidding her: "Ay, mas mataas ang offer ng Mommy mo kesa sa 'yo."
Says Ruffa: "Nagre-react na ako dahil, di ba, sa Calayan billboard, mas malaki ang face ni Mommy kesa sa akin? Does that mean that she's more effective as an endorser kesa sa akin?"

Ruffa is also surprised by the popularity of Lorîn and Venice. The kids have been getting more offers to do kiddie-product endorsements.

"Ay, Diyos ko, ang dami na nga naming offers. Hindi ko muna ikukuwento, ano? Baka maudlot. Malakas pala ang Nido, 'no? After that kasi, parang, wow, sunod-sunod na ang mga inquiries."

Ruffa admits to getting jittery during the actual shoot for the Nido commercial.

"Noong una, nakaka-worry. They were telling me, 'Ruffs, you know, you better be prepared, kasi there are days na talagang pag ayaw mag-shooting ng bata...'
ADVERTISEMENT - CONTINUE READING BELOW

"Siyempre, hindi mo naman sila puwedeng pilitin. Nakabantay 'yong mga taga-DOLE [Department of Labor and Employment] doon, which I appreciate, and I think that's really good. Kasi, at least hindi napapagod 'yong mga bata. You know, they have these really strong laws now for children."
So what actually happened during the commercial shoot?

"That choo-choo train scene, akala mo five seconds lang? That took two days to shoot! Kaming mga nanay, on the first day, hindi kami kasali ni Marj. It was just the four kids. And minsan, may ugali 'yong mga bata, kapag nandoon ako, umaarte—in the sense na ayaw nilang umarte... 'Mommy, Mommy, Mommy...'

"So, it's better that the baby handlers will take care of them, and they don't see me para they do their own thing. Kunyari, nasa playgroup lang sila or nasa school. They just probably thought that they were just playing.

"'Tsaka, kailangan may bribe. If they do well, kailangan nakahanda na 'yong mga toys. Ang nagbigay ng tip na 'yon, si Charlene [Gonzalez]. Kasi, di ba, they're always in commercials.
ADVERTISEMENT - CONTINUE READING BELOW

"Sabi ko, 'Oh, you better smile.' E, sabi noong director namin, si Venice only has two faces—isang angry face, or the super-happy face. So, we say, 'Super-happy face! I'll buy you guys toys.' Alam mo, 'yong budget na 'binigay nila sa akin, naubos na sa toys, ha! Pati 'yong kuwarto namin, punong-puno na ng toys.

"Pero they deserve it naman, 'no, kasi siyempre kailangan pag nag-promise ka, dapat you have to fulfill that promise."

If there's one good thing that the kids learned during the shooting for that milk commercial, it's this: "Lorin pa naman and si Venice, they're not sanay pa to drink from the glass. Since we did the commercial, they now drink na from the glass. So, during the day they drink from the glass, and then at night puwede pa silang magdede. It was so galing because it's a fun experience."

AN INTERNATIONAL MOVIE. Before she started coming home more frequently to work, Ruffa was also involved in their own family business in Turkey. In 2005, Yilmaz was able to acquire the franchise of a television channel, Fashion TV-Turkey. Ruffa took over as its president and, subsequently, as the editor-in-chief of its magazine supplement.
ADVERTISEMENT - CONTINUE READING BELOW

But the Bektases sold Fashion TV in late 2006. That was the time when she and Yilmaz began planning to relocate to Spain, where he wants to establish businesses.

Ruffa was hesitant to sell the franchise. But Yilmaz was able to convince her that businesses are run that way. Echoing her husband's words, Ruffa tells us:
"You know, with Fashion TV and with any other business, you shouldn't get married to the business. You know if there's an offer that comes along and it would be good for the company, then you should, like, follow your instincts and go with the flow.

"So, bale one year ko lang siyang nahawakan. What's good about it is, we got our investment back, plus we made money pa from the sale. We sold it to the Sabanghis in Turkey. They're like the Zobels, the Cojuangcos, ganoon. Okey naman. I was sad and I was just, like, 'Sweety, but it's my baby...'
ADVERTISEMENT - CONTINUE READING BELOW

"But we can't naman take care of it if we're not living in Turkey, di ba? Kaya move on, find different things. Ganyan naman talaga, e."

Nevertheless, it seems that Turkey, like Manila, is always beckoning to Ruffa. While still in Manila, Ruffa got a phone call from Yilmaz, who told him that a Turkish director had expressed an interest in giving her a role in his forthcoming movie.

"May offer na rin ako to do a Turkish movie, ha!" says Ruffa, excitedly. "Two months na daw nila akong hinahanap. They need a girl that's a foreigner daw. Basta 'yon ang role, e, foreign girl. So, I don't have to speak Turkish, I have to speak English. And the director is one of the award-winning directors from this movie called Baba ve Olum—that means 'Father and Son.' And it's the second topgrossing film in Turkey. It's done by a really respectable director.
ADVERTISEMENT - CONTINUE READING BELOW

"So, parang when it was offered to us, Yilmaz was, like, parang, wow! Kasi, for this guy to even offer Yilmaz, 'Hi, we want your wife to do a movie here in Turkey.' So, parang, hello, matakot na siya, 'no.
"Sabi ko kay Yilmaz, 'Sweety, that's your country, that's your territory. It's up to you if you're gonna accept it for me or not. But the first thing we should do is look at the role.'

"Sabi ni Yilmaz sa kanila, 'Okay, you know what, get back to me and we wanna see the scenario, we wanna see what the role is.' So, we're waiting for the script."


THE FASHIONISTA LIFE. Ruffa's life requires that she be good-looking at all times, that she be on guard when it comes to weight and diet, and that she be knowledgeable about what's hot and what's not on the fashion scene. As host of Philippines' Next Top Model, she needs all the more to immerse herself in the fast-changing fashion-and-beauty scene.
ADVERTISEMENT - CONTINUE READING BELOW

It's not as easy it sounds. Fortunately for Ruffa, it's not just a job: it's fun. Being a fashionista, for instance, means shopping. And shopping is second nature to her.

"I love shopping! It's a girly thing. I shop whenever I'm free. I used to buy by the bulk—but that's when I was still single. Dati, alam mo naman, siyempre you're the only girl in the family, you're spoiled, you're used to having your own way.

"When I was still single, I'm telling you, I shopped like crazy. Like, whatever it was that I wanted, I would make sure talaga to work hard to be able to get that certain item. Because I was living and taking care only of myself.
"Plus, I was in showbiz. You know naman in showbiz, you always have to be, like, fashion forward and always have the first things first. You wanna have stuff that others don't have, kasi showbiz is not about living simply. It's about your clothes, being glamorous. So I used to be like that."
ADVERTISEMENT - CONTINUE READING BELOW

Things took a different turn when she became a mother.

"Now that I have kids, it's so different. Every time I go to the mall, I always end up going to the kids' section first. Ang baduy ko nga, e. I think that's just the way it is. You can ask other moms out there. Ngayon, hindi na ako masyadong nagi-splurge. I really, really try to limit my shopping sprees, because I know I have two little girls."

Suddenly, Mommy Ruffa is philosophizing.

"Right now, thank God na we're blessed that we can take care of them. Pero hindi mo alam ang kinabukasan. Umiikot ang mundo. So, even if I wanna buy something—for example, I wanna spend on creams or something-ang mismong Mommy ko na ang nagsasabi na, 'Ruffa, ang mahal-mahal niyan. Maawa ka naman.'"

Ruffa quickly rationalizes one thing.

"But okey pa rin talaga to spend on your mga hilig, like shoes, bags-because those are things that you can really pass on to your daughters. And these are things na talagang, kumbaga, 'yon 'yong hilig ko, e."
ADVERTISEMENT - CONTINUE READING BELOW

If she had her way, or time to spare, she would continue going to the malls or boutiques and personally checking on things. But since she's been doing a lot of traveling, time is a luxury she can ill afford.

Sometimes, she says, she has no choice but to shop via the Internet. However, this has its limitations and disadvantages.

"Usually, what I buy on the Internet are just, like, bags and shoes. Kasi, tingnan mo, nag-order ako ng blouse from the Internet, pina-deliver ko sa bahay namin. Siyempre, alam ko, size large ako. 'Tapos, my God, dumating sobrang laki. Ano'ng gagawin ko diyan? Sabi ko, 'Ma, sa 'yo na 'yang blouse.'
"So, kailangan, pag clothes, I'd really try them on, kasi this may be nice sa pictures or sa Internet, pero pag dumating na 'yon, hindi na maganda."
Her mode of shopping also depends on which part of the world she's in. In Turkey and Los Angeles, for instance, she gets assistance from people known as personal or professional shoppers.
ADVERTISEMENT - CONTINUE READING BELOW

"Sa States kasi, the stores there naman, once you're already a suki, you already have a professional shopper. So, when you buy clothes, you go to the same person. So that person will pili for you. Kunwari, I want something, I'd go to the guy—the guy that always helps me out—and then he'll tell me what's the latest.

"That's the stuff that he sends me through my mom if I'm not in the States. I guess it's normal if you're a regular client in the States. They'll give you what's the latest item, those that are in the must-haves, or the hot items.
"In Turkey naman, what they do is they bring the items to the house. If there's a new collection, they bring it to the house, and then I choose, I fit the clothes, they bring it back, and then they deliver na lang 'yong napili mo.
ADVERTISEMENT - CONTINUE READING BELOW
"But in Manila, actually I really like going to the mall more and picking my own stuff. It depends on where I am."

Her fashion sense and mood are also dependent on the country she's in.
"L.A. is so laid-back. You know, people walk around in slippers and flip-flops. But in Turkey, everybody is talagang naka-designer from head to toe. Patalbugan, todo makeup. I mean, you see the people, like, walking in the street na, from head to toe, all made up, and they're in stilettos. And I'm like, 'How could you walk in stilettos in these cobbled streets?'

"Ay, wala akong pakialam. I wear tsinelas—pero cute tsinelas naman. Comfort is still more important. And also, siyempre those girls naman, hindi naman sila in showbiz. They wear their nice clothes just having lunch, going out.
"Hindi ko pa nare-research what's the in look for Spain, because hindi pa naman kami nagbe-base doon."
ADVERTISEMENT - CONTINUE READING BELOW

For the local scene, Ruffa is currently going through an experimental stage.
"I mix and match now, for a younger look. So, sa mga baguhang designers... I was just at Ivar Aseron's boutique, and I'd been hearing his name a lot. When I saw his work, I was amazed because..."

Turning to everyone within hearing distance, she asks: "Don't you love Ivar's clothes?"

She goes on: "They're very edgy. They're funky, they're high fashion. The details are very New York. You know, I would buy his clothes if I were, like, in the States and I just saw it there."

She also seeks the advice of her younger siblings whenever she feels like going for the youngish look.

"They are more fashion forward than I am, especially Raymond. He likes getting dressed, and he knows about fashion. He's creative. Actually, the same with Richard. I also value their opinion, kasi 'yon 'yong mga young blood ngayon, di ba? Why will I ask naman the opinion of a 40-year-old?"
Of course, Ruffa still goes to the masters and to her old-time favorites.
ADVERTISEMENT - CONTINUE READING BELOW

"For super-bonggang occasions, I usually go to Inno Sotto because, number one, I love him. Number two, every time I wear his clothes, no one's ever said one single bad thing about me. I always have good reviews, and iba talaga pag si Inno. So, for my bongga stuff, I go to him. And for other parties and events, I go to Rajo Laurel, lately si Randy Ortiz. Joey Samson naman, once pa lang, but I also like him. I like the outfit he made for me. Actually, puring-puri ng lahat."


BEHIND THE TIMES. Being a fashionista these days also means being in tune with the latest technological gadgets—mobile phones, digital cameras, iPods, and toys. Here, Ruffa is admittedly a bit behind the times.

"Alam mo, three months na akong may iPod, the latest model pa, pero until now, ni wala pang isang song."

Then she asks no one in particular: "Can somebody help me with my iPod? Guys, download some stuff naman in my poor iPod. Baka hindi na siya uso by the time I use it, 'no?"
ADVERTISEMENT - CONTINUE READING BELOW

However, she does know how to use her laptop and how to access the Internet.

"Napaka-backward ko naman if I don't. When I moved to Istanbul, mas naging friend ko 'yong computer, because I keep in touch with my friends on the Internet. Unlike ten years ago—it was just, like, phone calls and fax. I remember when I was in the Miss World pageant, my mom would send me fax messages all the time."

These days, her mobile phone and her laptop are on top of her can't-live-without list.

"Siyempre, kasi kapag tumatawag si Yilmaz, kailangan laging naka-on ang phone at all times. But I also can't live without my sunblock. Siyempre, you have to take care of your skin. And then, Ruffa's lip plumper. It's one of the products in my own cosmetic line. It's actually called Ruffa's Perfect Pout."
(Ruffa will also be coming out with her own perfume, Scent of a Woman, and colognes, which will go by the names Verry Berry, Pepper Minty, and Oohlala Cola.)
ADVERTISEMENT - CONTINUE READING BELOW

One fashionista must is to be in perfect shape all the time. This, Ruffa admits, is the area where she lacks discipline.

"Especially if I'm here in the Philippines. Kasi ang sarap ng pagkain."
In Istanbul, the Bektas home is equipped with its own gym, but its lady resident has not been using it.

"Hindi ako magsisinungaling—hindi talaga ako nage-exercise. Instead, nagbabasa ako ng magazines. There was a time na-ban ni Yilmaz ang mga magazines sa bahay namin, and he bought me all these books na talagang political books. So, siyempre, parang I read it for, like, a day lang. I like biographies more, life stories of people, and mysteries.

"Pero, siyempre, mas sa magazines ako. The magazines that I love are People, In Style, Vogue, Bazaar. Every time I go home, I have this much magazine load, and my husband's like, 'You don't wanna read about politics and yet you read about all these showbiz things.'
ADVERTISEMENT - CONTINUE READING BELOW

"And siyempre, lahat ng cousins niya na mga 17, 18 years old, lahat nagbabasa na rin ng fashion magazines. Kasalanan ko daw lahat. So, there was a time talaga na banned ang magazines at home."

Doing her own face is another fashionista skill she has yet to improve on.
"Basic lang alam ko," she admits. "I know how to do everyday makeup. But me, when I go out, I just put lip gloss. Not even mascara. Gloss and sunblock are my everyday staples."

If there's one area in beauty and fashion that Ruffa tends to favor a lot, it's jewelry. She shares this interest with her mom. Come to think of it, she acquired the fondness for jewelry from her mom. And they share what they have.

"Naghihiraman kami, but usually kasi, di ba, si Mommy, minsan she's like Mr. T-para siyang hip-hop star. She likes all the big, chunky stuff, which, now, I'm beginning to like, because that's what's in daw ngayon in fashion. 'Tsaka nasanay din ako sa malalaki. Kasi, di ba, when I used to be a beauty queen-in those times, malalaking bling-bling earrings, naka-crown pa, naka-necklace na talagang pang-beauty-queen."
ADVERTISEMENT - CONTINUE READING BELOW

(For those too young to remember, Mr. T was one of the action stars of the TV series The A-Team. He was famed for his glittery bling-blings. He recently reinvented himself as a rapper.)

Working with young stylists on her Philippines' Next Top Model show opened Ruffa's eyes to a different fashion philosophy—less is more.
"Usually ang mga models, mas minimalist. So, gusto ng aking mga fashionista friends and stylists na maging ano ako, minimalist. Like, pag nakapusod ako, at may necklace, ayaw nila ng may earrings. OA na daw. Sinusunod ko naman sila, behaved naman ako."

At this stage, her daughters have yet to show signs of being fond of jewelry.
"Nako, ever since binutasan 'yong tenga nila, parang they don't like changing na their teeny-weeny earrings. Ayaw nilang tanggalin, kasi feeling nila masakit."


PRIZED POSSESSIONS. Since she has said quite a lot about fashion and beauty, you might be led to believe that Ruffa would point to her jewelry, or to her brand-name goods, when asked to name her most valuable possessions.
ADVERTISEMENT - CONTINUE READING BELOW

But no. When it comes to that, she becomes an ordinary mortal who's happy with the simplest things life has to offer. In her case...

"My photo albums! My photographs!" she says, almost shrieking. "I love taking photos, because they remind me of those moments na sometimes you forget, but if you look at the photo, you will remember that special moment?
"I have so many albums. And I always bring a camera with me everywhere, because I always wanna take a picture of that certain expression or moment—especially photos of my kids now, kasi, you know, it's all about their growing-up moments."

Pictures, she says, bring her back in time.

"You know I have pictures of, like, friends! And my God, I've been friends pa with all these showbiz people since nineteen-kopong-kopong pa, like 15 years ago. I have pictures of Vina Morales, Donita Rose, Gretchen Barretto, Dawn Zulueta...
ADVERTISEMENT - CONTINUE READING BELOW

"There's one, like, I think that was taken 1992 pa. Nag-retreat kami sa Antipolo. Dawn was going through some problems noon, and siyempre baby pa lang ako noon, 'no? Mga ate-ate ko sila. Those were the days."

At the end of the day, when the make-up is gone and the designer gown has been taken off, Ruffa lies down and thinks about her greatest achievement in life. It's not the beauty-queen crown, not the accolades for a hosting or acting job well done, and definitely not the money she earned for a hard day's work.

With her dimples showing, she smiles and says:

"My biggest achievement is actually being a mom."