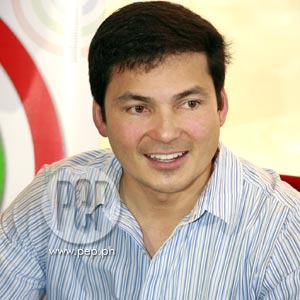 IMAGE 0
---
When former matinee idol, Gabby Concepcion, came back to thePhilippines last March 30, he immediately created a buzz in the entertainment industry where he used to work before he left for the States in1995.
On that Sunday, the two rival showbiz talk shows, Showbiz Central andThe Buzz, had their own coverage of Gabby's comeback. While Showbiz Central presented theirtaped interview during his arrival at the airport, The Buzz had Gabby in a live interview.
Avid fans were glued to their TV sets and as they listened toGabby's interviews, they reminisced the "kilig" moments in romantic films with his former love team andwife, Sharon Cuneta.
Gabby will do some projects duringhis short or long stay here. He has been ambiguous about its duration. Be that as it may, let's recall his earlier days in showbiz. Does his comeback mean he'll pick up his career from where he left off? Or will we be surprised to see a totally new Gabby Concepcion?

ADVERTISEMENT - CONTINUE READING BELOW
MATINEE IDOL. In the early '80s, Gabby Concepcion, or Gabriel Concepcion in real life,captured the hearts of Filipino lasses in a Close Up commercial, which led to his launching as an actor when Mother Lily Monteverde included him in her roster of Regal Babies—along with MaricelSoriano, Dina Bonnevie, Snooky Serna, and Albert Martinez.
Gabby was part of what they used to call the Big Three. Richard Gomez and AgaMuhlach, and Gabby Concepcion were called the matinee idols of theirgeneration. He was an effective leadingman in movies that tackled teenage life, like Underage (1980) and Katorse (1980),where he worked with fellow Regal Babies, who are now among the most respectedactresses in showbiz—Dina Bonnevie and Maricel Soriano.
His mestizo looks drew more attention from the girls when hewas paired with then teenybopper Sharon Cuneta. The ladies fell in love with this greatesttandem during the '80s in their movies, P.S I Love You (1981), DearHeart (1981), and My Only Love (1982), which was adapted fortelevision in GMA-7's Sine Serye last year.
ADVERTISEMENT - CONTINUE READING BELOW
From their reel relationship, Gabby and Sharon developed a real-life relationship that was solemnized in a church wedding on September 23, 1984.
However, even before this marriage Gabby also worked withanother teen actress, Janice de Belen, who admitted that she fell in love with heronscreen partner. The two workedtogether in the movies, Puppy Love (1982) and Always in myHeart (1983).

Of course, his "matinee idol" title would not be complete ifhe did not work with the veteran actresses like the Star for All Seasons VilmaSantos and the Superstar Nora Aunor. In fact, his movie with Vilma titled SinungalingMong Puso earned him a Best Supporting Actor award from FAMAS in 1992and a nomination under the same category in the 1993 Gawad Urian.
The awards proved that Gabby was not just for teenybopper roles, healso showed his potential as a good dramatic actor. He did very well as a serious actor in Naritoang Puso Ko with Lorna Tolentino, winning a Best Actor Award from GawadUrian in 1993.
ADVERTISEMENT - CONTINUE READING BELOW
He also did dramatic acting in Una Kang Naging Akin (1991), a movie with Sharon. By that time, they had already separated.
CASANOVA. Gabby'simage as a matinee idol spilled over to his reallife. Aside from his widely known relationship with Sharon and his reported affair with Janice, Gabby also hooked up with and sired the daughters of Grace Ibuna and JennySyquia.
Gabby's fairy-tale relationship with Sharon did not lastlong despite having a daughter named Maria Kristina Cassandra or KC, who is now23 years old. A monthbefore their third wedding anniversary, Gabby and Sharon were legally separated. Their marriage wasdeclared null and void on November 10, 1993.
After this short-lived marriage, Gabby had an affair withGrace Ibuna, with whom he had her second daughter named Gabrielle Ibuna, who isnow 19 years old.
Then, according to reports, before his marriage with Sharonwas nullified, Gabby was said to have married then 25-year-old model JennySyquia. She was the mother of Gabby'sthird daughter, Helena Cloie. Again,this did not last long as Gabby again made showbiz headlines when they separated in 1995. Jenny is now living quietly with her Swede husband Philip Skarne.
ADVERTISEMENT - CONTINUE READING BELOW
During the 1994 Metro Manila Film Festival, Gabby met hiscurrent wife, Genevieve Yatco Gonzales. She recently gave birth to Gabby's fourth daughter named SamanthaAlexis. Recent reports say Genevieve and Samantha are coming over soon to visit Gabby.
There were also rumors that Gabby married a certain Jenny Martin after Sharon and Jenny Syquia. That would make Genevieve the fourth woman married to Gabby.
UNFORGETTABLE SCAM. Gabby was not much affected by the intrigues about hismarriages. However, there was one issuethat made Gabby abandon the industry he had learned to love—the 1994 Metro Manila Film Festival (MMFF) scam. He and actress Ruffa Gutierrez were wrongfully given actingawards. The real winners were Edu Manzano and Aiko Melendez.
Investigation revealed that the award presenters— Viveka Babajee (MissMauritius) and Rocky Gutierrez, Ruffa's younger brother—conspired to switch envelopes containing the real winners' names with the otherenvelopes that were allegedly prepared by Lolit Solis, then Gabby's manager. The fake envelopes containedGabby's and Ruffa's names. Later, Gabby himself named talent manager Lolit as themastermind of the scam.
ADVERTISEMENT - CONTINUE READING BELOW
AMERICAN DREAM. A year after thescam, Gabby left for the States to "start a new life," as he said in his interviewwith The Buzz last Sunday, March 30.
In the U.S., according YES! magazine's October 2004issue, Gabby started his life from scratch—he started a new career by goingback to school. He graduated from Lincold University in San Francisco. Afterwards, he was hired as a purchasingagent for GAP, Fisher Development.
Eventually, Gabby studied real estate for a year tobecome a licensed realtor in California. In an interview with YES! Editor-in-Chief Jo-Ann Maglipon in 2004, Gabby remarked, "Oh,well, that's the only way to go here in America. You have to do something to stay alive. So, from scratch talaga. No showbiz influence, nothing, just startedfrom the beginning."
For 13 years Gabby apparently lived a normal andpeaceful life in the U.S. But now the former matinee idol seems ready to face the glam and glare of showbiz once again.
ADVERTISEMENT - CONTINUE READING BELOW
Projects have been immediately lined up for him by ABS-CBN, where he inked a two-year contract with the network andwith Star Cinema. This, after he backed out of a movie with GMA Films.
After all the ado he created upon his arrival, will the moviegoers and TV audiences welcome him with open arms and support him all the way to his next acting award?