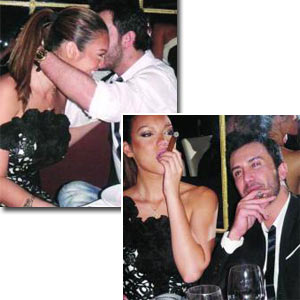 IMAGE 0
---
PEP (Philippine Entertainment Portal) came out with a storylast Saturday, March 29, about the affair of Turkish businessman Yilmaz Bektasand 2006 Miss Universe Zuleyka Rivera Mendoza. Yilmaz, of course, is theestranged husband of TV host-actress Ruffa Gutierrez, who became Miss World Second Runner-up in 1993. Ruffa's name was also mentioned in the article.
PEP's report was based on a story that came out in Hurriyet,a Turkish publication, last week. (Click here to read PEP's story.)
Written in Turkish, the Hurriyet article talked about Yilmazchartering a plane for Zuleyka to bring her to Istanbul. The article wasaccompanied by photos, taken by OK! magazine, showing the couple diningat the exclusive Zuma restaurant.
The 20-year-old former Miss Universe is from Puerto Rico andis starting her career as a television actress.
Here is the English translation of the Hurriyet articleabout Yilmaz and Zuleyka:
Title: Yilmaz Bektas charters plane for Zuleyka
ADVERTISEMENT - CONTINUE READING BELOW
Sub-head: 2006 MissUniverse Zuleyka Rivera Mendoza and her boyfriend Yilmaz Bektas didn't escape OK magazine!
Lead: Married fiveyears ago to 1993 Miss World Ruffa Gutierrez in the capital city Manila, nowrecently divorced Yilmaz Bektas is romancing Zuleyka Mendoza this week at Zumarestaurant.
Article: Married in2003 to former Miss World [2nd runner-up] Ruffa Gutierrez, now divorced Yilmaz Bektas isflirting with 2006 Miss Universe Zuleyka Mendoza. This week for his lover hechartered a private plane to bring her to Istanbul, but they didn't get by OK!magazine who took their photos!
The former owner ofFashion TV, Bektas's passion for beautiful runway girls and luxury cars is wellknown in the magazine world. Bektas's playboy style first got the attention of1998 world beauty, Miss Puerto Rico Joyce Giraud.
Then five years ago inManila, Bektas married 1993 Miss World Ruffa Gutierrez in a high-profile event.The wedding had 800 guests, with the Turkish side being brought in by aprivate, chartered plane. However, all good things end and the happy couplewent their separate ways, and Bektas is once again tasting the bachelor life.
ADVERTISEMENT - CONTINUE READING BELOW
Living in Spain forwork reasons, Yilmaz is at it again with a new beauty. His latest target isPuerto Rico's 2006 world beauty Zuleyka Mendoza. Together for a while already,they're now spending romantic days in Istanbul.
Just like a stateminister
Coming into İstanbulAtatürk Airport in a luxury private plane, staying at the jet set Les Ottomanspresidential suite, and flown in to the Cigaran Palace Hotel Kempinski'shelicopter pad all for Zuelyka.
Waiting for her was ablack Mercedes, with two escort cars filled with bodyguards which took her toher hotel. After resting a long while at the hotel, the beauty headed out fordinner with Bektas to the far eastern Zuma restaurant in Ortakoy. Trying toavoid the paparazzi, the couple made separate entrances at dinner, and leftseparately at the end of the night.
When PEP asked Ruffa about her reaction to the Hurriyet article, she simply replied: "Nocomment."
ADVERTISEMENT - CONTINUE READING BELOW