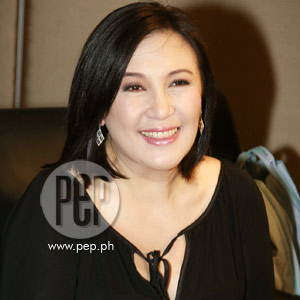 IMAGE 0
---
Megastar Sharon Cuneta was her usual bubbly self duringher contract signing with ABS-CBN chairman and chief operating officer GabbyLopez and Star Cinema managing director Malou Santos, held yesterday, April 2,at the 9501 restaurant, ELJ Building in ABS-CBN.
In front of the press and media, she even joked, "Weare Gabby [referring to the big boss of Kapamilya Network] and Sharon."
The 42-year old multi-awarded actress is set to do the 15thanniversary offering of Star Cinema, Caregiver, under the direction of Chito Roño.
"When the story was pitched to me," she began."I had no doubt in my mind that I had to do the movie. Apart from thestory, of course, one of my dreams has always been to be directed by Direk Chito.So now parang, do dreams have come true, so I'm really grateful."
Caregiver will be her comeback movie since her lastfilm Crying Ladies, which was shown in 2003.
ADVERTISEMENT - CONTINUE READING BELOW
"All I can say is that it's really beautiful,"Sharon continued, "apart from it being my comeback, sort of comeback, infour years of being absent on the big screen. And I'm coming from WalangKapalit, Kung Ako Na Lang Sana, and Crying Ladies in 2003, and thenI got pregnant, had Miel, raised her, lost weight, looked decent enough to startfilming, still losing weight so I'll be cuter na..."
WEDDING ANNIVERSARY.Tomorrow, April 4, Sharon will fly to London for the shooting. "It's thefirst time I will be away with my two little children and my husband for thatlong," she admitted. "So I have separation anxiety—not my children.I'm the one who's having it. I have to be home though before the 28thkasi that's my twelfth wedding anniversary."
The people in the room got curious. How she and Kiko are going tocelebrate their anniversary?
"No, we're very simple people," Sharon answered."We like a quiet dinner like Valentine's day. We usually have someonecater na lang for us at home, 'coz why will you go through that traffic andspend such a long time in the car when you can just be with kids?
ADVERTISEMENT - CONTINUE READING BELOW
"Wala pa. But my husband surprises me, e, every sooften. So every year is a milestone."
PROUD OF KC. Speakingof comeback, one of the reporters around the table mentioned the recent arrivalof Gabby Concepcion, Sharon's ex-husband. "Ang tema kasi 'comeback,' yung film mo, and there'salso another comeback that's very hot in entertainment..."
Sharon cut in, "KC?" Everyone roared in laughter.Then she went on, "I'd like to thank all the people who have beensupporting my daughter. Thank you so, so much. Hard worker."
The Megastar started talking about the fast-growing careerof KC. When she watched the Maalaala Mo Kaya episode of her eldestdaughter with Gabby, she described it a "wonderful thing" and gaveher daughter a rating of "good."
She said proudly, "I don't have a doubt about hercapabilities. You have to understand her father and mother...It's in her genes,it's automatic. Nagulat ako...I have not seen kasi a TV drama in so long, sowhen I saw it, siyempre 'pag si Direk Jerry [Sineneng], walang problema, youknow you are being handled by one of the best, ang bait-bait... Ang ganda-gandang experience ng anak ko. Pero 'pag TV, sobrang dami ng iyak. Parang everyother eksena, 'Ba't may iyak yung anak ko?'
ADVERTISEMENT - CONTINUE READING BELOW
"But she's good at it apparently. Kasi ang hirap, she'snot so expressive about her emotions. So she's not like me. She's reallymore...In more ways than one, she's more like her Daddy, her father rather,Gabby, than me."
GABBY'S RETURN. The press and media people, obviously interested about thereaction of the Megastar about her ex-husband, brought up the article that wasput out by Ricky Lo in Philippine Star.
Sharon shot back, "What did I say there?"
Then she added with a laugh, "I am ano talaga...Iwanted to take a vacation when I found out my contract signing was today, soI'm leaving in two days for London."
But her tone turned a bit grave when she tackled the recentstatement she released. "But can I just say this, I honestly, honestlydon't know... It's different when someone is far away and different when [he's here].I didn't see his interview, but I'd been told. I was told about it only thismorning after I finished singing, before I got home. But what I said in thediyaryo that's essentially it."
ADVERTISEMENT - CONTINUE READING BELOW
Since Gabby arrived last Sunday, March 30, fans have beenentertaining the idea of a Sharon-Gabby movie, so is there a possibility?
"I hope you understand that it's a very sensitive issueand I'm in a situation that's intrigue-friendly. But I'll say that I wish thatwe could do a movie together because we each have our own life. There arepeople in our lives now that mean more to us than we once meant to each other,and it's not just our feelings anymore. There are other people involved. So asan actress, a professional that has been here for thirty years, it would havebeen a wonderful thing to work with someone like [Gabby].
"So, I'm so comfortable...not...I couldn't use'comfortable,' I'd say 'used to' working with [him] 'coz we did grow uptogether. Then, I started my career with him. It's been so long, when we did DearHeart, I was 15, I'm now 42. My daughter is turning 23 on April 7. And at23, I was already a single mother who immersed myself in work and refused tohave a day off, except to be with KC, 'coz I needed to work."
ADVERTISEMENT - CONTINUE READING BELOW
MIXED EMOTIONS. Theintelligent and voluble Sharon admitted having mixed emotions when she heardabout resurrecting her screen tandem with her former husband.
She said, "I'm actually amazed and half-surprised andhalf-not really, that we still have a huge following, and that Tita MalouSantos told me that the biggest clamor is for a movie, Sharon-Gabby."
And Gabby's arrival made her realize one thing.
"It's hard lang talaga and I really don't know. I'm sosorry and as honestly as I can put it, I don't know what to say but I justrealized..." she said. "I don't know if it was printed, but I toldKuya Ricky that I realized only recently that when I come across somethingabout him—there's no more pain.
"Because I'm in a good position now. God blessed mewith a husband who's really loving and caring. I have a great family and Iwould not do anything to disrupt the peace and the happiness of the home thatwe have. And I'm sure Gabby also feels the same thing."
ADVERTISEMENT - CONTINUE READING BELOW
One of the media people pointed out that KC welcomes the ideaof being in a movie with her mom and/or dad, what can she say?
To this, Sharon answered lengthily, "When she starteddoing commercials, she was 16. It's not that I don't want it too, and she wasright also....It must have been hard for my daughter to make her own mark andstep out of my shadow kasi babae siya....So I understood totally.
"So once she had established herself, not just as amodel in commercials, but as an endorser, meaning, she was bringing her name toit. It's not just the product's name on it, it's her name already that had someimportance. Then that was when we did our one and only commercial together,which is the Eskinol. That was also in 2003, before she went to Paris. And then, Iguess, it would be the same in movies."
ADVERTISEMENT - CONTINUE READING BELOW
She and Gabby became a hit love team in '80s. They fell inlove and got married in 1984. They had KC a year later. They parted. Theymanaged to do several movies even after separation. Then Gabby left for theU.S. in 1995, and Sharon married Senator Kiko Pangilinan.
The media asked: Was there ever a closure between her andGabby?
Sharon, looking like she was controlling her emotions,answered, "No, there's never been closure."