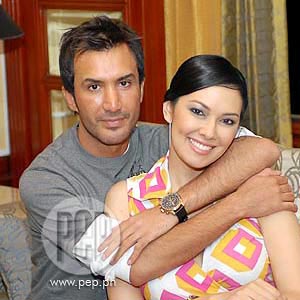 IMAGE 0
---
Since Monday, March 31, there was talk that Ruffa Gutierrez's estranged husband, Yilmaz Bektas, will make a short visit to the country.
A PEP (Philippine Entertainment Portal) source said that the Turkish businessman was due to arrive on Wednesday, April 2. But there was no Yilmaz on that date; instead he came last night, April 3.
PEP managing editor Karen Pagsolingan sent a text message to Ruffa to ask about the arrival of Yilmaz, against whom she has started divorce proceedings. The TV host-actress replied through a text message: "I haven't seen him yet...over the phone lang."


A reliable source confirmed that the Turkish businessman arrived last night from Istanbul via Dubai on (Emirates Flight) EK334.
Another source told PEP that reporters who had this information waited for Yilmaz's arrival, but that they failed to get an interview with him.
The source remarked, "Last year, he was open in granting interviews left and right. Now, he's the same old Yilmaz."
ADVERTISEMENT - CONTINUE READING BELOW
The source was referring to Yilmaz's countless refusals for an interview while he and Ruffa were still together. But the private Yilmaz had a sudden change of personality last year, at around the time that Ruffa publicly announced their separation. With the change, he began a word war with his wife and her family through a number of scathing statements to different television talk shows and publications. In particular, these statements had the cumulative effect of destroying the reputations of Ruffa and her mother Annabelle Rama.
In 2003, Ruffa married Yilmaz, and they had two daughters, Lorin and Venice. The former beauty queen abandoned local showbiz, where she had reached leading-lady status, to live a life with Yilmaz and the two girls in Istanbul. When they separated in 2007, Ruffa returned with her daughters to the Philippines and made a showbiz comeback as television host, sitcom player, and movie lead. Today, Ruffa is very visible on ABS-CBN, where she took the place of Kris Aquino as co-host of The Buzz every Sunday.
ADVERTISEMENT - CONTINUE READING BELOW
On the other hand, the Turkish publication Hurriyet reported that Yilmaz is currently dating 20-year-old Zuleyka Rivera, 2006 Miss Universe from Puerto Rico. Sources say Zuleyka has long been a "crush" of Yilmaz. Other sources say Yilmaz may just be making Ruffa jealous.