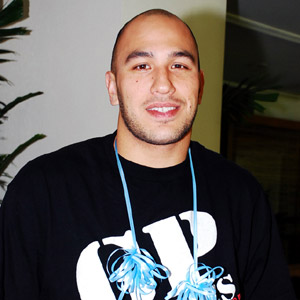 IMAGE 0
---
Brandon Michael "The Truth" Vera demonstrated his kick-ass moves for the crowd that gathered at the activity center of Trinoma Mall last April 9.
The Filipino-Italian mixed martial arts fighter showed the rigorous training required to prepare for a UFC (Ultimate Fighting Championship) competition. Highlights of the event included training drills with his trainers, grappling and boxing moves, an intense and unusual encounter with a wheel of a truck and a special demo with Brandon featuring Angel Aquino for the show Us Girls.
Brandon entertained his fans by speaking fluent Tagalog for the most part of the event. Other activities included the special participation of some lucky spectators in the ring and a photo op and autograph signing session with Brandon, which lasted for more than an hour.
Balls Marketing Manager Carlo Ferrer was very pleased with the turnout of the event. "It's good to see that UFC has a big following in the country. Brandon clearly contributes to that." Loren Mack, UFC Public Relations Manager, returned the compliment by commenting on the warm reception their group has received from the Balls team and from the Filipino people.
ADVERTISEMENT - CONTINUE READING BELOW
Brandon's visit to Manila is part of promoting UFC matches and shows aired exclusively on Balls channel. In spite of the busy schedule, Brandon made sure to check out the local sites as well as support fellow Filipino fighters by watching the Invasion: Philippines vs The World boxing matches in the Araneta Coliseum.
Catch more of Brandon "The Truth" Vera and the Ultimate Fighting Championship (UFC) on the newest sports channel, Balls, which is on SkyCable channel 34.
Here is the schedule of UFC on Balls channel: UFC 83: Serra V St. Pierre 2 Live! on April 20 at 10 am, UFC 84: Ill Will Live! on May 25 at 10 am and UFC 85: Liddell V Evans on June 8 at 9 am. Don't miss the premiere of UFC Unleashed on April 21 and UFC Wired on April 23 both at 8 pm.
Also, catch the other World Class sporting action programs on Balls such as the French Open on May 25 to June 8, the Tour De France on July 5 to 27 and the 90th PGA Championship on August 8 to 11. Catch the US Open Tennis competition on August 25 to September 8 and the Ryder Cup on September 17 to 22.
ADVERTISEMENT - CONTINUE READING BELOW