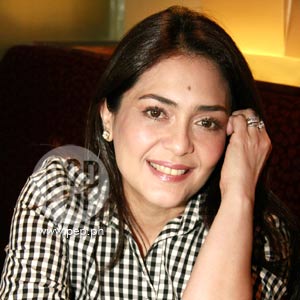 IMAGE 0
---
Inthe '80s, if one said "leading lady," the name Marianne dela Rivawould come into mind. She used to be the most visible actress in the actionmovie genre, that even Da King—the late Fernando Poe Jr.—openly admitted, "SiMarianne ang aking paborito."
OnApril 14, over lunch, PEP (Philippine Entertainment Portal) came face to facewith still-beautiful Marianne. And just like the roles she mostly portrayed inthe movies, the action king's favorite leading lady is simplicity, serenity,and beauty personified.
PEPasked her about the comment of FPJ.
"Maybesiguro I really looked like a damsel in distress," she said softly."Kasi usually yung storylines naman ganun, eh. Usually ipagtatanggol ka ngleading man, gano'n. Usually gano'n ang formula."
HERLIFE NOW. Marianne is based in the U.S. now, and describes her life in NewJersey as "quite contented." Away from the glittering world ofshowbiz, she says, "I've been fine. Masaya ako. I've remarried."
Hermarriage to Dr. Oscar T. Ortiz was her reason for leaving the country. Here's aportion of their love story.
"Actually,I was just visiting my daughters, which I did every year because they'reresiding in the States," recalled Marianne. "And then three yearsago, just three days before I left, 'cause I was about to come home na, Iattended some type of get-together by a good friend of mine, former actress dinyun, eh. And then, may pinakilala siya sa akin.
"Tocut a long story short, nagkita lang kami once and then nasundan 'yon. 'Taposmga early 2005, by December, he came back and nagkita kami ulit, we gottogether, medyo nagkakaintindihan...'Tapos the following year, six monthslater, we got married na."
ADVERTISEMENT - CONTINUE READING BELOW
Marianne'slast project was the television remake of Panday, released in December2005. She was Flavio's (the original Panday, played by FPJ) wife in PandayIV (Ika-apat na Aklat), which hit the theaters in 1984.
Now,she's a full-time housewife and mom, the roles she actually aspired for beforeentering showbiz.
Sheshared, "Sabi ko, when I grow old, I just want to be a good housewife,good mother, finish college, ganun-ganon...But hindi, eh. By age 16, napasok naako sa art-art. Then tuluy-tuloy na. Parang handed to me [and] it's a blessing.Hindi ko hilig and sabi nga nila shy-shy ako pero nakapasok ako doon.Tuluy-tuloy na yun."
BACKTHEN. It was fashion designer Pitoy Moreno who discovered Marianne. Sheused to be one of his models. "'Tapos because of Pitoy Moreno, I becameone of Manila's Prettiest," continued Marianne.
"Nasasaliako dun because of Pitoy. Then I was a fashion model, and then I became a printmodel. Then Mrs. Laurel naman was looking for a leading lady for Cocoy Laurelpara sa first venture nila. They saw my picture yata sa cover ng Women'smagazine. Kinontak nila si Pitoy. And that's how it started."
Marianne'scareer was launched via the movie Love Song in 1972. Thereafter, shebecame one of the screen goddesses. She actually lost count of the number ofmovies she made, "mga more than 50" was her estimate.
Whenasked about the most challenging role she played, she answered, "Maybe theone where I appeared as a drug addict. It was during my early years in showbiz.Matagal na 'yon...
ADVERTISEMENT - CONTINUE READING BELOW
"Peroyun sigurong more memorable sa 'kin yung sa Gulong ng Palad. That wasthe only time I got serious with my career. Before that, paloko-loko lang ako,eh. On and off ako, aalis ako [pero] babalik ako. Kumbaga dun sa Gulong ngPalad series, mas nagiging grounded ako. I liked doing it."
Withthe "more than 50 movies" she starred in, is there any role or offershe wished she would have accepted?
"Someof the offers were really challenging," she replied. "Kaya lang,during those days, they did ask you to show a little skin, and so maybe Imissed some opportunities because of that, na you have to be a little bit moredaring for the more challenging roles."
Evenif in real life she kept a very low profile, showbiz did not spare her fromcontroversies. She considers her separation from Ronald Corveau, her co-star inGulong ng Palad and the dad of her two daughters, as the mostcontroversial. But everything's under the bridge now.
Ina calm voice, she said, "It's one thing na I'd rather not talk about orwould like to forget about already."
SHOWBIZTODAY. In her brief stay here in Manila, offers came knocking at her door,but she begged off. She is happy with her life and has no plans of going backto showbiz.
PEPasked her to describe the showbiz landscape of today.
"Mabilisang turnover ngayon, marami nga sila...Pero yung mga bata rin ngayon, parangmas marami silang pinagkaka-abalahang projects than nung panahon namin. Noon,sa movies, movie actor or actress ka lang, or sa TV, TV ka lang, walangcrossover.
ADVERTISEMENT - CONTINUE READING BELOW
"Ngayon,lahat na lang ng media hawak nila. 'Tapos yung commercials, ang dami! 'Taposyung movie system, parang humina. Nawala yung golden days ng movie-makingsystem. Pero parang mas maraming successful ngayon sa TV."
Shedropped the name of "Bea Alonzo" when asked who among the femalestars, she thinks, is the young Marianne dela Riva. And she was all praises forMaja Salvador. "She's very pretty and all-around. Magaling siyang umarte.She's versatile at kaya niya yung characterization ng mga roles niya."
Andif there's one thing she wishes to impart to the young stars of today,"Love your work, be very responsible, be very professional. Kasi pagniloko-loko mo, madaling mawala sa kamay mo."
PEP'sfinal question was about her beauty secrets. The people who lived through the'80s would agree with us when we say she did not age that much.
"Walanaman talaga," she shyly replied. "Really, but I don't do alcohol, Idon't do drugs, I don't smoke. I live healthy and wholesome. Basta simpleliving lang ako. Nag-de-derma din ako but nothing invasive." And then thetopic shifted to cosmetic surgery, to which she said she has not resorted toany, including botox.
Theafternoon chat was very casual, and full of fun and warmth. When it ended, wesurmised the reason she was Da King and other action stars' favorite leadinglady: She's a knockout inside out.