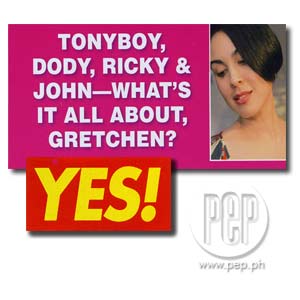 IMAGE 0
---
For several months now, Gretchen Barretto has been afavorite subject of some entertainment columns because of her rumored involvementwith some prominent men.
Despite the constant nagging of local showbiz reporters intheir interviews with her, La Greta (Gretchen's showbiz nickname) remainedquiet. Sometimes, she would just ignorethe issue and even veer away from the topic.
The glamorous "controversy magnet" even took a positiveattitude towards hard questions thrown at her. She was once quoted as saying, "Basta masaya ako kapag naiintrigaako. Pag hindi na ako naiintriga, walana akong career."
YES! magazine tries to make sense of the rumors in its14-page feature, "On the Spot: Gretchen Barretto." This is actually the first time that all the issues about the menallegedly linked to Gretchen in the past months are discussed thoroughly.Here's a glimpse of the feature article:
"KISSCANDAL" WITH JOHN ESTRADA. La Greta's dormant career in showbiz started to bloom again,after 14 years of dedicating herself to her partner businessman TonyboyCojuangco and their 13-year-old daughter Dominique, when digital camera photosof her and actor John Estrada started to circulate in cyberspace in June 2007.
ADVERTISEMENT - CONTINUE READING BELOW
The photos showed Gretchen and John kissing lips tolips. Both parties admitted to thatincident; John appeared live in the showbiz talk show, The Buzz, andGretchen issued a formal statement through her talent manager Boy Abunda. Thetwo got away with it. John and Gretchen went on with their own lives.
DODY PUNO. Lessthan half a year later, Gretchen again stole the showbiz scene as another"kisscandal" started to spread among gossipmongers. Tabloid reports said that Gretchen was spotted several timeshaving nights outs and even kissing a middle-aged man in different clubs inMakati, Taguig, and Pasig.
This time, the guy was identified as Rodolfo "Dody" Puno,businessman and currently Executive Director of the Road Board of Department ofPublic Works and Highways. Witnesses in politics and showbiz have beenhush-hush about Gretchen's appearance at the gatherings of the Puno clan, mostrecently the birthday celebration of Antipolo Representative Robbie Puno andwife Chiqui Roa-Puno in Antipolo City.
ADVERTISEMENT - CONTINUE READING BELOW
Now, what's with Dody Puno? How come the rumors linking himto Gretchen persist?
Sources close to Dody's camp said that the gentleman evenoffered to marry Gretchen. Althoughsome say that Dody is known for this kind of move, another source said that heinsisted, this time it's different. He reportedly told his friend that "Gretchenis the kind of woman you want to settle down with."
Other "whispers" still go around in showbiz, and evenpolitical, circles. But as in her past controversies, Gretchen denied heralleged romantic relationship with Dody and simply explained that he was afamily friend.
RICKY YABUT. Gretchennot only chose to stay quiet; she moved away from showbiz because of all theissues thrown at her. Yet controversy continued to hound her.
Earlier this year, Gretchen again made showbiz headlineswhen she was allegedly spotted kissing Ricky Yabut at an upscale restaurant inGreenbelt 2, Makati City. Ricky Yabutis Tony Cojuangco's brother-in-law, the brother of Denise Yabut, with whom Tonyis still legally married despite 15 years of separation.
ADVERTISEMENT - CONTINUE READING BELOW
According to a PEP source, who was at the same restaurant,Ricky's date, singer Rachel Anne Wolfe, excused herself from the table sheshared with Ricky to go to the restroom. As soon as Ricky's date left, in plain sight of other patrons, Gretchensidled up to Ricky and started carressing him.
The source narrated to YES! that, "A drunk-looking Gretchen kissedRicky, whose response was far from aggressive." It was also confirmed later that Ricky's former wife, CitaRevilla-Yabut, already knew about it.
At a later, different event, Cita was seen talking toGretchen's partner Tony during the birthday celebration of Senator JinggoyEstrada. Cita appeared to becomplaining to Tony about Gretchen's behavior towards Ricky at the Greenbeltrestaurant. Later that evening,according to witnesses, Tony was seen apologizing to Cita.
Despite the publication of articles and the constant "talk"about this, not a word was heard from the actress.
ADVERTISEMENT - CONTINUE READING BELOW
ALL FOR LOVE. Amidstall these scandals that came out within less than a year, Gretchen's live-inpartner Tonyboy Cojuangco remained silent, refusing to give any comment in themedia.
The 56-year-old businessman was said to be veryunderstanding towards Gretchen because he is so in love with her.
Jobert Sucaldito in his showbiz column explained Tony'swillingness to turn a blind eye on Gretchen's controversies: "Matagal na kasingmay sakit si Tonyboy at hindi na raw natutugunan ang mga pangangailangan niGretchen. Pero mahal na mahal dawtalaga ni Tonyboy si Greta kaya kahit nagloloka-lokahan daw ang sex goddessnatin ay palagi daw siyang napapatawad ni Tonyboy. Nilulunok na raw ni Tonyboy ang pride niya—pati pamilya niya aydi niya pinakikinggan because of his so much love dati kay Greta."
A source even added that, "Tony worries that Gretchen, whotends to do things with fervor, may fall in love and totally drift away fromhim."
ADVERTISEMENT - CONTINUE READING BELOW
UPDATE ON LA GRETA. Gretchen publicly announced that she will stay away from showbiz toavoid controversies and will just focus on her new career as a singer. In fact, she released her debut album, Unexpected, in late February thisyear.
The plan may work nicely for Gretchen. Rumors about her andher alleged relationship with Dody Puno have gone on silent mode. However, while the issues may have cooleddown publicly, the "whispers" still revolve constantly among showbiz insiders.
In the end, the next question is: How are things now withGretchen and Tony?
Grab your copy now of
YES!
magazine's May issueto know the latest news and unpublished details about the men who were linkedto La Greta.