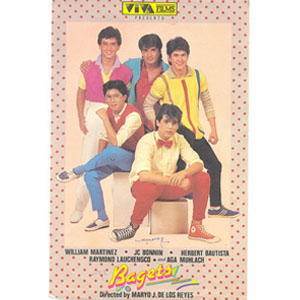 IMAGE 0
---
Those were the days.
When girls unwittingly contributedto the destruction of Mother Earth's ozone layer by spraying Aquanet on their hair toachieve the Triplets look (the singing group of Manilyn Reynes, Sheryl Cruz,Tina Paner) or the Ana Abiera hairstyle...
When boys showed off their "brush-up" hair, a la Ramon Christopher,with a mullet a la Jestoni Alarcon (thick curly top and long "tail" down theback like Mel Gibson's in Lethal Weapon 1)and donned their bastonpants with zippers on both sides of the trouser legs, a la Aga Muhlach...
When kids used agua oxinada to sport cool blonde hair or apply something funny,like shampoo mixed with egg white or Depp hair gel with glitters to make thehair hard, sticky and, uh...glittery, a la-Rey "PJ" Abellana and Leni Santos inthe movie, The Punks...
Yup, we did a lot of scary thingsduring the '80s—on our hair mostly. And celebrities surely influenced the waywe wanted to look, sound, and act in those days.
ADVERTISEMENT - CONTINUE READING BELOW
Join the ride as we go back to thatera of new wave music, Michael Jackson's Thrillerand MTV, to look back at the things that made '80s showbiz memorable. Notnecessarily in order of importance or impact, but just a list of things thatcan still put a smile on a lot of '80s movie fans out there who used to thinkGabby and Sharon would last forever and that Aga Muhlach was the cutest thingthat happened to Philippine Cinema.
Bagets on the loose. Movies by directors JoeyGosiengfiao (Blue Jeans, Katorse), Ishmael Bernal (BilibidBoys), Mike de Leon (Alpha Kappa Omega, Batch 81), and Gil Portes (HighSchool Scandal) were supposed to reach out to the youth and warn them ofthe dangers in joining fraternities, doing pre-marital sex, drugs, and teenviolence. But their movies were just too serious, too sexy, and too dark forthe carefree generation.
ADVERTISEMENT - CONTINUE READING BELOW
Enter Maryo J. delos Reyes (AnnieBatungbakal and High School Circa '65) with Bagets. Suddenly, everyone's wearing multi-colorcombination clothes, girls tease their hair high with "spray net" and kids aregroovin' 'n shakin' to the Jo Boxers's British groove pop hit "Just Got Lucky."Bagets breaks through the prevailing "bold" genre in Pinoy movies andstarts a new pop culture that embraces the colorful, fun-filled, cool, confused andcarefree life of adolescent Pinoys in the '80s.
Bagetsalso started the "bubble-gum, teenybopper" trend in Philippine cinema. Thelikes of Ninja Kids, Hot Shots and The Punks followed, hoping to duplicate the success of Bagets. This movie also jumpstartedHerbert Bautista's career when he couldn'tbreak free from his serious, dramatic Rene Boy character in Flordeluna. Bagets showcased Herbert's funny side and his flair for comedy.
Bagetsgave teenage girls a new matinee idol to go locofor in Aga Muhlach. Raymond Lauchengco successfully crossed over from singingto acting in Bagets. JC Bonnin provedhe could do better than Scimatar inthis movie. William Martinez showed everyone he could wing it with fresher andcuter guys, and he found his new love in Yayo Aguila, who later became hiswife.
ADVERTISEMENT - CONTINUE READING BELOW
That's Entertainment. Before StarStruck and Star CircleQuest, Pinoy youth in the '80s couldn't get enough of Master Showman GermanMoreno's young talents in That's Entertainment. Fans queued at theentrance of Broadway Centrum with their banners, posters, and placards of theirfavorite teen stars, waiting to get seated and conditioning their larynx fortheir major screaming performance once their idols took the stage.
Kuya Germs's show produced some ofthe most successful stars we have today. Superstars like Judy Ann Santos, PioloPascual (known then as PJ Pascual), Rufa Mae Quinto, Ara Mina (then HazelReyes), Francine Prieto (then Anna Marie Falcon), and Carmina Villarroel. Eveninternational stars Lea Salonga and Billy Crawford were once That'smembers. The highlight of the show was the performance every Saturday of the weekdays'"Groups."
Menudo quintet. Sure, they were not and aren'tPinoys, but no kid in the '80s can deny the influence these five youngstersfrom Puerto Rico had on teenagers, especially thegirls. The teeners' raging hormones seemed uncontrollable at the sight of thesefive Latinos. Boys, on the other hand, tried to copy the look of the mostscreamed-at members like Robbie Rosa, Charlie Mazo and young Ricky Martin bywearing tight pants, rolling the sleeves of their shirts high, and even tying aband around their parlor-styled curly hair while singing "If You're Not Here(By My Side)" or "Please Be Good To Me."
ADVERTISEMENT - CONTINUE READING BELOW
Inseparable Trio: Tito, Vic & Joey. Everything these three jesters didin the '80s seemed to get picked up by their audience, especially the youngones. Expressions like "Palpak!," "Papa'no naman kame?!," "Butaw-butaw," and"A-che-che!" became part of the everyday lingo of that generation. Joey deLeon, particularly, always came up with something the kids imitated, like theway he walked, the dance steps he created (Body Language and Cha-cha Buena), andthe way he wore his clothes (different caps every day, T-shirts with cool designsor slogans, low-waist pants, and different colored pair of Chuck Taylors).Their movies were always box-office hits, and the artists they helped orsupported—and even bit players—made names for themselves afterwards.
The trio's Iskul Bukol, Eat...Bulaga!,T.O.D.A.S., and 2+2 became institutions and proto-typesof present TV shows. As in any successful showbiz act, Tito, Vic & Joey hadtheir share of intrigues and scandals during the '80s. But they made it throughthe storm and here they are still, surviving the business that made them, asthey continue to influence local showbiz and the way the Pinoys live.
ADVERTISEMENT - CONTINUE READING BELOW
Maricel-William & Sharon-Gabby Love Teams. No other love teams in the '80sshowbiz but these two held the crown. Fans laughed and giggled at the comedicchemistry between William Martinezas Kulit and Maricel Soriano as Marya. Sharon Cuneta and Gabby Concepcion'slove team always left fans sighing and dreaming of the day the two would marry.The romantic pair did get married, but separated later after having theirdaughter KC. Marya and Kulit had other partners and went their separate ways.
Even after the love teamsdissolved, fans in the remaining years of the 1980s pitted Maricel and Sharonagainst each other, especially during awards seasons. There's no denying theimpact and influence of both actresses in local showbiz. Every newbie actressseems to have both or one of these actresses in their list of idols oractresses they wannabe.
Penthouse Live! Everyone thought the show was notgoing to last. First, it aired during bedtime, just when everybody wanted toretire after a hard day at work/school; second, the hosts talked straightEnglish, which Annaliza and Prinsipe Abante viewers would rathermiss than watch. But the balikbayan "madman"with his gift of gab and golden voice (later becoming the Philippines' ConcertKing) and the prissy collegiala singer from International School with theability to fill concert halls, football ovals, and coliseums (hence her titleConcert Queen), pulled it off. PenthouseLive! became a hit.
ADVERTISEMENT - CONTINUE READING BELOW
The chemistry between MartinNievera and Pops Fernandez was so infectious that TV viewers wanted them to endup in each other's arms, even though there was really nothing between them tostart with. Pops back then was in a love team with Roel Santiago and Martin wasjust happy to be there hosting and singing. But eventually, the inevitablehappened. They both fell for each other and soon Martin announced during theshow, while Pops was wiping her tear-filled eyes, that they were gettingmarried.
PenthouseLive! also gave the Pinoy TV viewers a taste of "high brow" stand-up comedyin Dona Buding's (Nanette Inventor) performances. And who would ever forgetthat before Jojo Alejar did All The Waywith Jojo A., he was already going all the way doing "pagpapa-cute" in hisdance numbers with his group The Tigers. PenthouseLive! changed the viewers' ideas about late-night viewing—that it was notonly for boring "chairman of the board" lounge-music shows and late-night newsprograms, but also for entertainment.
ADVERTISEMENT - CONTINUE READING BELOW
"Mr. Pure Energy" Gary Valenciano. Hosting Channel 4's Rhythm of the City and performingMichael Jackson's Thriller songs inthe show was a lame start for Gary Valenciano's career. But things changed whenhe started doing originals and broke through with "Growing Up" in Bagets. Soon, everyone was calling him"Mr. Pure Energy." Gary V was like the Energizer Bunny of Philippine Music withhis funky dance moves and upbeat songs. No local R&B singer would darescratch out Gary Valenciano from their list of influences. Now, after 25 yearsin the entertainment industry, Gary V still amazes his fans and audiences withhis fancy dance moves and versatile music.
Lovingly Yours Helen. The white rose on the dashboard,the "Ballade pour Adeline" theme song, and Helen Vela's cool, relaxing voicewere trademarks that made Lovingly YoursHelen hard to forget. The show boasted some of the biggest names in showbusiness as guests during those days, playing the lives of Helen Vela's letter senderswho sought her advice or who wanted to share their stories.
ADVERTISEMENT - CONTINUE READING BELOW
Stars like Nora Aunor, Christopherde Leon, Vilma Santos, Coney Reyes, Janice de Belen, Aga Muhlach and MaryWalter appeared on the show. One very memorable episode was the one with comedianPanchito playing the role of a once-popular comedian who lost his glitter and endedup poor and miserable. Before Maalaala MoKaya became a hit, Lovingly YoursHelen was making even the toughest goon cry with its touching stories sentin by real people.
See-True uncensored. See-Trueis considered the template of today's showbiz talk shows. But See-True's way of presenting its guests cannever be duplicated by any showbiz talk show today, just like nobody can everreplace Inday Badiday, the "Queen of Intrigues and Showbiz Talk Shows." See-True got down to the nitty-gritty ofissues by making guests answer point-blank questions from actual showbizreporters (tabloid and showbiz magazine writers). The atmosphere was alwaystense with all the burning Q&A's thrown in by both stars and reporters.
ADVERTISEMENT - CONTINUE READING BELOW
This show also popularized thephrase, "May phone-in question tayo, Ate Luds," voiced over by now Philippinevice-president Noli de Castro. Sometimes, strange guests claimed to haveextraordinary talents. In one episode, for instance, Ate Luds had a faithhealer who claimed she could raise the dead back to life. She was so into her"raise-the-dead" power trip, she even said to Ate Luds, "Meron nga akong dalangpatay diyan sa labas!" The shocked Ate Luds blurted, "Ay, 'wag na ho natingpapasukin!"
See-Truewent dead when the TV censors recommended that the show pack up for good. Thiswas after former bold actress and Dranreb Belleza's mother Divina Valenciahit Softdrink Beauties manager Rey dela Cruz on the head with a microphone after they got intoa heated argument during show's Q&A.
Randy "Mr. Shades" Santiago. A few years before the decadeended, hair gel, trench coat, and shades made their last hurrah as elements oflooking cool, thanks to Randy Santiago. "'Di Magbabago," Randy's first hit songwas on top of the charts and was in every local radio station's playlist forthe whole year of 1987. His popularity was so huge at one time that he eveneclipsed Philippine television's brightest star in those days, young AizaSeguerra. Before Randy, Aiza was a hit on every household with her "duckwalkdance" in every "Bulagaan" portion of Eat...Bulaga!.
ADVERTISEMENT - CONTINUE READING BELOW
Things changed when GMA-7 includedRandy as one of the hosts and performers in its noontime variety show Lunch Date, GMA-7's answer to ABS-CBN's Eat...Bulaga!. Randy's popularity caused thesale of shades to shoot up. Pinoy youngsters imitated his cool facade. Mr.Shades had sold-out concerts and crossed over to doing movies, starring inmovies with the likes of Fernando Poe, Jr. and Maricel Soriano. Some of his"Hawi Boys" or entourage, later made names for themselves, like Wowowee host Willie Revillame and comedianDennis Padilla. Before Randy's popularity faded out, his fans immortalized hislikeness by doodling his mullet hair, mole, and trademark shades on Emilio Aguinaldo'spicture in five-peso bills.
We hope the '80s and this list have brought back a lot of good memories.