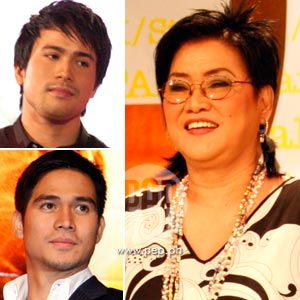 IMAGE 0
---
Entertainment columnist Lolit Solis was formally indicted for libel by the Office of the Manila Prosecutor in connection with an article she published in her tabloid column in Pilipino Star Ngayon titled "Take It, Take It" on October 15, 2007.
In the article, Solis wrote that she chanced upon actors Piolo Pascual and Sam Milby allegedly sharing a "sweet" moment together in the poolside coffee shop of the Sofitel Hotel at around four o' clock in the afternoon on October 12. Incensed by the implication of the write up, Piolo and Sam immediately contested Lolit's claim and questioned the credibility of the report.
"Her story was absolutely without any factual basis," wrote Sam and Piolo in their complaint affidavit against Solis. "We were not at Sofitel Hotel on October 12, 2007. We were not even together on the said date."
Both actors expressed disgust at Lolit for depicting them as homosexuals, which according to them tarnished their "reputation as bankable actors" in the eyes of the viewing public.
ADVERTISEMENT - CONTINUE READING BELOW
ENOUGH GROUNDS. According to the March 24 recommendation, both Lolit and former Pilipino Star Ngayon entertainment editor Veronica Samio are liable to face the court to formally answer the legal complaint filed against them.
The court disregarded Samio's repeated appeal that she was no longer at the helm of Pilipino Star Ngayon's entertainment section as she had officially resigned and relinquished her duties to Salve Asis during the period.
"Finding probable cause, it is hereby recommended that respondents [Solis and Samio] be indicted for libel and the corresponding information be filed in court," the resolution, which was released last Friday, April 11, indicated.
The resolution was prepared by Fourth Assistant Prosecutor and Sixth Division Member Dennis Aguila together with 2nd Assistant City Prosecutor Hon. Antonio Rebagay for the recommending approval, while 1st Assistant City Prosecutor Hon. Eufrosino Sulla submitted the resolution for approval of the City Prosecutor.
In an interview with a national daily, assistant city prosecutor Eufrosino Sulla explained the court recommendation by saying, "We believe that all the elements of the offense were established, that there was sufficient evidence that libel was committed."
ADVERTISEMENT - CONTINUE READING BELOW
Sulla added that upon filing, Lolit and Veronica would be entitled to post a P10,000 bail each for their temporary liberty while the case is being heard. "They can also file a petition for review with the Department of Justice," noted Sulla.
NO SETTLEMENT. During the height of the issue, Lolit defiantly refused to retract what she wrote in her column. Piolo and Sam's lawyer Joji Alonso had relayed her client's request for Lolit to issue a public apology to clear the name of her subjects.
Lolit agreed to issue an apology but refused head on to make a retraction. Having a change of heart, the feisty columnist, who is also a host and talent manager, made known her intention to retract provided that Piolo and Sam produce an affidavit stating their willingness to drop the complaint. Failing to sway both parties, Lolit then made a last ditch offer: she will retract on the condition that everything will be considered as "an honest mistake."
ADVERTISEMENT - CONTINUE READING BELOW
ABS-CBN's Johnny Manahan, who also stands as Piolo and Sam's adviser, brushed off Lolit's offers and cited all for their alleged lack of sincerity.
Backing up Piolo and Sam's affidavit are Cristy Fermin, Pokwang, Angel Locsin, and Rica Peralejo. All claimed that both actors were on separate locations during the date and actual time mentioned by Lolit in her article
Lolit, on the other hand, failed to present enough solid evidence to strengthen her story.
"LET THE THING SPEAK FOR ITSELF." "We'd rather not make any comment at this point. Let us just wait for our justice system to prevail upon the case. We thank everyone who has supported us and who continue to support our fight for what is right," issued Piolo and Sam in a joint statement forwarded by Atty. Alonso to a national daily.
Stating that "mental anguish, besmirched reputations and social humiliation" afflicted them because of the published writeup, Piolo and Sam demanded P5 million each plus P1 million each for exemplary damages.
ADVERTISEMENT - CONTINUE READING BELOW