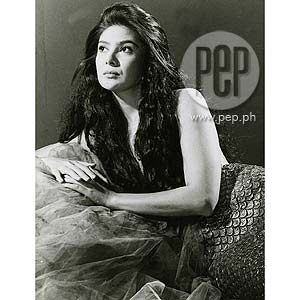 IMAGE 0
---
After Captain Barbell, Darna, and Lastikman,another comicbook creation will be adapted in television, the mythical mermaidcalled Dyesebel.
Former Dyesebelactress Charlene Gonzalez gave her opinion in an interview about Marian Riveraplaying the role on television. Shesaid, "[Marian is] a very beautiful girl. Bagay sa kanya kasi maganda siya at seksi, bagay siya sa Dyesebel."
It was the talk of the town before GMA-7 formally announcedthat the Network was making a TV version of one of the popular comicbooks ofthe famous Filipino graphic novelist Mars Ravelo.
First published in 1953, Dyesebel is the story of a half-human, half-fish daughter bornto a couple living in a rural area. Thefather wanted to get rid of the baby but just as he was about to do it,lightning and thunder stopped him. Thecouple decided to transfer to different place to avoid rumors about their child.In a village near the sea they raised Dyesebel. Here she met other sea creatures and with some she enjoyedwonderful adventures. But others made her miserable.
ADVERTISEMENT - CONTINUE READING BELOW
Another version was that the people in their neighborhoodfound out about the mermaid and blamed her for the catastrophes that hit theirplace. To get away from the mob, her motherhid Dyesebel near the ocean.
Like Ravelo's other comics superheroes, different versionsof Dyesebel were portrayed in pastmovies.
So, before we witness what GMA-7 did to make the storylonger than the movie versions, PEP recalls its previous movie adaptations andthe actresses who became famous as Dyesebel.
Dyesebel (1953). On the same year it was published in Pilipino Komiks, Gerardo deLeon directed the first movie version. (Hisother comic-superhero project was Pedro Penduko.)
Dyesebelhighlighted the career of the veteran actress Edna Luna, considered one of the most beautiful actresses duringher time. Jaime dela Rosa, younger brother of the postwar movie idol Rogeliodela Rosa, was her leading man. Themovie was a hit.
Anak ni Dyesebel (1964). A decade after the first movie, director Gerardo de Leon onceagain gathered the cast members of his Dyesebel to be part of its sequeltitled Anak ni Dyesebel, which was also written by Ravelo with the sametitle.
ADVERTISEMENT - CONTINUE READING BELOW
The movie still had Edna Luna, but the focus was on actress Eva Montes, who played the role ofDyesebel's daughter Alona. Like Edna,Eva Montes also played a role in Ravelo's creation twice. She was Darna in the 1965 film titledDarna at ang Babaing Tuod.
Si Dyesebel at Ang Mahiwagang Kabibe (1973). This movie by director Emmanuel Borlaza usedthe second version of the plot wherein Dyesebel was blamed by neighbors as thecause of village misfortunes.
Played by the Star for All Seasons, Vilma Santos, Dyesebel fell in lovewith a male human named Fredo (Romeo Miranda), who promised Dyesebel that he would look for all the possible ways to makeher human.
Vilma was the only actress who portrayed Dyesebel and Darna(Darna vs. Tthe Planet Woman, 1975), which were both created bythe King of Komiks Mars Ravelo.
Sisid, Dyesebel, Sisid (1978). Unlike the past Dyesebels, it did not take adecade before this fourth adaptation was made into a movie. AlmaMoreno played the role of Dyesebel, who fell in love with Fredo (MattRanillo III).
ADVERTISEMENT - CONTINUE READING BELOW
Its plot was similar to the past versions except thatFredo's girlfriend had a part in the story. When she found out that Fredo wasprotecting Dyesebel, she conspired with the sea-witch Diannga to have the mermaidkidnapped and displayed in a circus freak show. Fredo came to the rescue, of course. Later on, Dyesebel transformed into a human—with the proper lowerlimbs—and married Fredo.
Dyesebel (1990). Twelve years after Alma starred as Dyesebel, Director Mel Chionglocreated the movie Dyesebel with AliceDixon playing the main character.
This version made a slight change from the originalversion. The plot focused on Dyesebel'smost beloved male human. If in all thepast movies, the loveteam of Dyesebel followed his original name, Fredo, this1990 Dyesebel changed it to Edward(played by Richard Gomez).
Also, in case some viewers have forgotten, then young actress Carmina Villarroel acted as youngDyesebel in this movie.
ADVERTISEMENT - CONTINUE READING BELOW
Dyesebel (1996). Director Emmanuel Borlaza seemed to have enjoyed directing Dyesebel so much that he came back 23years later to do another version with actress Charlene Gonzalez. Here, she was paired with Matthew Mendozawho portrayed Fredo.
FIRST TV APPEARANCE. Although GMA-7 claims that its Dyesebel is the first TVadaptation, the first TV appearance of this komiks character should be creditedto Ara Mina. This sexy actress did a cameo appearance asDyesebel in the fantaserye Darna in 2005 with another mermaid, played bySexbomb dancer Rochelle Pangilinan.
Now that we've reviewed the past editions of this popularPinoy komiks character, let's see what the television version of Mars Ravelo's Dyesebelhas to offer. A preview of directorJoyce Bernal's Dyesebel will be showntonight, April 25, after Babangon Ako't Dudurugin Kita.
The fantaserye will premiere on Monday, April 28, in GMA-7'sTelebabad.