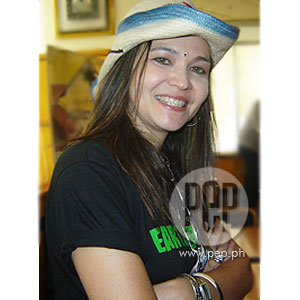 IMAGE 0
---
Lou Bonnevie greeted the media with her casual, "Kumustanaman tayo diyan?" when she arrived at the press conference of Earth Jam 2008held recently.
She was still in her usual "rocker" look—boots, tight jeans,and loose black shirt, and a cowboy hat—when Pop Rock icon Lou Bonnevieintroduced herself and the other invited band members for the Earth Jam 2008.
It's been a while since Lou faced the media to promotesomething. If not for her annual EarthJam project, the 42-year-old rock star would not be recognized by the youngergeneration today because it has been years since she last performed in publicin her own gig.
Lou started out her career in the '80s as a soloartist. She was 19 years old when shewas launched in a concert titled Next In Line. She could also beremembered as a solo artist who can rock a crowd with her acoustic guitar.
ADVERTISEMENT - CONTINUE READING BELOW
Although she can effectively perform loud rock music, thismusic icon became popularly known for her rock ballads, which she considers aspart of pop rock.
FROM SINGER TO PRODUCER. Music lovers used to watch Lou perform on stage. As new bands andother solo artists entered the music scene, however, Lou decided to lie low inher singing career.
PEP (Philippine Entertainment Portal) caught up with Lou ina short interview after the press conference. Lou was quite busy at that time because her own production company washandling the Earth Jam event.
So, PEP did not waste time. We asked her on the spot aboutwhat happened to her during the time she was not visible to the public. The singer-songwriter said that she put up aproduction company called Dimitri Productions.
Lou explained that she decided to create this productionoutfit not only to get herself a gig but also help newcomers to perform inpublic.
ADVERTISEMENT - CONTINUE READING BELOW
She further explained, "Kasi noon when I started, angfeeling ko lang, parang naghahanap ako palagi ng events o ng bookings na gustoko, parang ilan-ilan lang yung mga nag-o-offer. Sana may show na ganito, sana may show na makasali ako.
"I decided na I'll just produce na lang siguro or start anevent rather than just wait and wait, di ba, parang ang hirap."
The songwriter-producer then explained why she had to cuther time in performing.
She said, "Actually, we only do events like, siguro onlythree times a year lang kami pero medyo malalaking events kasi, kaya it eats upa lot of my time. And after that, Irest, nauubos kasi ang energy ko talaga. So, it takes a little while bago balik na naman ako, kaya medyonasa-sideline ang singing."
Another reason Lou gave for not letting her hands ease offher company is that she's inspired by its projects. According to Lou, most of the shows that made Dimitri Productionshave been cause-oriented.
ADVERTISEMENT - CONTINUE READING BELOW
For eight years since it started in 2001, Dimitri has beenknown for organizing the Earth Day Jam every April. "Yung iba, para sa mga kabataan. Konsiyerto para sa kabataan,laging advocacies," Lou added.
She narrated the company's first experience in preparing forthe Earth Jam, "First, nagsimula ako sa Hard Rock Café, maliit lang yun—withMartin [Nievera], Jaya, nilapitan ko sila. Aba, sabi ko, 'Okay, ah.' Veryengaging 'tapos sinuportahan na ako ng DENR [Dept. of Environment and NaturalResources]."
The positive feedback made her decide to focus on producingsuch shows. She related to PEP, "TheEarth Day Network Philippines [told me], 'Sige, tuloy mo 'yan. Ano'ng mangyayari, ano ba ang gagawin monext year?' Sabi ko, 'Wow! Kailangan na palang gawin ito every year.' And then,that pushed me to do it every year."
MISSES SINGING. Given her tight production schedule,Lou admitted to PEP that she misses performing a lot.
ADVERTISEMENT - CONTINUE READING BELOW
"Na-miss ko yung performing siyempre, nakakapayat sa akinyun," explained Lou. "Yun ang exerciseko. The energy I get, you know, thepeople, and most especially I really love performing live."
She added, "I like it a lot, so I really miss it. Yun lang talaga ang nami-miss ko kapag mayganitong event [Earth Day Jam], hindi ako makakatodo ng kantahan."
Although this rock chic wants very much to go back onstage,she just has to make sacrifices since production tasks eat up most of her time.
She told PEP, "Siyempre nami-miss ko rin [mag-perform]. Kaya lang, alam mo naman, kapag kasi mayginagawa kang iba kailangang may mga sacrifices kang kailangang gawin. So, like kapag mga events na katulad nito[Earth Day Jam], it eats up a lot of my time also kaya medyo minsannasa-sideline yung aking singing."
In fact, Lou said that whenever she has free time, shewrites songs that she hopes to include in her next album. After years of preparing for this new album,the singer-songwriter plans to release it within this year.
ADVERTISEMENT - CONTINUE READING BELOW
BACK TO THE ORIGINALLOU. "Mayroon akong bagong album na ilalabas this year," she announced toPEP. "Wala pang title pero baka I'mOnly Human ang title, pero hindi pa ako sure."
We asked, what kind of music does she have for thisalbum. The rock icon said, "Pop pa rinsiya, medyo pop rock pa rin. Kasi,siyempre, I have to go back to my original Lou Bonnevie. Iba naman yung as a producer, iba naman yungas a singer. So, ito yung singer sidenaman."
Before Lou could go back to attend to her duties during thepress conference, PEP asked her the last question, "If you were to choose onlyone from these, what would you rather choose, performing or producing shows?"
Lou took some time before she gave her answer. Her smart reply was, "Siyempre mas masayayung kakanta ka lang 'no? Pero siyempreang maganda naman when you're producing, you also have a little bit of power,'no?
ADVERTISEMENT - CONTINUE READING BELOW
"May maibibigay sa 'yo na kakayahan na you can be able totranscend from just being an artist, you can have the power to talk to morepeople, convince more people, create more advocacies through your music, andnakakaengayo ka ng mga kapwa mo musicians to play together."