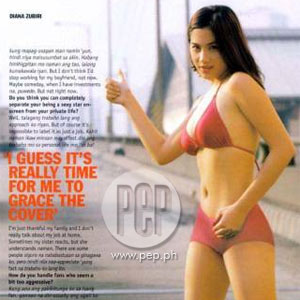 IMAGE 0
---
Why dopeople buy glossy magazines when they can get their fill of showbiz buzz fromTV and radio talk shows/newscasts, tabloids and broadsheet entertainment sections?
Standingbefore the highly competitive array of publications in a newsstand, readers usuallylook at a magazine cover in deciding whether or not to part with their preciouspesos. The cover's immediate come-ons are the attractive glossy colors. And thenthe big bold title of the top feature story rouses their curiosity.
Orperhaps they want to know more about the controversies that they first watched onweekend talk shows. There are even readers who are loyal buyers of certainmagazines. We know for a fact that some readers collect the monthly issues of YES! magazine,mainly for its in-depth stories.
But it'sthe magazine cover that's crucial in catching the eye and hooking potentialreaders. Cover photos and stories can be so persuasive that editors and theirstaff frequently work on the cover—with supreme fastidiousness—after all theinside pages are done.
ADVERTISEMENT - CONTINUE READING BELOW
Now, PEPlists down, from the most recent to past issues, the cover stories and photosthat made an impact on the magazine readers and created lots of buzz.
PLAYBOY INVADES MANILA. Last April 2, the local version of the popular U.S. magazine Playboy was officially launched at Hotel Sofitel, Pasay City.
The event raised a howl! Gabriela, a women'sorganization, found it "alarming" that the men's magazine was being publishedlocally when "the majority of the Filipino women are experiencing utterpoverty, and as such, [are] more vulnerable to exploitation."
In the article published in the website SunStar, the militant group stated, "We continue to criticize any medium thatperpetuates the traditional feudal patriarchal views on women, more so, for theend goal of raking in profits."
Playboy Philippines caught the attention ofCatholics as well. The Church argued that the local version of the men'smagazine might add to the moral problems of the country. In an interview with GMA News, Monsignor Pedro Quitorio, media director of the CatholicBishops Conference of the Philippines (CBCP), said rhetorically, "We have morethan enough problems now to take care of and now we have to deal with anothermoral problem?"
ADVERTISEMENT - CONTINUE READING BELOW
In spite of opposition, the editorial teamof Playboy Philippines remained positive thatFilipino readers would appreciate their magazine. Editor-in-chief Beting LaygoDolor explained that, unlike the foreign edition, Playboy Philippineswill not show frontal nudity. In fact, he said in an interview with a dailynewspaper, their monthly issue will feature "anything under the sun of interestto men."
POPS TELLSALL TO YES!The exclusive interview of YES! magazine (October2007) with Concert Queen Pops Fernandez shocked the readers with revelations,which she had kept to herself for morethan a decade, and elicited their sympathy.
In the17-page cover story, Pops bravely recalled her self-denial during 13 years ofmarriage with Martin Nievera.
Pops alsoexplained to YES! why she decided to tell her own story: "I'm so sure he [Martin] will come upwith his own version. But I know what I know. And I don't forget anythingthat's traumatic in my life, all the painful things. And I definitely rememberall these because these are the things that almost made me want to die."
ADVERTISEMENT - CONTINUE READING BELOW
For several weeks, this issue ran insideshowbiz with the camps of both ex-spouses giving their own statements.
COSMOPOLITAN'S FIRST HUNK. On its 10th anniversary, Cosmopolitan Philippines (May 2007) decided to trysomething new—a male celebrity would pose on the cover. And the lucky hunk turnedout to be none other than heartthrob Piolo Pascual.
The magazine created its first double cover.Opposite Piolo was Megastar Sharon Cuneta's daughter KC Concepcion. Featuring Piolo on its cover was Cosmopolitan's way of thanking itsreaders for their unabated support.
"PRIMA DONNA" ON PREVIEW. Longbefore the recent press walkout at Pantene shampoo's second "Most Beautiful" ad campaign, a different controversy arose indirectly fromits first campaign in 2006. The endorsers then were Ruffa Gutierrez, GretchenBarretto, Dawn Zulueta, and Angel Aquino, who had a photo shoot for the coverof Preview magazine(November 2006).
Alex Brosas wrote an article in PEP about two of Preview's cover models, Gretchen and Dawn,which revealed that Dawn got peeved by Gretchen's "prima donna" ways—arrivingat the photo shoot with her luggage of signature bags and gowns, yayas, bodyguard, and microwave.
ADVERTISEMENT - CONTINUE READING BELOW
Showbiz news and talk shows picked up thisstory and it became the talk of the town for weeks.
"WILD ROSE" ON Hi!Hi! magazine createda stir with its cover story (June 2006) about Donita Rose and her past "wilddays" of drug-use and partying.
Although the writer, Irene Curtis, said shewrote the story with no malice and with the intention to inspire people, herfeature article caught the attention of Donita and her manager AngeliPangilinan.
In the following issue, Hi! wrote that Angeli had sent a textmessage saying that Donita got upset because she felt that shewas described as a drug addict. She alsosaid that the writer did not portray her parents accurately.
In defense, Irene gave a statement sayingthat she did not intend to make Donita feel as if her words weremanipulated. She also explained that,"Many readers were touched and even hopeful after reading her [Donita's]story."
ADVERTISEMENT - CONTINUE READING BELOW
Hi! AFTERMATH: CLAUDINE SUES MAGLIPON.In Hi! magazine'sJuly 1-15, 2005 issue, writer-director Ronald C. Carballo wrote an articleabout the dedication of Claudine Barretto's adopted daughter Sabina. He also shared some photos that he tookduring the private event.
On July 22, a week after that issue date,Claudine filed a civil suit (injunction and damages) against Hi!executive director Jo-Ann Q. Maglipon for the publication of the photos.
In her press statement, Claudine said, "May mga tao talagang hindi nakakaintindi ng 'hindi puwede.'"
Maglipon argued: "First, the 'dedication'photos and text feature in Hi! magazine.Please read, please look over, please study—then judge.
"'Inialay sa Panginoon,' the title that Hi! editor-in-chief Cesar Evangelistaused, says it all. The entire tone,wording, and sensibility of the piece is near reverential. No way can it be construed as hostile,unkind, abusive of anyone's right or feeling."
Charges and counter-charges flew for almosta year until the two camps reached a mutual agreement to withdraw all these.
ADVERTISEMENT - CONTINUE READING BELOW
Hi! magazine said good-bye to its readers thisyear (2008), but in no way because of such previous hotstories.
FHM'S DIANA ZUBIRI.InOctober 2002, speeding vehicles at the EDSA-Shaw flyover stopped for a momentto check out Diana Zubiri. She was posing in the middle of the road in nothingbut a skimpy red bikini.
Not onlydid Diana cause traffic at the flyover, her photo shoot with FHM Philippines, which came out inDecember 2002 issue, alarmed then Mandaluyong City Mayor Benhur Abalos. Hefiled charges of grave scandal against Diana and FHM Philippines,but later withdrew after Zubiri and her manager Jojo Gabinete apologized.
Diana wasjust starting out as a sexy actress at the time but her FHM image took hold of the public's imagination. In fact, people even dubbed her the "FlyoverQueen."
These were just some of the cover storiesand photos that made people buy the magazines. So, next time you go to your favoritebookstore and newsstand, make sure to check out the cover. Who knows, the photosand blurbs may see you suddenly buying a copy.
ADVERTISEMENT - CONTINUE READING BELOW