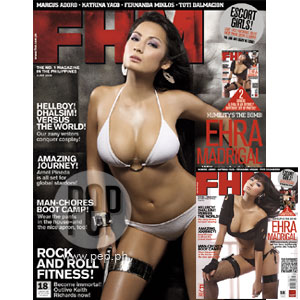 IMAGE 0
---
Ithas been a while since Ehra Madrigalmade her debut on the pages of FHM, the undisputed number one men'smagazine. After her sweet climb to success, following her number 5 spot in lastyear's FHM 100 Sexiest Women in theWorld list, it's only right for FHMto give her another cover appearance. "Parang after nung nag-No. 5 ako lastyear, sunud-sunod ang shows andoffers," Ehra admits.
This June, FHMpresents not only one, but two covers, with different sets of pictures each, topresent two different sides of Ehra in a videogame-inspired theme—one as a sweet-lookingseductress, and another as a foxy vixen ready for action.
"We had to do two FHM covers, each with a different set ofphotos, especially for this issue to be able to share with our readers as manypictures of Ehra as we can. She did such a great job, we just couldn't narrowthem down to a few spreads," Editor-in-Chief Allan Madrilejos explains thereason behind this month's double cover.
Whenasked about the possibility of becoming this year's FHM Sexiest Woman in the Land, Ehra takes it in stride. "It doesn'tmatter naman kung anong rank, basta kasama ako sa list, privilege na yun,"Ehra answers coolly.
Now that she's tagged as one of the industry's sexiestitems, has she toyed with the idea of top-billing a sexy movie of her own? "Depende sa story, and with the directorand other things," Ehra answers thoughtfully. "Kasi pag gumawa ka ng ganu'n, there's no turning back."
ADVERTISEMENT - CONTINUE READING BELOW
Keepvoting for your favorite in the FHM 100 Sexiest Women in the World 2008 poll! To vote, key in FHM100 [space]name of candidate and send to 2948 for all networks. You can also log on toFHM.com.ph to vote, and check out behind-the-scene clips of the FHM photo shoots.
Grabthe latest issue of FHM featuringEhra Madrigal on two different covers with a different set of photos each, nowavailable in magazine stands and bookstores for only P125 per copy.