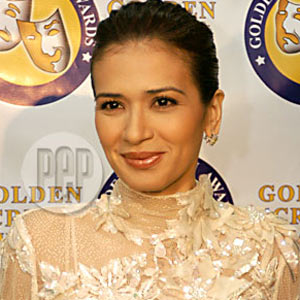 IMAGE 0
---
Filipino music lovers know her as the Divine Diva. She popularized some original Pinoy songs,such as "Hiram" and "Mambobola." That'sZsa Zsa Padilla-songwriter, singer, and actress.
Even as a child, Zsa Zsa already knew that she wanted to bea great singer. When PEP (PhilippineEntertainment Portal) asked her when she started singing, she recalled, "I canremember singing as a child. It wassomething that was second nature to me."
Before she won acclaim as the "Divine Diva," the publicfirst saw her as a member of the popular '70s band called Hotdog, who developedthe type of music called "Manila Sound." This band helped Zsa Zsa to become a well-known solo artist in the early'80s.
After leaving her band Hotdog, Zsa Zsa received a lot ofmovie and TV offers from different producers and directors. But it took several years before she finallygave her nod to the classic drama series titled Lovingly Yours Helen. Following this was a role in a comedy film MgaAnak ni Facifica Falayfay (1987) with the Philippine Comedy King andreal-life partner Dolphy.
This was just the start of her career as an actress with, ofcourse, a singing career on the side.
At 44, Zsa Zsa has already achieved most of her dreams. She produced 12 record albums since shebecame a soloist and has been part of 22 movies since 1987.
For her birthday last May 28, PEP asked Zsa Zsa about thememorable songs and the people who have been part of her singing career.
ADVERTISEMENT - CONTINUE READING BELOW
MEMORABLE SONGS. ZsaZsa has performed more than a hundred songs, both originals and covers. Of all these songs, which are the mostmemorable because they involve thepeople who have been part of her life?
"Top of the World." Zsa Zsa remembers singing thisCarpenters song in public during her grade school years with her cousin, GinoPadilla.
"Forget Me Nots." This is an '80s disco song originally sung by Patrice Rushen, which ZsaZsa loved singing with her former Hotdog bandmates. The diva told PEP that she sang it with Hotdog in Circuit Discoof Hyatt Hotel.
"I loved singing it," said ZsaZsa. "The song was used years later inthe movie Men in Black of Will Smith. I also enjoyed doing "Hit Me withyour Best Shot" and a medley of Hotdog hits.
"Never Forget You." If Zsa Zsa would choose herfavorite among all the Hotdog songs, she would pick "Never Forget You." She recorded this song as a duet withbandmate, Rene Garcia. The singer added, "It is anoriginal composition of the Hotdogs, which was the flipside to the carriersingle 'Careful, Careful'. I only recorded two songs for the band while I waswith them."
"If." This song waspopularized by the music group Bread. Zsa Zsa dedicates this song to her longtime partner Dolphy because, saysshe, "It was the song used in our first movie together, Mga Anak niFacifica Falayfay."
REMARKABLE DUETS. Although she's better known as a solo artist, Zsa Zsa also performedably with fellow singers both in concerts and in the recording studio.
ADVERTISEMENT - CONTINUE READING BELOW
GARY V. ZsaZsa remembers singing Bonnie Tyler's "Total Eclipse of the Heart" with Mr. PureEnergy, Gary Valenciano. "It was a hitsong in the early '80s and it was among the first duets that we did together." The first song they recorded together was"Could We."
The local diva also liked singing with Gary V. the popularballad "Broken Vow" in their Faces of Love concert. The special reason was, Zsa Zsa said, "Weshot a [music] video, which he directed.
"I seldom get to act with Gary and in this rare footage,which we show before the song goes on, I was able to do something with himwhich I am also passionate about-acting."
MARTIN NIEVERA. The Divine Diva worked together with Concert King Martin Nievera in theirshow Divine Madness. "We didseveral duets but what stands out the most is 'Tell Him' [by Celine Dion andBarbra Streisand, her singing idol]. Martin changed some of the words to fit his lines with the point of viewof a man."
KUH LEDESMA. Another Zsa Zsa favorite was her performance with fellow diva KuhLedesma. "In our show Diva 2 Diva,we did very nice vocal arrangements of 'Broadway Medley', 'The Prayer', and[Mandy Moore's] 'Only Hope'. Alsomemorable is a medley where we 'exchange' interpreting hit songs."
DOLPHY. Ofcourse, Zsa Zsa would not miss singing with her partner Dolphy. Zsa Zsa related, "We did an impromptu duetduring my 38th birthday celebration at the Mandarin Hotel of 'YouMake Me Feel So Young' [by Frank Sinatra]. It was recorded live and is part of my album called In My Life."
ADVERTISEMENT - CONTINUE READING BELOW
KARYLLE. Asthe mother of young singer Karylle, Zsa Zsa describes her friendship with herdaughter in the song "Thank You" of Dido. "Our first duets together were quite emotional," says the diva.
ZSA ZSA'S MENTORS.Aside from these people she worked with, Zsa Zsa is also forever grateful tothe following people for helping her become the artist she is today.
Former managers Ronnie Henares and Sandra Chavez: "They both taught me and honed me to be abetter performer."
Former music teachers, "Suzy Abadilla, Cecille Azarcon, andKitchie Molina, who have taught me several techniques in singing."
Record producers, "Willy Cruz, Chito Ilagan, Johnny Alegre,Eugene Villaluz, Ben Escasa, who have all helped guide me during recordings ofmy albums."
Lastly, when PEP asked Zsa Zsa which song best describes herlife today, she gave Rod Stewart's "Have I Told youLately That I Love You?"
"I'm glad that I spent the firsthour of my 44th birthday in Baclaran church. Just like the song says, 'And at the end ofhe day, we should give thanks and pray to the One... to the One.' I have so much to be thankful for and I amgrateful to God for all my blessings."