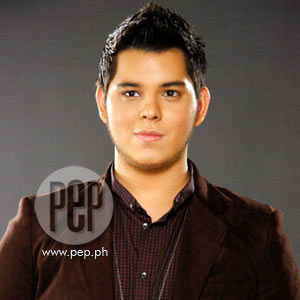 IMAGE 0
---
In a time when celebrities are playing it safe by jumpingfrom one field to another, young host Raymond Gutierrez is definitely a rareexample of someone who sticks to his guns no matter how tempting the otheravenues are.
"Lahat sila, artista ako lang 'yong medyo naiiba,"acknowledged Raymond, referring to his family, "very supportive sila sa akin."
PEP (Philippine Entertainment Portal) had the chance to talkto Raymond recently during the photo shoot of the Showbiz Central hostsat the Studio B of GMA-7 in Quezon City. The pictorial coincides with the 1styear anniversary of the top-rating Sunday showbiz talk show.
TORN IN THE MIDDLE. Raymond candidly confessed thataccepting the offer to be part of Showbiz Central was not easy. On topof his concern was the fact that he belongs to a high-profile showbiz pedigreewhose every move is constantly scrutinized by the public.
"Actually, when they offered this to me, naging topic dinna, what if your family is part of the issue?" he vividly recalled askinghimself. As it turned out, Raymond took the plunge and went on to shareco-hosting duties with Pia Guanio and John Lapus.
ADVERTISEMENT - CONTINUE READING BELOW
But fate was up to test Raymond's still shaky resolve. A fewweeks after Showbiz Central was formally launched, the budding host'sfear came to life when news broke out that his sister, Ruffa Gutierrez, fledIstanbul to severe ties with businessman husband, Yilmaz Bektas. It was abitter separation and Raymond was caught in the middle of an ugly controversy.
"I was getting it hard," he mentioned pensively. "It'sreally a challenge for me. Akala ko medyo smooth sailing pa in the beginning.Biro mo, two weeks pa lang, may major issue na about my family kaagad.
"So, it was trying to like, balance my job as a host andalso as a brother. So, 'yon lang yong medyo naging difficult in the beginning.Pero ngayon medyo sanay na 'ko. I just let it be. We know how to handle issuesnaman since we've been dealing with it since we were kids."
ADVERTISEMENT - CONTINUE READING BELOW
SIBLING RIVALRY. Ruffa's separation with Yilmazforced the former Ms. World Philippines to resume her halted showbiz career.Signing with ABS-CBN, Ruffa joined The Buzz last year as one of its mainhosts thus pitting her against Raymond and Showbiz Central.
Raymond however pointed out that there's no personal rivalrybetween him and Ruffa.
"Tinatawanan na lang namin," he smiled. "It doesn't affectus at all. Not even a bit na magkalaban 'yong shows namin. Kami naman hindinaman kami masyadong nagdu-dwell dun, e. You know, we go into the studio, we doour job and 'pag Sunday we usually go to mass together, have dinner together."
They even exchange compliments and congratulatory remarksfor a job well done particularly when it comes to ratings and hot exclusives.
But there is still of course that boundary and an unwrittenrule which both Raymond and Ruffa cautiously observes.
As what Raymond explained, "We respect our shows na we don'ttell each other what's happening, ito 'yong mga scoop namin, anong meron kayo?Cause we respect that the people behind the show also work very hard during theweek to get these scoops, to get these exclusives."
ADVERTISEMENT - CONTINUE READING BELOW
DOING HIS HOMEWORK. To keep himself updated, Raymondsees to it that he follows the news without letup.
"Before, I used not to read the tabloids," he confessedcandidly. Being a host of a showbiz talk show however altered Raymond'slongstanding belief.
"But ever since I realized na, it's like doing yourhomework, by Sunday you have to know, you have to have a knowledge of what'shappening in the showbiz industry or else you're gonna look clueless.
"Kasi you can't naman deliver news 'tapos wala kangkaalam-alam, 'di ba? So there, every morning I have all the newspapersdelivered to my house by the driver and then I scan through them. If somethingcatches my eye or if I noticed a trend na lahat ng headlines si Ganito 'yongpinag-uusapan, most likely we'll be talking about that this Sunday. So, that'swhen I read the article talaga."