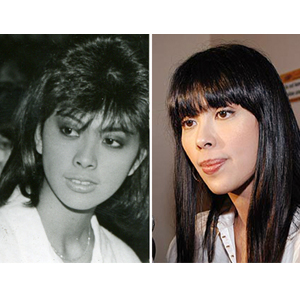 IMAGE 0
---
As their popularity grows, celebrities feel the need toimprove their looks. After all, looking good is a requirement in show business.But what if they not only change their looks but also their gender?
Read about who we have in this second ShowbizTransformations list and get to know two of the celebs who reinventedthemselves—as in making a totalchange in image.
POPS GOES THE WORLD.Maria Cielito "Pops" Lukban Fernandez had a nip of showbiz life in 1979 whenher godfather Tito Sotto exposed her to Eat...Bulaga!,Tito's show with brother Vic and friend Joey de Leon. But it was in 1982 thatthe International School alumna broke through the local music scene with herfirst hit, "Dito."
Hairdo with spray net and face fully made up, thesweet-looking 16-year-old daughter of the 60's action star Eddie Fernandez andactress Dulce Lukban, sang in Eat...Bulaga!and captured the hearts of Pinoys ever since.
She made the short-cropped hairstyle looked cool for girls.Large dangling earrings, padded shoulder blouse, and tight pants withleg-warmers were the rage among teenage girls who emulate her teenybopperfashion style. And the way she sang—mic hand's fingers tapping the microphonehandle while singing—was the benchmark of those who were inspired by her performances.The bedimpled Pops was so adored by her fans during the early days of hercareer, and drawing large crowds to her concerts, that the press gave her thetitle "Concert Queen."
Years after all the hit songs, movies, TV shows, andsurviving her failed marriage with Martin Nievera, Pops Fernandez has gonethrough numerous transformations. From her teenybopper look, to her glamorousdiva phase, through her fashionably sophisticated present self. She even had asexy image phase that landed her on the cover of the country's leading men'smagazine FHM Philippines.
ADVERTISEMENT - CONTINUE READING BELOW
Now, obviously happy and content with her personal life andcareer, Pops continues to look fabulous as she ages gracefully.
FROM MAMA MARIAN TOHOT MARIMAR. Marian Rivera began her showbiz career after being discoveredin a biscuit commercial by TAPE, Inc. head Tony Tuviera. She first starred inthe GMA-7 afternoon soap Kung MamahalinMo Lang Ako, then in Agawin Mo ManAng Lahat, and finally in Pinakamamahalwith Oyo Sotto. GMA then cast her in mother roles in the Philippine-Malaysiandrama Muli and in the primetimetelefantasya Super Twins. Duringthose times, hair neatly tied to a pony tail, no makeup and simple clothes werealways the required look for Marian to project the conservative wholesomemother-look.
It was after her audition for the lead role in the GMA-7adaptation of the Mexican telenovela MariMarthat Marian's transformation began. From being an almost irrelevant character,this De La Salle University-Dasmariñas A.B. Psychology graduate became thehottest TV personality in local showbiz today.
Marian's status as being the Kapuso Network's hottest starcontinues as she leads the network's top-rating telefantasya Dyesebel. Men were so affected by herincredible sex appeal, that she is even considered to be one of the leadingcontenders for this year's FHM Philippines' Sexiest Woman title, despitethe fact that she have not even posed for the magazine yet.
CHANGING JONALYN.Jonalyn Viray joined GMA Network's singing search Pinoy Pop Superstar and became its first grand champion.
After winning, she took advantage of one part of herwinnings to improve her looks. She used her P100,000 gift certificate from theBelo Medical Group and underwent rhinoplasty to improve her marketability.Rhinoplasty is the surgical procedure of correcting or altering the shape ofthe nose. In one TV interview—although not specifying what part of her body shehad done by the Belo Medical Group—she admitted she indeed went under the knifeto improve her looks and to boost further her confidence in facing people.
ADVERTISEMENT - CONTINUE READING BELOW
Today, aside from getting rave reviews for her performances,Jonalyn continues to shine as one of the country's top singers and a source ofthe country's pride when she won the the title Industry Award Female Vocal solofor winning five gold medals in the 2006 World Championships of the PerformingArts in Hollywood, U.S.A.
COMING OUT. AizaSeguerra became one of local show business's most popular child star afterwinning a place in Eat...Bulaga!'sLittle Miss Philippines 1987 contest.
She made her mark in showbiz with a string of hit moviesbefore her appeal as a child star lessened. As she grew up, it was obvious shewanted to be different. There were attempts to drum up a love team between herand Streetboys member Spencer Reyes, but all these failed and Aiza chose totake a break from show business.
She reappeared with a hit song, "Pagdating ng Panahon" andthis time, Aiza came out in the open about her sexuality despite pressure frompeople around her, telling her that "coming out" would be detrimental to hercareer. She proved them wrong.
Nowadays Aiza is seen with her partner Chen Sarte, who issaid to be not only her girlfriend but also Aiza's career manager.
FINALLY OUT.Rustom Padilla was marketed as a dramatic actor in the mold of Christopher deLeon and Richard Gomez when he started his career in 1992. He also did actionmovies, even starring at one time with younger brother Robin Padilla in themovie Mistah.
ADVERTISEMENT - CONTINUE READING BELOW
Rustom dated actress Carmina Villarroel. Amidst rumorsquestioning Rustom's gender, he and Carmina married in 1994. They separated in2002.
After hosting the Philippine version of The Wheel of Fortune (1997) and starring in the action-fantasy TVshow Pintados (1999), Rustom flew tothe States to study filmmaking.
On his return to the Philippines in 2006, he entered the Pinoy Big Brother Celebrity Editionreality show and it was there that he admitted being gay.
After PBBCE, hedid the movie version of Zsa ZsaZaturnnah, for which he won the Best Actor Award from the Manunuri ngPelikulang Pilipino in Gawad Urian.
He signed up with GMA Network and did La Vendetta.
In a Startalkepisode where he was interviewed after winning his Best Actor award, he toldhis mother, former movie actress Eva Carino, "Aminin niyo, Ma. Ako angpinakamaganda n'yong anak. Aminin niyo na iyan. Ako ang nagmana sa kagandahanniyo!"
For the photos of these stars who changed their looks—andtheir genders—click on the link at the caption box above.