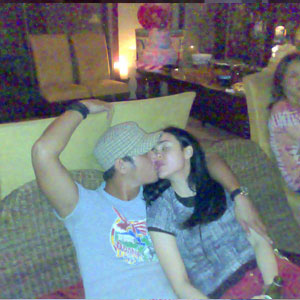 IMAGE 0
---
"You must remember this / A kiss is still a kiss…," startsan old love song. Now, if you're a high-profile celebrity caught in the act—andit has nothing to do with love or a script—the showbiz world will alwayswelcome intrigue.
On June 6, 2007, PEP (Philippine Entertainment Portal)first posted a picture of celebrity Gretchen Barretto being cozy with actorJohn Estrada, with the banner headline, "Photo of 'Gretchen Barretto' and 'JohnEstrada' kissing floods the Internet." As the photo suggested, they were socozily marooned on a couch, they ended up kissing. This image was then justbeginning to proliferate in cyberspace and the tongues of showbiz insidersstarted to wag.
CATCHING FIRE. As expected, the public and mediainstantly latched on to the news with unflagging intensity. These days whenscandalous images and videos of popular figures pop up almost everyday on theInternet, the photo of Gretchen and John was a certified hot copy. The incidentwould eventually be labeled the "kisscandal."
In the midst of Net sex scandals, the Gretchen-John imagewas fairly conservative. Both were fully dressed, locking lips while caught ina moment of revelry and apparent alcohol stupor. But there was something wrongwith the picture: they were not an item. Although some reports prior to theincident claimed that the two were having an affair, for most people, the twowere not supposed to be caught in a public display of affection (PDA).
Everybody knows that Gretchen is living with her longtimepartner, business magnate Tonyboy Cojuangco. The two even share a pre-teendaughter named Dominique. John, on the other hand, will always be remembered asthe ex-husband of actress-host Janice de Belen. Once again single aftersevering ties with girlfriend Vanessa del Bianco, John was reportedly seeing abeauty queen during the time his picture with Gretchen was taken.
ADVERTISEMENT - CONTINUE READING BELOW
The idea of a beautiful celebrity betraying the trust ofher wealthy lover was pure tabloid heaven. Overnight, Gretchen became afavorite subject among her husband's elite circles, showbiz figureheads,various media outlets and casual observers.
The public raised questions: Are Gretchen and Tonyboyheading toward splitsville? Perhaps Greta was bored of the partnership andlooking for something more than the money? Did John pose as a challenge forGreta to ease her boredom?
Gretchen refused to issue a statement and went intohiding, hoping that silence would lead the controversy to a natural death. Johngave a public apology addressed to the actress and her family.
On June 17, Gretchen's manager and dear friend Boy Abundaspoke for his ward in his showbiz talkshow The Buzz. Boy confirmed that the picture was authentic and that itwas taken during the birthday party of sexy comedienne Rufa Mae Quinto.
Sharing vital details, Boy said, "The pictures were takenby John's N-90 Nokia cell phone. It was a guest named Jay who took thepictures." As open as he was in admitting the veracity of the image, Boy wasquick to rebuff questions of an affair.
"No," he sternly said, "Gretchen and John are not havingan affair."
The popular host and talent manager painted Gretchen as awoman deeply sorry for her promiscuity and that she was "ready to face theconsequences" of her action. At the same time, it was announced that Gretchenwould leave the country to accompany Tonyboy to the U.S. for his throatoperation.
ADVERTISEMENT - CONTINUE READING BELOW
AFTERMATH. Gretchen's decision to leave the countryand John's own silence apparently helped to kill the issue. While the"kisscandal" went on and remained a favorite topic amongst people, iteventually lost steam as new intrigues and controversies surfaced.
The people involved in the controversy also put theincident behind them. Only a few months after the issue, John went public withhis relationship with Brazilian beauty queen Priscilla Merielles. For Gretchen,the issue oddly paved her comeback into the public's consciousness andinadvertently revived her image as a magnet for controversies. True enough,after the "kisscandal," Gretchen would figure in other equally controversialissues brought about by her personal life and relationships.
In a way, La Greta experienced a renaissance of sorts.Trying her hand at singing, she released her debut album titled Unexpected inFebruary this year under Star Records. This collection of her favorite lovesongs seemed to play up to the public's interest in the state of Gretchen'sromantic life—with the "kisscandal" etched in their minds.
After all, doesn't the world "always welcome lovers astime goes by?"