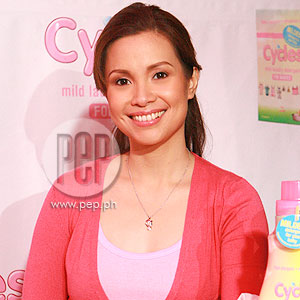 IMAGE 0
---
Aside from being a successful Broadway actress, Lea Salonga has another role which she deems as the most challenging and important: Being a mother to her two-year olddaughter Nicole.
In a media junket prepared for the contract signing of Lea'snewest endorsement, laundry detergent called Cycles, held at the TropezzRestaurant, Greenbelt 3 in Makati City last Friday, June 27, the Tonyaward-winning actress talks about her memorable moments with her daughter.
As a mom, which part does she enjoy most?
"It's just watching this little girl, who isnow two, just watching her at something, she does new things. There's always something weird that happensand sometimes that happens when I'm not around," she says while smiling.
Lea shares an incident when Nicole was caughtimitating what she was doing in one of her Broadway concerts.
"One day [my mom] called and said, 'You should see yourdaughter!' I'm like, 'Why? Whathappened?' Of course, I'm thinking, 'Is she in the hospital? What happened? Did she have an accident? Did she fall down the stairs? What happened to her?'
"She replied, 'We're watching your Broadway concert onDVD. She gets something—this littlething na parang mallet na she uses for her xylophone—she uses it as hermicrophone. And she's copying whatmommy is doing on the screen.'
"So, she does it now even without the visual aid. You know, she'll get up and get her littlemicrophone or anything that looks like one, and then, she'll walk around andbabble. Then, I would be like, 'Oh, mymother wasn't exaggerating this time.'"
"I WANT HER TO DREAM HER OWN." Although Nicole is showing an interest onher mother's profession, Lea said that unlike other parents, she doesn't wantto impose anything on her child.
ADVERTISEMENT - CONTINUE READING BELOW
"I don't have a dream for her. I want her to dream her own," says Lea. "You know, it's been asked with me, 'Do you want your kid tofollow in your footsteps? What do youwant you daughter to be?' I want her tobe what she wants to be."
The singer-actress adds that whether or not Nicole becomes an international star in the future, she will just support her daughter.
She explains, "You know, I'm her mommy. If she wants to be an actress, then, by allmeans. You know, if she wanna be incorporate sales, a lawyer, a doctor... I just have to make those dreams come truefor her and be there as much as I can for her. I can't impose whatever desiresI have for her."
And she goes on calling the attention of other mommies: "Don't impose your dreams upon your children. They have dreams of their own. Let them, just be supportive of them, be by their side, and beencouraging. When you know that there'sa real gift for something, you steer them in that direction."
Lea Salonga is currently busy with her rehearsals forthe musical production of Rodgers and Hammerstein's Cinderella. But she makes it clear that despite these rehearsals, she still finds time for her daughter Nicole.

"Time management is the best way of doing it," said Lea. "It's pretty rigid rehearsal schedule so I make sure that I, at least, find some time with my daughter before I head off to rehearsal. Then, I make sure that if I don't have any activities during the day, I go home and spend time with my daughter."
Cinderella will be staged from July 29 to August 24 at the Cultural Center of the Philippines in Roxas Boulevard, Pasay City.
ADVERTISEMENT - CONTINUE READING BELOW
Tickets are available at all selected major National BookStore branches, selected major Robinsons Department Stores, Ayala Malls,Greenbelt 1, Glorietta 1, and at the TicketWorld office or at their websitewww.TicketWorld.com.ph.
Ticket prices range from P500 to P7,000. For inquiriesand reservations, call 891-9999.