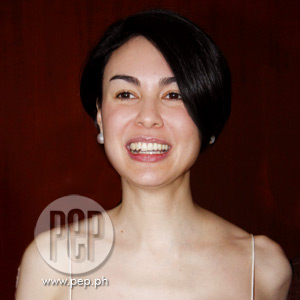 IMAGE 0
---

Quotable quotes by renowned people can be inspirational. Take the words of Greek philosopher Plato: "Be kind, for everyone you meet is fighting a harder battle." There's a lesson to remember, particularly in showbiz.
The same idea—with a twist—comes from a video shop that tells its customers to "Be kind, rewind!" A slogan that sticks. Like when the entertainment press wants to get to the bottom of an issue and interviews controversial celebs or their talent managers.
Now, where but in show business can you find words that make your day for being unique or downright funny? Straight from the horse's mouth, as the saying goes. We remember these direct statements for a long time.
For instance, actress Melanie Marquez once misquoted the saying, "Don't judge a book by its cover," when she was interviewed years ago for her reaction to criticism against her brother Joey Marquez during his breakup with actress-host Kris Aquino.
"Do not judge my brother, he is not a book," Melanie emotionally said. Unfortunately, public sympathy is often hard to earn. Her quote became a hit among people who sniggered at her gaff.
Scene-stealing quotes by a celebrity make him or her even more famous or controversial. And so we come to Gretchen Barretto.
Already well known as a "controversy magnet," whatever La Greta says and does rarely bypasses the eyes and ears of the media. Recent issues in her private life are still the talk of the town and people seem never to grow tired of her.
PEP lists some of her quotable quotes, from the serious to downright humorous.
"That cannot be! We own the bank!" This is the most recent quotable quote in La Greta's most recent mix-up with a credit-card error. She generously offered to pay for a dine-out with friends and when her card was denied, she unwittingly gave people the now-famous quote that they may quip if ever they get into that embarrassing situation.
ADVERTISEMENT - CONTINUE READING BELOW
"Even when I'm good and I'm bad, you have to love me!" Love, maybe, in the sense of being loved to talk about, especially whenever La Greta's being "bad." In other words, publicity good or bad is still publicity. In still other words—
"Basta masaya ako na naiintriga ako. Kasi kapag hindi na ako naiintriga, wala na akong career." This is entirely true and it shows how Gretchen knows how to play the popularity game really well.
"Saan ka talaga pupunta Gretchen? Kailan ba hihilom ang puso mo? Kailan ka ba mapapagod? Kailan ka ba titigil?" Greta, during an interview regarding her "kisscandal" with John Estrada, was heard saying this line, probably because of her name being constantly dragged into new controversy.
"I certainly am grieving my mistake." She said this in an interview, again regarding her "kisscandal" with John Estrada. Almost all her statements regarding the issue drew flak, which again made her the talk of the town.
"I'm fascinated by Gretchen, too." Small wonder. Gretchen said this in relation to her being a showbiz entertainer; meaning, if her mission in life is to entertain rich bored people, then so be it.
"Alam mo, hindi tahimik ang buhay ko. Hindi puwedeng maging tahimik ang isang Gretchen Barretto. Hindi na ako nagugulat sa mga intriga." Voltaire once said, "The secret of being boring is to say everything." This is very untrue for the likes of Gretchen because people in and around show business perk up whenever she speaks.
"According to my Valentino gown, it's not going to happen!" Gretchen sarcastically retorted when asked in an interview if reconciliation was possible between her and Dawn Zulueta, who reportedly got peeved with La Greta's prima donna ways during their shampoo commercial shoot. Talk went around that she flaunted her expensive stuff—like signature gowns, which her quotable quote would make famous forever.
ADVERTISEMENT - CONTINUE READING BELOW
"I may have been naughty or a bit out of control but never did I think of altering my whole relationship with Tony." True enough, Gretchen has been completely honest with whatever issue she manages to get herself into and she has had the guts to face it all.
Lately, however, La Greta seems to have chosen silence. Have her battles become harder to face?