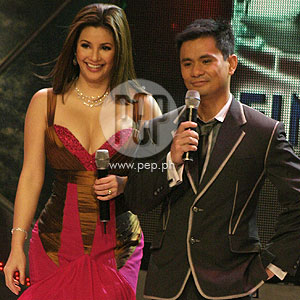 IMAGE 0
---
Remember when Ogie Alcasid and Regine Velasquez finallyadmitted their long-time relationship?
Rumors about Ogie and Regine being an item started to getloud in showbiz several months before Ogie Alcasid revealed it in YES!magazine last June 2007.
In fact, during the press conference for the Regine andRobin Padilla movie Till I Met You in the last quarter of 2006, she toldthe entertainment press, "May boyfriend ako of four years." A non-showbiz guy,according to her.
But the press people, as usual, didn't buy that. They still stronglybelieved that Asia's Songbird was concealing her rumored boyfriend.
February of the following year, Ogie gave a small hint tothe public when he announced that he would have a big revelation in June2007. No one had an exact idea about it. He just said that it was goingto be "big and personal." (Click here to read full article)
The public and the entertainment press waited patiently, butmost already sensed that the revelation would be about his relationship withRegine. After all, the rumors had been rife for the last four years, after Ogie'swife, Michelle Van Eimeren, 1994 Miss Australia, went back to Australia.
ADVERTISEMENT - CONTINUE READING BELOW
THE "BIG AND PERSONAL." For four months, showbiz reporters continuously asked Ogie abouthis special revelation, but instead of giving it away, he chose to keepquiet. When Regine was asked about it,her answer was, "Let's just wait for Ogie's announcement in June."
In the last quarter of May, even before the supposedschedule of the singer-songwriter's confession, YES!'s June 2007 issuealready hit the newsstands and bookstores with its headline: "Ogie's JuneAnnouncement on Regine: 'I love her,I'm crazy about her.'"
"Sabi ko na!" exclaimed the Ogie-Regine watchers.
In the YES! article, Ogie first talked about the situationwith his wife Michelle, starting with, "I'm separated. Michelle and I are separated, and we havebeen...for a long time."
Ogie did not go into details but he made the assurance thathe and Michelle remained friends—best friends, in fact. He added that although his wife and kids,Leila and Sarah, were now based in Australia, he never forgot hisresponsibilities towards them.
ADVERTISEMENT - CONTINUE READING BELOW
"I think ang pagkakamali yata ng ibang hiwalay, or at leastiyong kanilang mindset-and I don't want to judge them—is that pag naghiwalay nakayo tapos na iyon. No way. Pamilya mo pa rin 'yon. So, kung anuman 'yong kinikita mo, kanila parin 'yon. That's how I think."
After talking about his family, his in-laws, and the rumoredannulment being filed, Ogie continued with the next agenda of his revelation:Regine Velasquez.
"I think what I'd like to say with regards to Regine... I... I'min love with her... very much," said Ogie to YES! magazine.
Further underscoring his feelings, Ogie said, "As for me,I'm in love with her, I'm crazy about her, and she knows that."
The singer-songwriter went on to narrate how he told Reginehis feelings for her, how they managed to have time for each other in spite oftheir busy schedules, and other sweet and fun experiences they had as a couplewho had not yet come out in public.
ADVERTISEMENT - CONTINUE READING BELOW
"I LOVE HIM VERY MUCH." During the interview with YES! magazine, Ogie Alcasid wasasked if he had any idea about Regine's feelings for him. At first, he answered, "I can't saythat." And then he blurted out in jest,"Diyos ko, obvious naman siya, e!"
Ogie couldn't find the right word to describe how Regine wastowards him. He said, "With regard to her position towards me... well, you mightwant to ask her. I don't know. I mean, it's kind of mysterious how we are."
Not long after the June 2007 issue came out, Regine came outwith an answer to YES! magazine's question to Ogie. (Click here to read full article)
Regine affirmed Ogie's statements with, "I love him verymuch," during the press conference for the Pinoy Pop Superstar Grand Finalslast year.
"This relationship is important to me. This is the only relationship I have and therelationship I will ever have."
ADVERTISEMENT - CONTINUE READING BELOW
She even thanked the media for understanding her when sheand Ogie chose to hide their relationship. She said, "First of all, nagpapasalamat ako sa lahat ng mga kaibigan kosa press at sa mga taong naging mabait sa akin. Nagpapasalamat ako sa inyo at hindi ninyo ako hinusgahan."
Tears started to fall as she continued, "I'm both happy andscared right now. Happy ako, althoughhindi halata, dahil at least now it's out. But at the same time, very scared on what people will say about me. I'm scared I will be judged again."
Regine did not forget to thank her boyfriend of four years."Nagpapasalamat ako kay Ogie for protecting me. Hindi namin mailabas ito dahil napakaraming kailangangprotektahan ni Ogie—hindi lang ako kundi pati pamilya niya.
"Napakaraming pinagdaanan ni Ogie ngunit hindi niya akoisinama sa sinarili niya lang. Thankyou, Ogie. I love him very much."
ADVERTISEMENT - CONTINUE READING BELOW
FUTURE PLANS. The public openly accepted the relationship of Ogie and Regine aftertheir announcement. In return, they were both honest in giving details abouttheir relationship.
In their first concert together, Love to Laugh withAi-Ai delas Alas, in Los Angeles, California, Regine and Ogie faced the media inan interview. Regine reportedlyconfessed, "Buong buhay ko, inialay ko sa career ko. Ngayon naman gusto kong magkaroon ng kaligayahan. Kung kinakailangan kong i-give up ang careerko para lang kay Ogie, gagawin ko."
In a different interview, Ogie promised to take care of hisgirlfriend despite his busy schedule. "Oo naman, [nandiyan pa rin ang love], siyempre relationship, kailangangalagaan ko."
The couple's fans are now just waiting for the next bigannouncement, their wedding plans.
The couple said that they would get there someday; they justhave to fix some legal matters.
But to give an idea of what their wedding would look like,Regine narrated to the media one conversation she had with Ogie. (Click here to read related article)
ADVERTISEMENT - CONTINUE READING BELOW
She narrated, "Sasabihin ko na naman 'to, nakakatawa'to! Kasi second wedding na um-attendkami pareho na kapatid ko ang kinasal. Actually, pangatlo na nga. So,pinag-usapan namin, ano kaya ang wedding natin?
"So, sabi ko, ako na! Ako na ang mag-iisip. Sa Chowking tayo! Ang imbitasyon natin huwag na tayong mamigay, text na lang. Like, 'Go na kayo sa Chowking for ourwedding. See you there!' May mga ganoon."
Regine then explained, "Para lang kasing... I'm a person inthis business na palaging bongga.
"Para bang yung last concert mo, sa susunod, kailanganmai-top mo 'yon. Or yung outfit mo,dapat yung next, mas bongga. So, parangsawa na 'ko ro'n. If ever magkaroon [ngwedding], I want it simple. Kungsakaling dumating man kami ni Ogie sa puntong 'yon, I want our wedding nasimple lang."