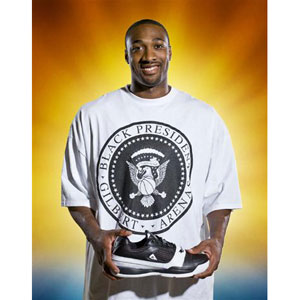 IMAGE 0
---
Washington Wizard's point guard player Gilbert Arenas stops overin Manila for the Adidas Agent Zero Tour 2008. For four days, he will be seen in various malls and communities.
Hours after he arrived in the country last Saturday, July 5,Arenas met up with the press at the Conservatory of The Peninsula Manila inMakati City for a short chat about his career in National BastkeballAssociation (NBA).
The Wizard player is known as the Agent Zero because of thenumber "0" on his jersey. He also saidthat he wore this number because people used to say that he would play zerominutes when he went to University of Arizona.
He said, "When I came out in high school, whenI was averaging 38 points a game, I chose to go to Arizona. When I was asked to choose my jersey, myjersey was 25, they said he [Steve Kerr, Phoenix Suns] was retiring, it was Steve Kerr'sjersey."
Arenas, 26, said that he just asked the number zero on hisjersey, which the team fortunately had at that time. "So, I was like, 'Man, nothing is going right. I don't have myplay, I don't have my jersey.' For me, I just stuck with it [zero] and said,you know, this is gonna be my trademark because I have nothing to lose. Backfrom where I came from, I have nothing to lose," said Arenas.
He also described how the phrase "from zero to hero"inspired him to play his best in every NBA game. He narrated to the press, "You know, it started in college. I scored the last 14 points and we end upbeating, I forgot what team, in my freshman year. And a kid had me sign and said, 'From zero to hero, you're myhero.' When I had to think about it,you know, I was like, you know, 'from zero to hero.' I just have to use what this kid said and started my career."
ADVERTISEMENT - CONTINUE READING BELOW
On Sunday, July 6, Arenas made a series of outlet visits in SM Mall of Asia in Pasay City, Rockwellin Makati City, and TriNoma in Quezon City. He then had the Agent Tour Statement at the TriNoma activity center.
He also led the official turnover of a basketball court toGawad Kalinga community as part of Adidas's mission to help promote sportsamong the youth.
Arenas is scheduled to leave Manila tomorrow, July 8, forhis next stop: Europe.
Gil Zero shoes promote Brotherhood and the core values of basketball.