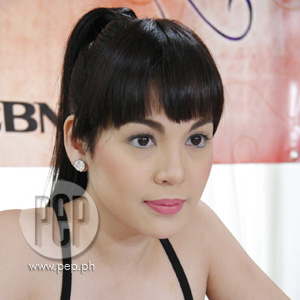 IMAGE 0
---
The world of show business can be either a pedestal of gloryor a tough arena of battle for most, if not all, the celebrities. Some of the longest-staying stars in the entertainmentindustry admit that enjoying simple blessings help them stay where they are.
Claudine Barretto climbed hard on herway to stardom even before she got married to Raymart Santiago, her fellowartist in the showbiz industry. Different issues and controversies triedto pull her down, but she remained strong until she began her own family.
During her solo press conference for Iisa Pa Lamang at the Roberto Antonio's FlowerShop in Quezon City earlier Friday, June 27, Claudine confessed what she andRaymart set their sights on their family.
"We want to be able to use the power that God has given usto touch the people's lives in a way that it will help them and help us also.Maraming lessons ang gusto ko ituro," said Claudine.
ADVERTISEMENT - CONTINUE READING BELOW
She and Raymart have two children, their three-year-oldadopted daughter Sabina Natasha and their 11-month-old son Rodrigo Santino.
Raymart instructed his lawyer, Atty. Ellen Veza, to file the adoption papers onSabina's third birthday last June 21, to change her name from Sabina NatashaBarretto to Sabina Natasha Barretto Santiago.Sabina is now a legal part of their family
Claudine hopes that someday people will understand why theyadopted her.
"Mahirap i-explain sa kanya [Sabina], but we want her toknow that we love her so much. Mas kailangan niya kami. God's will yungpagdating niya sa buhay namin," she admitted.
She also revealed that they tried to track downSabina's biological parents, in vain.
Claudine wants the best for her children. As a mom, shewants to pass on every lesson that she has learned through her life, not onlyin show business, but also in the real world.
"Yung makihalubilo sa pinakamalaki hanggang sa pinakamaliitna tao, hindi tinitingnan yung estado ng tao. We want them to know that you canuse the power that God has given to touch people's lives and help people in somany ways," she says.
ADVERTISEMENT - CONTINUE READING BELOW