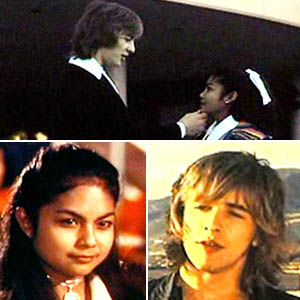 IMAGE 0
---
It's a shame when young stars of today do not recognize thepersonalities and real stars who contributed a lot to the developmentlocal showbiz. But it just plain irritates a lot of people when newcomers and"star" wannabes become swell-headed and see themselves as "superstars" afterdoing one or two movies or after starring in a couple of TV shows.
These showbiz upstarts have no idea what a real "Superstar"is.
A Superstar is someone who has thousands of supporters, whotreat the star as their queen or king, not only in their youth but throughouttheir whole life. The Superstar's fans withstand the heat of the sun and thecold rain just to wait and follow their idol during any event—loyalists whowould fight and virtually die for their idol. They would even name their offspring after their Superstar.
A Superstar is someone whose love life is always colorful,always watched and talked about.
ADVERTISEMENT - CONTINUE READING BELOW
A Superstar has stories and legends that blur the linebetween fact and fiction.
And as we all know, Philippine showbiz has only oneSuperstar—Ms. Nora Aunor.
Here's the first of the three "urban legends" about her.
WHEN "THE DON," FELL FOR THE "BROWN DOLL." In 1970,Nora Aunor, did the movie Lollipops and Roses. Produced by PremiereProductions, it was touted as one of the most expensive movie productions ofthat time, having been shot in Hollywood, Los Angeles, California, and even hiringforeign talents.
When the movie was finally shown in the Philippines, it wasan instant hit. Lollipops and Rosesset the record for being the first Filipino movie to be shown not only in"masa" theaters, but also in first-class, "Hollywood movies only" theaters suchas the Greenhills and Magallanes theaters. The movie was shown for six monthsin theaters all over the country, raking in a lot of money for PremiereProductions and, of course, for the Superstar Nora Aunor.
ADVERTISEMENT - CONTINUE READING BELOW
Fast-forward to the '80s: The hit U.S. TV detective series MiamiVice was all the rave among fashion-mad, music-loving, hip-crazy kids whoemulated the way the characters in the show talked, moved, and wore theirclothes, particularly one of the show's lead stars, Don Johnson.
Veteran showbiz writers, and especially, fans of Nora Aunor,recognized Don as one of the two U.S.-based talents that Premiere Productionshired to star with then 17-year-old Nora Aunor in the movie Lollipops andRoses. (The other Hollywood star was Davy Jones, lead singer of the '60srock n'roll band The Monkees.)
Don played the son of the Nora character's foster parents inthe States. In the movie, Don was extra-nice to Guy because he had a crush onher. "She's a brown doll," Don's character said of Nora. He showed her aroundwhile Nora was in L.A., and even sang The Carpenters' "Close To You" in a duetwith Guy in one scene. He was trying to get Nora's attention away from hisrival in the movie, Pinoy actor Victor "Cocoy" Laurel.
ADVERTISEMENT - CONTINUE READING BELOW
Some showbiz writers and fans insisted that "The Don" reallyfell for Nora and the two became a couple while Nora was in the States. Nora,they said, was nursing a broken heart after her breakup with Tirso Cruz III—herreel and rumored real sweetheart when she was still working for Sampaguita Pictures—andDon was at the right place and at the right time. He courted Guy and they had ashort fling.
And as the story goes, the fling ended before Nora returnedhome. They never saw each other afterwards.
Nora reigned as the Philippines' Superstar through the restof the '70s, until the early part of the '90s, while Don, after unsuccessfulattempts for Hollywood stardom, finally hit it big when he was cast in MiamiVice with Philip Michael Thomas.
Don became an '80s icon by the popularity of Miami Vice.After the show ended in 1990, he turned to doing movies and had moderate hits.In 1996, he returned to TV with the cop show Nash Bridges but wentlow-profile again after the show ended in 2001. He still appears once in awhile in TV and films.
ADVERTISEMENT - CONTINUE READING BELOW
Nora didn't talk too much about her relationship with Don, certainlynot about tales that could be easily dismissed as plain rumor.
But was the tryst between Nora and Don a fact or urbanlegend?
INTERVIEW WITH A NORANIAN. Nestor de Guzman is aNoranian, as fans of the Superstar callthemselves. In fact, he is the editor of the Noranian book, Si Nora Aunor Sa Mga Noranian: Mga Paggunitaat Pagtatapat, a collection of stories he compiled from different hardcoreNoranians who shared their memories and experiences as the Superstar's die-hardfans.
PEP (Philippine Entertainment Portal) finds his credentialssufficient enough for him to qualify as a resource person who can shed light onthe Nora-Don fling story.
"Hindi totoo," Nestor answered when PEP asked him about theNora-Don fling. "Urban legend lang talaga, dahil hindi naman naging sila ni DonJohnson.
"Si Don Johnson ay co-star lang ni Nora Aunor sa pelikulang Lollipopsand Roses, starring Nora and Victor 'Cocoy' Laurel. Kasi dahil superstarnga si Nora, idolo ng mga masa, na galing lang sa mahirap na pamilya na sumikatat naging Superstar nga, gusto nilang makita kung ano ang reaksyon ng mga taokung ipapareha si Nora kay Cocoy Laurel na isang mayamang elitista at anak ngisang senador."
ADVERTISEMENT - CONTINUE READING BELOW
Lollipops and Roses, he added, was just one of thetwo movies Nora made while she was in the U.S. The other was The SingingFilipina under Tower Productions, the movie outfit co-owned by ArtemioMarquez, who directed Nora in this movie and in Lollipops and Roses. Director Marquez is the father of actors JoeyMarquez and Melanie Marquez.
"Nora left the for the U.S. for Premiere Productions' Lollipopsand Roses and Tower Productions' TheSinging Filipina, in November 12, 1970. She stayed there until January 15,1971. Pag-uwi niya rito sa Pilipinas, ipinalabas na ang Lollipops and Roses,"Nestor told PEP.
"Actually, meron pang mas sikat na co-star si Nora sa Lollipops and Roses, si Davy Jones[credited in the movie as Davey Jones] ng The Monkees. Siya'ng mas type pa niNora kesa kay Don. 'Tapos nung ginawa niya yung The Singing Filipina, ang nakasama niya roon si Sajid Khan, isangIndian international actor."
ADVERTISEMENT - CONTINUE READING BELOW
Sajid Khan, PEP found out, was an Indian actor who alreadymade a name in Hollywood as early as the 1960s. He was a teenage sensationduring the '60s and, Nestor revealed, was Nora Aunor's "M.U."
"Parang nagkaroon sila ng 'something' ni Sajid. Parang M.U.,[mutual understanding]. In fact, sinundan pa nga siya ni Sajid dito saPilipinas nung 1971, after nilang gawin yung The Singing Filipina. Kayalang pagdating ni Sajid sa Pilipinas, hindi na siya nilabas ni Nora. Dinedma nasiya."
Sajid, Nestor recalled, left the country without even seeingNora. Nestor said, Nora's reason for not seeing Sajid was not just because ofher rumored reunion with Tirso Cruz III or Pip. There was more to Nora'ssituation in 1971 that made seeing Sajid impossible for Nora.
(TO BE CONTINUED NEXT WEEK)