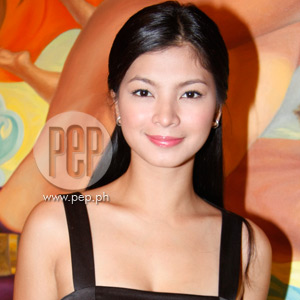 IMAGE 0
---
Angelica Colmenares's rise to fame was meteoric. Discoveredby a talent scout while loitering inside SM City North EDSA in Quezon City, theyoung Bulakena's truancy turned out to be a blessing, instead of her earning seriousreprimand in school.
Before she knew it, the dusky beauty was auditioning forcommercials before eventually signing an exclusive contract with the GMA-7network. Assuming the screen name Angel Locsin, the young talent was introducedto the public as part of the 1999 teen-oriented program Click where she portrayed the tomboyish role of Charley.
Tackling teeny-bopper roles in local showbiz is apre-requisite for stardom and Angel dutifully played the part for a good numberof years. Her image changed suddenly in 2004 when she bagged the role of Alwinain GMA-7's Mulawin alongside buddingheartthrob Richard Gutierrez.
SPREADING HERWINGS. Mulawin turned out to be ahuge success and its impressive showing made Angel an overnight sensation. Theshow's success also ushered in the so-called "fantaserye" genre, which GMA-7was determined to exploit to its full potential.
Angel's next project turned out to be bigger and far morechallenging. Taking on the role of Mars Ravelo's legendary heroine Darna, Angel's stock went full blast,making her a tri-media darling. When the show ended on November 25, 2005, AngelLocsin was a certified household name.
Angel's next television assignment was Majika where she portrayed the role ofSabina opposite Dennis Trillo. Majikadebuted on March 20, 2006 and ended its run on September 29, 2006.
Almost immediately, the network listed Angel in its mostambitious project opposite action superstar Robin Padilla. Given the caliber ofits two lead stars, the budget for AsianTreasures reportedly skyrocketed to almost P150-million. The program, shotin various locations—Thailand, China and Mongolia—was once again well received.Asian Treasures aired its farewellepisode on June 29, 2007.
ADVERTISEMENT - CONTINUE READING BELOW
Nobody knew that the action-fantasy series would beAngel's swan song as Kapuso's hottest property.
Angel's career was so successful that the notion ofleaving her home network to join its rival station ABS-CBN was simply unimaginable.When a rumor leaked out that the country's hottest young star was gearing up tofly over the fence, people scoffed at the news as cheap talk.
In reality, celebrities changing alliance is a commonpractice. But there was little to suggest that Angel would trade all theattention showered on her by her home network for something new.
Not even the expiration of her five-year contract wasenough reason to cast doubts on Angel's loyalty. In fact, it only raisedexpectations that a contract renewal, complete with lucrative stipulations, wasa sure thing to happen.
THE BIG DEAL. Thetransfer rumors were repeatedly denied by Angel's manager Becky Aguila and GMA-7,which consistently assured the press that an offer for a renewal of contractwas already in the works.
During the second week of July 2007, speculationsintensified with some gossip columnists claiming that network insiders confirmedthat, indeed, a transfer was most likely and that Angel's handlers werenegotiating simultaneously with both networks. Sources claimed, however, that managerBecky Aguila's eyes were already fixed on ABS-CBN and that her mind was madeup.
On July 21, 2007, PEP (Philippine Entertainment Portal) stunnedshowbizlandia with the news, "AngelLocsin's transfer to ABS-CBN is not all about money, says manager."
PEP reported in detail a meeting between Becky and ABS-CBNexecutives that took place on July 20 in Angel's new home in Quezon City. Theydiscussed the definite transfer.
ADVERTISEMENT - CONTINUE READING BELOW
"Inabotng mahigit isang oras ang meeting ng dalawang kampo. Right after the meeting,naganap ang exclusive interview ni Boy Abunda sa The Buzz kay Mr.Angel Colmenares, ama ni Angel, at pagkatapos ay sinamahan siya ni Becky,"wrote PEP contributor Julie Bonifacio.

"Bukod sa show at pelikulang gagawin ni Angel sa ABS-CBN, pumayag diumano siBecky na maging co-manager niya ang network sa pagha-handle ng career ng alaganiya. Matatandaang co-manager din ni Becky ang Artist Center ng GMA-7 bagonag-expire ang kontrata ni Angel rito."
Afterthe lid was lifted wide open, Becky revealed the determining factor thatprompted her to pull Angel out of GMA-7. The controversial manager claimed thather ward was overworked and not properly compensated. ABS-CBN's offer, on theother hand, provided her talent enoughleeway without sacrificing the financial aspect.
Angel,of course was one of the busiest stars of her generation. Aside from theteleseryes, she was also doing movies, numerous endorsements, photo shoots, andother showbiz engagements. Angel's career was being managed by GMA-7 with Beckysharing the task.
HAPPY ENDING. Slighted by the abandonment, GMA-7 officials and Beckytraded words against each other in public. The network dismissed Becky'sclaims, saying that they felt betrayed by the way Angel's camp carried out theentire deal. GMA-7 asserted that thenetwork was still in the middle of negotiations with Becky, unaware that secrettalks were going on with the rival network.
Angelfaced a tidal wave of criticism as well as sympathy from the public. Somepeople painted the young actress as ungrateful. Aggravating Angel's woes wasthe fact that her separation from her former home network was far from amicable.
ADVERTISEMENT - CONTINUE READING BELOW
Somepeople however sympathized with the young actress, saying that the entire issuewas simply blown out of proportion and that it was Angel's right to weigh heroptions since her contract had already expired. It was just a matter ofchoosing what she deemed best for her career, they argued.
In August2007, Angel Locsin—the former darling of GMA-7—officially inked an exclusivecontract with ABS-CBN, marking a new chapter in her career.
In themidst of all the controversy surrounding Angel's sudden change of heart, oneimportant footnote of her young career's history was revealed. A year beforeshe signed an exclusive contract with GMA-7, a shy, naive Angelica almostjoined ABS-CBN's talent arm Star Magic. But she was restrained by her father,Mr. Colmenares.
Yearsafter that first attempt and still proving herself a bankable actress andcommercial endorser, it's safe to say that Angel Locsin's transfer to ABS-CBNwas perhaps written in the stars.