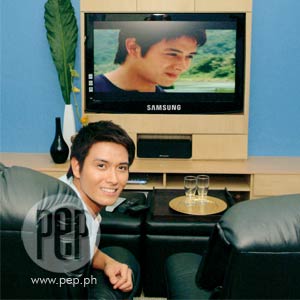 IMAGE 0
---
Constantly dealing with thepressures of stardom can be quite taxing. That's why celebrities can't beblamed if they regard home as a sanctuary—a place where they can be themselveswithout worrying about the public's prying eye.
They can well afford, of course,to lavish their homes with expensive gadgets and collections, which for most ofus would take weeks, even months, to purchase. But the stars work hard likeanyone else to have their own home. Be it a house or an apartment, it's wherethey're free to create their private space for rest and relaxation.
PEP (Philippine EntertainmentPortal) lists down some celebrities and their favorite spots at home.
JAY-R. Professionally,Jay-R is a hard worker. But when free of commitments and work-related stuff,the Prince of R&B is a self-confessed laid-back guy who would rather chillout at home than go out partying.
Jay-R—who was born and raised inthe States—shared in an interview with YES! that the moment he receivedan offer from GMA-7 and a recording deal from Universal Records, he immediatelypacked his bags and flew over to stay for good.
"You've got to leave home togrow," said Jay-R, "so that's what I did."
Living on his own, Jay-R prefersspace over clutter. "I like a lot of space, so that when we throw a party,everyone's gonna fit," he smiled.
One of his favorite spots in thehouse is definitely the entertainment room. Here he just relaxes while surfingTV channels, watching videos, and listening to his favorite records. Jay-R alsohas his own recording studio, and you'd think the guy just can't stop workingeven when he's supposed to be relaxing.
"Anything that has to do withmusic is not work for me," Jay-R mentioned to PEP (Philippine EntertainmentPortal) in a past interview. If anything, the home studio is still a sanctuaryto the Prince of R&B.
ADVERTISEMENT - CONTINUE READING BELOW
DINA BONNEVIE. Veteranactress Dina Bonnevie's abode of many years was built on sweat and sacrifice.
"My dad wanted to lend me money,and I said, 'No, I don't want to borrow money," revealed the highly respectedactress and ex-wife of ace comedian Vic Sotto. Two politician suitors back theneven volunteered to spend for the house's construction but to no avail.
"I'm very proud to say na even inGod's name, kahit singko wala akong inutang. Pera ko lahat ang nilagay ko dito.Nobody helped me build the house. Pera ko lahat!" she told YES!
Various objects she bought duringher constant travels abroad adorn Dina's house.
Dina loves hanging out in thekitchen area where she whips up her culinary skills at a whim.
"I cook almost everyday. That'smy passion. That's my only dream unfulfilled."
Dina's daughter, Danica, morethan made up for her mom's unfulfilled dream. Aside from formally studyingculinary arts, Danica managed to put her studies to good use when she put up acafé in Quezon City.
HEART EVANGELISTA. HeartEvangelista's decision to live independently raised eyebrows a few years back. Speculationhad it that the young actress was merely rebelling against her strict parents whodisapproved her relationship at the time with heartthrob actor Jericho Rosales.
But the chinita actress andendorser stressed that living alone was necessary for her to mature and learnhow to really live in the outside world. She bought a condo unit in MakatiCity, which she designed and decorated herself. Mixing youthful exuberance withclass, Heart's nest became a true reflection of her personality.
As for her favorite spot, Heartsaid she's fond of the entire place because it's her very own home. But it's inthe bedroom where she's particularly mesmerized with the picturesque view ofthe city at night.
ADVERTISEMENT - CONTINUE READING BELOW
"Ang ganda kasi 'pag gabi. I wishnga may terrace, kaya lang mataas na masyado 'pag magka-terrace," she beamed.
DENNIS TRILLO. DennisTrillo confessed that he's not fond of bar-hopping or hanging out in some ofthe metro's hottest spots.
The matinee idol would ratherspend his free time watching films—obscure as well as popular titles—from hisvast collection of videos. In the past, coping with his grueling work schedule,Dennis would travel back and forth from far-flung San Mateo, Rizal.
One day, it dawned on the hard-workingactor that his setup wasn't practical at all. And so, he scouted for acondominium in a more accessible area. Dennis eventually found a unit inMandaluyong city.
Now that he had a living room allto himself, Dennis excitedly dressed up the room where he would watch his videocollection and crank up his slew of rock records. This entertainment areainstantly became Dennis's favorite hideaway.
Dennis's manager Popoy Caritativotold YES! "'Di ba, andito ýong entertainment niya, andito ýongplayground niya, may gym equipment siya, yong stereo system niya, lahat-lahat.Basta andito na lahat, kaya ayaw niyang umalis. Dito na siya. Dito na ýong homeniya."
ALFRED VARGAS. There'smore to Alfred Vargas than the hunk. Unknown to many, Alfred is a genuine loverof the arts and a voracious reader. He is also very much into photography forwhich he has a solid educational background.
"I find humans the most interesting of all subjects," heshared. "I love shooting [photos of] old people—mga lolo, mga lola. And youngpeople—babies, children, mga naglalaro. Natutuwa ako when I see them. Mayemotions, e. Mas madaling ma-capture 'yong emotion."
Alfred's artistic sensibility isalso reflected in his own abode, as shown by his collection of paintings andbooks. At first, Alfred thought of getting a condo unit but later decided to buya house.
ADVERTISEMENT - CONTINUE READING BELOW
Obviously, one of Alfred'sfavorite spots in his house is the living room where his collection ofpaintings adorns the pure white walls. Alfred often spends most of his time thoughin the entertainment room, which doubles as his private gym.
Alfred's designer Michelleexplained, "The treadmill is placed there because he sometimes wants toexercise while watching TV or while studying his lines. So the room has twopurposes talaga."