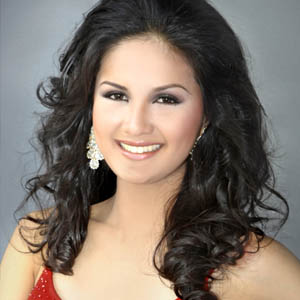 IMAGE 0
---
On July 14, our very own Bb. Pilipinas-Universe 2008 JenniferBarrientos will be vying for the crown, along with 79 other women fromdifferent countries, in the 57th Miss Universe Beauty Pageant to beheld at the Crown Convention Center in Nha Trang, Vietnam.
Jennifer left the country last June 18 for Vietnam. Butbefore she left, a send-off party was held in her honor at the MandarinOriental Suites in Gateway Mall, Quezon City, on June 12. At theparty, Jennifer expressed confidence that she'll bring home the crown andmake the Philippines proud.
"I don't have doubts in myself and, of course, I have greatpeople who helped me and I believe in them. I know deep in my heart, really,mananalo ako this year," she said in a TV interview.
The 22-year-old Tourism graduate is driven by the desire to achieve her goals. She attributes her confidence to her being an active youth leader in their church ministry and from the lessonsin faith during her experience as a beauty queen.
ADVERTISEMENT - CONTINUE READING BELOW
"Joining Binibining Pilipinas taught me lessons in faith aswell—faith in myself, in the things I can do for others, how I can make adifference," she enthuses with a charming smile.
Jennifer values her BinibiningPilipinas experience as it teaches her different values by the day, while she performs her various duties as a reigning queen.
"Most importantly, I have learned a great deal about beingindependent, how to effectively do things on my own," she adds.
The eldest child of Nestor and Elena Barrientos, Jennifer isalways eager to meet new people and hone her talents. She unwinds by engagingin water sports and playing volleyball.
The 5'8" beauty-and-brains previously worked as aWelcome Ambassador for the Star World Hotel in Macau after earning her BS Tourismdegree from the University of Santo Tomas.
"I intend to pursue the ongoingcampaign for awareness on HIV and AIDS," Jennifer answers when asked about herplans.
ADVERTISEMENT - CONTINUE READING BELOW
She intends as well to advocate the rights of women and children as well as the development of thearts, particularly music.
"I would want to pursue advocaciesclose to my heart as I believe I will be more productive promoting thesecauses."
Jennifer radiates true Filipina beauty insideand out, as she strives for her goals, driven by the strength of herfaith. She is indeed out to do her country proud as she competes in one of thisyear's most anticipated beauty pageants featuring the most beautiful women inthe world.