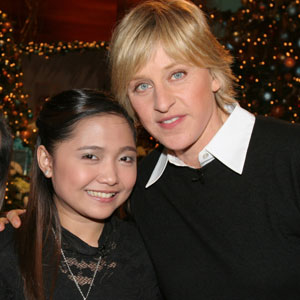 IMAGE 0
---
Little Big Star (2005) finalist Charice Pempengco is now a big star on the international music scene.
It all started with a video clip showing the young singer render her version of "And I Am Telling You I'm Not Going," one of the songs featured in the movie Dreamgirls.
Seoul Broadcasting System, one of the TV giants in SouthKorea, was so impressed that Charice was asked to perform on a show titled Star King in October 2007.
A month later, it was Ellen DeGeneres who chanced upon her video clip. On December 19, Charice made her first appearance on a U.S. television show. Her guesting was hailed as the Most Memorable Moment of 2007 in The Ellen DeGeneres Show website.
Four months later, it was London's turn to be wowed by her amazing voice. The Paul O'Grady Show made her sing the Dreamgirls song and Whitney Houston's "I Will Always Love You."
ADVERTISEMENT - CONTINUE READING BELOW
Last May 12, she sang "I Have Nothing" in front of Oprah and the famous host's millions of viewers.
And on May 23 at The Event Center of Mandalay Bay Resort in Las Vegas, she shared the same stage with international stars Josh Groban, Michael Buble, Andrea Bocelli, Babyface, Kenny G., Brian McKnight, Michael Jons, Katherine McPhee, Boz Scaggs, and Alicia Keys, during a concert tribute to legendary composer David Foster.
Charice was also privileged to sing Whitney's greatest hits "I Will Always Love You" and "I Have Nothing" beside the world-renowned composer. David was so awed that he declared, "Tonight, a star is born!"
The Pinay singer is more than happy to share her pictures with the famous people she met in the U.S.