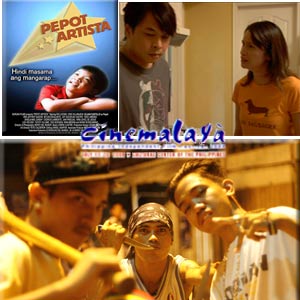 IMAGE 0
---

The blossoming of an effeminate boy onscreen in 2005coincided with the blossoming of the independent film industry in thePhilippines. Since then, filmgoers have equated the month of July with acelebration of original works that reflect our uniquely Pinoy heritage.
The Cinemalaya Philippine Independent Film Festival wasfounded in 2005 with the objective of discovering, encouraging and honoring thecinematic works of Filipino filmmakers that boldly articulateand freely interpret Filipino experiences with fresh insight and artisticintegrity.
The annual film fest is open to filmmakers who have not yetdirected a full-length commercial film and those who have directed not morethan three full-length commercial films. Ten full-length films and ten shortfilms compete for the awards given out by the selected jury members ofCinemalaya. The top winners receive an additional grant from Cinemalaya andalso get to take home the coveted Balanghai trophy shaped like a Badjao boat.
Through this competition, film buffs gain access tonarrative features that highlight Filipino identity and culture. Filmmakershave a venue to display their works and receive a substantial amount as seedgrant from Cinemalaya Foundation, Inc.
For this top list, PEP (Philippine Entertainment Portal) focuses on the full-length feature films that won Best Film and JuryPrize awards during the past three editions of Cinemalaya. We pay tribute to these chosen Cinemalaya entries that have broughthonor to the Philippines by showcasing the unique stories that Filipinos haveto offer the world of cinema.
Best Full-Length Feature Film for 2005
Pepot Artista
Director: Clodualdo "Doy" del Mundo
Stage child actor Elijah Castillo brings life to thecharacter of Pepot, a ten-year-old boy who is a film buff and aspires to be amovie star himself. In this comedy-musical, the dreamer Pepot is surrounded by people who areequally dazzled by the movie world. The film explores the penchant of Pinoysfor entertainment in the midst of serious social problems.
ADVERTISEMENT - CONTINUE READING BELOW
Aside from winning Best Film in the full-length category inthe first edition of Cinemalaya, Pepot Artista also won Best Editing forDaniel Adapon. A few months later, Elijah bagged the Best Actor Award duringthe Silver Screen Awards for the 19th Singapore International Film Festival2006. It was also featured in the Asian Frescoes section of the eighthOsian-Cinefan Festival of Asian Cinema.
Jury Prize Winner for 2005
Ang Pagdadalaga ni Maximo Oliveros
Director: Auraeus Solito
Another film starring a young boy took home top honors inCinemalaya 2005. In Ang Pagdadalaga ni Maximo Oliveros, Maxi (NathanLopez) is a 12-year-old effeminate gay boy who lives in the slums with hisfather and brothers who are petty thieves. He is attracted to a cop namedVictor (J.R. Valentin) but he is torn between his loyalty to his family and hisinfatuation with the handsome officer of the law.
The Blossoming of Maximo Oliveros won 15international awards, including three awards at the Berlinale (The Teddy award,International Jury Prize at the Kinderfest and Special Mention from theChildren's Jury of the Kinderfest). It is also the first Philippine filmnominated for Best Foreign Film at the Independents' Spirit Awards in the U.S.The film had its U.S. debut at the 2006 Sundance Film Festival. It was also theofficial entry of the Philippines to the 79th Academy Awards (Hollywood Oscar)in March 2007 but it did not make it to the official list of nominees in the BestForeign Language Film category. Maximo has sashayed across the bigscreen in over 50 film festivals around the world.
Best Full-Length Feature Film for 2006
Tulad ng Dati
Director: Mike Sandejas
In August 21, 1988, Teddy Diaz was stabbed by two hoodlumsin Tatalon, Quezon City. He tried asking for help from his girlfriend who livednearby but he died due to massive blood loss. His death left a huge dent in TheDawn but the remaining band members—Jett Pangan, JB Leonor, and CaloyBalcells—forged on. Eighteen years later, first-time director Mike Sandejascreated a semi-biographical movie that adds elements of fantasy in thestory of The Dawn.
ADVERTISEMENT - CONTINUE READING BELOW
Tulad ng Dati revolves around the characterof Jett who has lost his passion for music and is on the verge of retiring fromThe Dawn. The vocalist of the band is assaulted by a burglar and goes into acoma. When he wakes up, he has lost his memories after the year 1988. Heremembers that he is 20 years old and is at the peak of his career with TheDawn. Not satisfied with how things turned out with his life, he tries tochange everything back to the way it used to be. The path he takes whilefinding his place in this strange new world proves to be a tough,emotional, and sometimes hilarious journey—accompanied by the celebrated musicof The Dawn, both past and present.
This film on the rock band (international title: Just Like Before) also won Best Script and Best Sound at the 2006Cinemalaya. It became the first Philippine entry to the New CurrentsCompetition of the Pusan International Film Festival in South Korea. It wasalso short-listed in the Hawaii International Film Festival.
Jury Prize Winner for 2006
Batad: Sa Paang Palay
Director: Benji Garcia
A 14-year-old boy from Batad named Ag-ap (Alchris Galura) isforced to sell produce in the Banawe market to augment the family income. Hedreams of a life in the city and yearns to have a pair of shoes to call hisown. But when he finally gets the shoes he has worked so hard for, they beginto change his life in ways he could never imagine.
The touching story of a young boy who learns to appreciatehis roots also won Best Screen Play (Vic Acedillo Jr.), Best Actor (AlchrisGalura), and Best Production Design (Aped Santos and Lola Navarro) inCinemalaya.
This movie shot in Batad, Ifugao province, has been screenedin various film fests including the International Film Festival of Mumbai (alsoknown as the Mumbai Academy of Moving Images), the Phuket Film Festival, andthe Fukuoka Asian Film Festival in Japan. It was also part of the officialselection of the Longbaugh Film Fest in Oregon, U.S.A.
ADVERTISEMENT - CONTINUE READING BELOW
Best Full-Length Feature Film for 2007
Tribu
Director: Jim Libiran
When Direk Jim accepted his award for Best Film in lastyear's Cinemalaya awarding ceremony, he prophesied that from the gangsters inTondo will come the next National Artists. The 52 gangsters belonging to sixwarring gangs or "tribes" from Tondo proved that they could indeedmake it when they bagged the Best Acting Ensemble Award in Cinemalaya.
The violent and graphic movie is the only Filipino filmchosen to compete in the New Currents section of the 2007 Pusan InternationalFilm Festival in South Korea. Tribu also participated in the 58th BerlinInternational Film Fest held in Germany.
Its latest award is the Youth Jury Prize given during the6th Paris Cinema International Film Festival held this July.
Jury Prize Winner for 2007
Endo
Director: Jade Castro

Endo shows the plight of the "end-of-contract" casual workers aptly playedby Jason Abalos and Ina Feleo. Leo's life is a series of terminable contractssince he jumps from one temp job to another. Unable to finish school and forcedto be the family breadwinner, he lives his life on automatic mode until hemeets Tanya, a thoughtful co-worker who spends most of her time inspiring Leo.But just as they are developing a close bond, Leo's ex-girlfriend suddenlycomes back into his life and Tanya gets the chance to work abroad. Will Leo beable to find security and permanence in this unpredictable world?
This film from ufo Pictures competed in the Festival DesTrois Continents (Nantes 3 Continents International Film Festival) held inFrance last year.
During the awarding ceremony of Cinemalaya 2008 scheduledthis Sunday, July 20, filmmakers and the general public will eagerly await theoutcome in the hopes of fielding another set of Filipino films that will gaindistinction in the international scene.