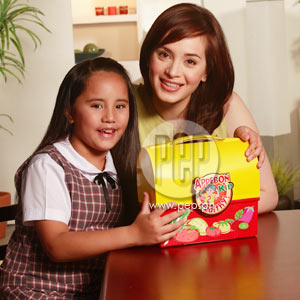 IMAGE 0
---
If there's one topic that can make the shy Lucy Torres-Gomez talk nonstop, it's her unica hija Juliana.
During the media junket of her latest endorsement, which was recently held at the Annabel'sRestaurant on Tomas Morato in Quezon City, Lucy said her seven-year-olddaughter is growing up so fast that, as much as possible, she spends time with her.
"We bake, we cook together," said Lucy. "The activities she has with Richard aremore physical, like sliding down the banister of the staircase, doing MuayThai, pillow fight. She always says thatwhenever she's with her dad, they do danger. 'Me and dad, we do danger.'"
Lucy also noticed that Juliana's interests are changing as she grows older. "She's really growing up fast because on the wall, where her bed is, Ialready see posters of the [Disney's] Jona's Brothers and Hannah Montana. And I tell her, 'Juliana, you remind me ofwhen I was a bit older than you, I had a Menudo poster.'"
The proud mom added, "She likes arts and crafts, she likespainting but she likes rocker fashion. She likes edgy fashion, like black and pink together."
Aside from the arts, Juliana, who is already ingrade one, is into sports like her dad. "She likessports, she's into football. She alsotakes ballroom dancing lessons. She rides her bike around the village. She's very active."
Although Juliana seemed like a shy type of girl, the 32year-old mom said her daughter has a comic side.
"You know, Julianna, she's actually a very funny child,"said Lucy. "Kakatawa 'yong sense ofhumor niya but she's very shy. Pinapalabas lang niya 'yong pagkakenkoy niya kapag kami lang ng daddyniya or yaya, my parents; yung close lang talaga sa kanya, 'yong best friends,'yong family. Kapag dito [press conference], tumitiklop 'yon. Pero when she's comfortable, kenkoy talaga. Puwede siyang comedienne."
ADVERTISEMENT - CONTINUE READING BELOW
ON CHILD DISCIPLINE. For a fine mom like Lucy and a serious dad like Richard, how do they discipline their child when her "kakulitan"strikes.
A reporter asked, "Namamalo ka ba?" Lucy replied, "Palo hindi. Palo ganito lang [soft tap of her hand].Never belt...Never belt because I remember sabi ng teacher sa school na,'When you use your belt to hit your child...Sinusuot mo 'yong belt so they seethat's part of you. Every time they seeyou, kahit hindi ka galit kapag nakasuot ka ng belt na 'yon, naa-associate nilawith [your actions]."
She continued, "So, the teacher recommends should you wantto reprimand your child by making palo, gently lang and you use a naughty or anaughty spoon. Parang a wooden spoon na'yon lang talaga 'yong tool na gagamitin mo daw pampalo.
"It's effective naman. Kapag medyo nagiging matigas ang ulo, I'll ask her, 'You want a naughtyspoon or a naughty stick?" [She'll answer],'No, mommy. No.' I don't really believe'yong sinasaktan. I reprimand, Ibelieve in disciplining. There areother ways naman in disciplining."
How about her husband Richard?
Lucy said, "Si Richard kasi doesn't believe in discipliningna, 'O, basta pinagalitan kita, huwag ka na magtanong kung bakit.' He always explains to Juliana why he has todo it, why he has to ground her from watching TV."
In the end, Lucy left a reminder for the otherparents. She said, "You always have toexplain to the child. You cannot takethem for granted because they're smarter than you think they are and they canunderstand."