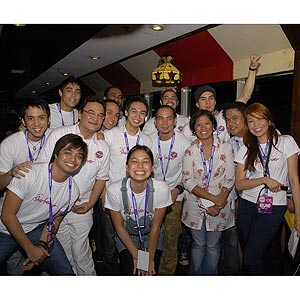 IMAGE 0
---
Dining at a restaurant like T.G.I. Fridays will always besatisfying. But celebrities serving theordered food sounds even more satisfying, right?
Local stars were brought together to be celebrity serversfor a night last Sunday, July 20, at T.G.I. Friday's Restaurant, Glorietta 3 inMakati City. Celebrities DerekRamsay, Drew Arellano, Juddha Paolo, Nyoy Volante, Vince Hizon, and DirekCastañeda took the challenge of Digicon Wizard Events Group.
Joining them were former Pinoy Big Brother housemateMickey Perz, former tadjock of Wazzup, Wazzup Eri Neeman, Pinoy DreamAcademy scholar RJ Jimenez, Monster Radio DJ Rico Robles, theater actorFelix Rivera, TV host Jinno Rufino, and former Ang TV star Thou Reyes.
Now on its third year, StarServe: Celebrity for a Cause hasalways aimed to support cause-oriented groups that focus on children's welfare. This year, the event is for the Children'sJoy Foundation, Inc.
Aside from serving food to the customers, young singer RJJimenez also performed his signature song during his stint on PDA, whichwas titled "Miss Kita 'Pag Tuesday, and Jason Mraz's "I'm Yours." Acoustic artist Nyoy Volante, on the otherhand, entertained the diners with the songs "Change the World" and "HowWonderful Life Is."
After their work as a celebrity servers, foods, appliances,and cash were handed out to Children's Joy Foundation. In turn, children offered a song to saythank you to all the people who supported the event. They all sang in chorus: "Isang milyong pasasalamat / Ang alaynamin sa mga taong puso ay busilak / Kami ngayo'y puno ng kaligayahan..."
Three-year star server Derek said that seeing these childrensmile makes their efforts all worth it. "It's priceless."
Of course, Digicon Wizard did not forget to present specialawards for the celebrities who worked for free. The "Best Server" award was given to Mickey and Drew. Then, the "Early Bird" award was given toJuddha and Felix. Next, Bettina andNyoy were dubbed as the "Running Man" or food runner. Vince and Derek, on the other hand, received the "Monalisa" awardfor always serving the food with a smile. "Disco Idol"or best groomed were Felix and Eri, while the "Congeniality"award was given to Rico and Bettina. Lastly, Jinno, Manny, RJ, Thou, and Juddha received the "ServiceSpecial" award.
ADVERTISEMENT - CONTINUE READING BELOW
With the success of this project, Digicon Wizard EventsGroup promised that there would be another event like this next year. "It's our way of giving our blessings backto the people," said one of the members of the group.