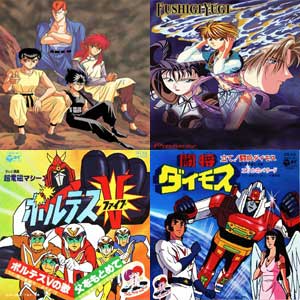 IMAGE 0
---
Cartoons in comic books, movies, and TV are said to be onlyfor children. Yet even their elders,children at heart, are still fond of watching animations. At home everyone turns on to their favoritecartoon shows in the morning or even in the late afternoon.
A number of animation programs have already become a hit inthe country. Some are based on classic stories such as Adventuresof Tom Sawyer, Peter Pan, and A Little Princess; while the others are theJapanese animé (short for "animation") which have their roots in the Japanese Manga drawings.
Animation adapted to local film
Do you remember Sarah Crewe? Based on Frances Hodgson Burnett's novel, A Little Princess, the story was about the youngdaughter of a wealthy British family in India, who attended an all-girl'sboarding school in London. Tragically, Sarah's father died and her family wentbankrupt. Miss Minchin, the head mistress of the school, took advantage of thepoor orphan's plight. The cruel MissMinchin exploited Sarah by making her the school's cleaning maid. Sarah livedin misery.
ADVERTISEMENT - CONTINUE READING BELOW
How about Cedie (or Cedric)? He was the American boy in Burnett's novel Little LordFauntleroy, who turned out to be the sole heir to a wealthy Britishearldom. He and his mother left Americaand resided in Cedie's ancestral castle. The boy's grandfather, the Earl of the Dorincourt Castle, wanted toteach young Cedric to become an aristocrat. But later on the Earl learned that his grandson would become a betterEarl than himself—compassionate and caring towards their poverty—strickensubjects.
Following the fate of these young children really touchedthe heart of the televiewers. Theirstories taught a lot of things to the kids who were glued to television everymorning. Princess Sarah and LordFauntleroy were such a hit thatthese were adapted in the local movies Sarah, Ang Munting Princesa (1995)and Cedie, Ang Munting Prinsipe (1996).
In Munting Princesa, the moviegoers discovered theacting skills of then child stars Camille Prats and Angelica Panganiban. Ang Munting Prinsipe showed thekindness that each child should have through the character of the former childactor Tom Taus.
ADVERTISEMENT - CONTINUE READING BELOW
Robot-inspired series
Voltes V was one of the most famous robot-inspiredJapanese animé shown in the country. This predecessor of Combattler V, which was first part of theRobot Romance Trilogy, was first shown in the late '70s, dubbed inEnglish. After more than a decade, itsre-runs were shown on television and dubbed in Pilipino.
Five young pilots—Steve Armstrong, "Big Bert" Armstrong,"Little John" Armstrong, Mark Gordon, and Jamie Robinson—maneuvered the five"volt machines," which comprised the giant robot. Their aim was to defeat Boazanian invaders and to find the longlost father of the Armstrong brothers, Dr. Ned Armstrong who had designedVoltes V.
Following Combattler V and Voltes V, was thethird installment of the "romantic trilogy called Daimos. Unlike Voltes V, the robot Daimos only had asole pilot, Richard Hartfort. The robot had the ability to mimic the movementof its pilot. Since Richard was akarate black-belt champion, he was able to make Daimos wield karate moves infighting mecha soldiers. This army wasdeployed by Admiral Richter of the planet Brahm to destroy planet earth'sdefenses.
ADVERTISEMENT - CONTINUE READING BELOW
Daimos's love story was also followed by its hopelessromantic viewers. Richard fell in lovewith Erika, who turned out to be the sister of the evil Richter.
Monster-hunting animations
Children are commonly afraid of monsters but when Pokémonand Digimon were shown on television, the kids became fascinatedwith monsters that fought evil forces.
Pokémon (or pocket monster) originated from the mostsuccessful video game of Nintendo with the same title. Its story was about a Pokémon trainer namedAsh whose goal was to collect all the available Pokémon species found in acertain area. He trained thosecollected pocket monsters to fight the creatures that were owned by othertrainers and he became the ultimate Pokémon trainer.
The show popularized the yellow electric monster calledPikachu, who was the first pocket monster Ash and was regarded as the officialmascot of Pokémon. There werealso Charmander, Squirtle, and Balbasur.
ADVERTISEMENT - CONTINUE READING BELOW
While Pokémon became a hit in GMA-7, ABS-CBN was ableto get Digimon to compete with the success of Pokémon. Unlike the rival network's show, Digimonfollowed the natural cycle of life. Thetrainers started with a baby Digimon, then they would train it, evolve it, and take good care of it before settingit up for a battle with other digimon.
Sports-related animation
Basketball and boxing are two of the most popular spectaclesports for Pinoys. And so, the animations Slam Dunk and Baki theGrappler landed a spot in the afternoon block of GMA-7.
Basketball fans witnessed how Hanamichi Sakuragi developedfrom a character who knew nothing about basketball to a superstar cager. He focused on learning this sport out oflove for Haruko Akagi, who discovered his potential in basketball.
Sakuragi joined the team of Shohoku, which was composedof: Kaede Rukawa, his rival on thecourt and in love, being the "girl magnet" of the team; Hisashi Mitsui, theformer MVP; Ryota Miyagi, the short but fast player of the team; and TakenoriAkagi, elder brother of Haruko and team captain of Shohoku.
ADVERTISEMENT - CONTINUE READING BELOW
On the other hand, Baki was about the young fighternamed Baki Hanma whose dream was to follow his father Yujiro's footsteps andbecome the strongest fighter in the world. He developed his body through rigorous training and continuousfighting to achieve this goal.
Cute alien robots
Doraemon and Mojacko were two animécharacters, who not only made televiewers laugh but also taught somelessons.
Doraemonwas a cat-like robot with humanintelligence. He had a large pouch-likecompartment on his stomach, which contained many gadgets from the future. He was sent for by Nobita to help him in hisstruggle in life by using his futuristic gadgets.
In March 2008, according to Wikipedia, Japan's Foreign Ministry appointed Doreamon as thenation's first animé ambassador to help people in other countries understandJapanese animé better and to deepen the interest in Japanese culture.
Mojacko was a furry, rotund alien from the planet calledMoja-Moja. He came to Earth when hisspaceship malfunctioned awfully while he was exploring the cosmos. He and his robot sidekick Dono befriended ahuman named Surao and stayed at his place while their spaceship was beingfixed. Later on, Mojacko's siblingsMojaru and Mojari joined them; while his enemy Momonja stayed with Surao'sarch-enemy, Wutan. Both groups had allkinds of adventure in their search for the greatest treasure in the universe.
ADVERTISEMENT - CONTINUE READING BELOW
Human adventures in different dimensions
The list would not be complete without the hit series titledGhost Fighter (Yu Yu Hakusho) and Fushigi Yugi. Themain characters of these two animations were sent to a different dimensions andgot involved in fighting evil.
Ghost Fighter was about a delinquent young man namedEugene (Yusuke Urameshi), who died after trying to save a littlechildfrom a speedingcar. However, due to an unexpectedtwist of fate, Eugene was assigned to become a detective for the Spirit Worldto investigate demon cases in the human world.
With his spiritual abilities, Eugene led his team-composedof Dennis (Kurama) of the spirit world, Vincent (Hiei) of the demon world, andAlfred (Kuwabara) of the human world-to the Dark Tournament to fight off demonsand humans that aim to rule these three worlds.
Fushigi Yugi was aabout a lady named Miaka who ended up in TheFour Universes of the Four Godsafter she and her friend Yui readthe book with that title. Shediscovered that she was the Priestess of Suzaku. To fulfill this, gathered all seven guardians—Tamahome, Hotohori,Nuriko, Chichiri, Tasuki, Mitsukake, and Chiriko—to summon the god Suzaku.
ADVERTISEMENT - CONTINUE READING BELOW
Unfortunately, the emperor of Kutou manipulated Yui tobecome the Priestess of Seiryuu. Thismeant that she had to work against her friend Miaka. Both ladies brought together their own warriors to fight for thechance to be granted three wishes by the gods whom they hoped to summon.
Ghost Fighter (Yu Yu Hakusho) and Fushigi Yugi were two of theanimés that gained a high rating in primetime block. In fact, Ghost Fighter was such a hit that it was shownseveral times in the GMA Network.
These are just few of the animations that Pinoys followedavidly in the past. If you feelnostalgic, feel free to add more cartoons that you enjoyed during yourchildhood days.