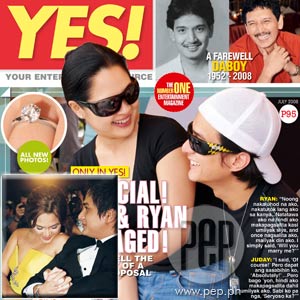 IMAGE 0
---
Last May, Ryan Agoncillo finally decided to pop the magicalquestion to his girlfriend of three years, the young superstar Judy Ann Santos,"Will you marry me?"
For more than a month, the couple managed to keep theirengagement away from the public, until the July 2008 issue of YES!confirmed it in an exclusive interview with the couple. Juday, as she is popularly called in showbiz,and Ryan gave the details of the marriage proposal, which happened during the30th birthday celebration of the actress.
With this announcement, fans of the couple have startedreminiscing the days when the two were still starting in theirrelationship. Judy Ann and Ryan alsotried to keep their relationship a secret, remember?
Here's a flashback to the days when Juday and Ryan werestill in their "holding hands" phase.
FROM 'HELLO-HI' TO LOVE TEAM. In an article written by Nitz Mirallesfor the July 2005 issue of the defunct showbiz publication Hi!, Ryansaid that his first two encounters with the then 27-year-old actress werecasual and uneventful.
ADVERTISEMENT - CONTINUE READING BELOW
"Our first encounter was at the studio of RaymundIsaac. She was there for a pictorial atako nama'y nasu-shoot for an ad. Sabi kolang, 'Hello,' at nag-'Hi' naman siya. Ijust know she was Judy Ann Santos at in-assume kong she knew who I was."
The second time, according to Ryan, was at a certainsalon. "Nagpapaayos siya and I washaving a haircut. Again, hi and hello parin ang exchange of words namin. Sa Krystalalang talaga kami nagkakilala nang husto."
The 29-year-old actor-TV host was one of the three leadingmen of Juday in the 2004 TV fantaserye Krystala on ABS-CBN. Ryan played the character Miguel who ended upas the husband of Tala (Judy Ann).
Before the series concluded in 2005, it was bruited aboutthat the two main actors were already together.So, when the finale of Krystala came, people started to ask, "DidRyan also end up as Juday's boyfriend?"
ADVERTISEMENT - CONTINUE READING BELOW
HOLDING HANDS AND SWEET MOMENTS. The couple first refused to answer thenagging question from the press. Buttheir actions in several showbiz affairs strongly suggested the real score betweenthem.
On the night of the Luna Awards in May 2005, Juday arrivedwith her escort, none other than her "on-screen partner" Ryan. The two were alreadybeing rumored as a couple. But notanymore for the people who saw them together that night.
A month later, Juday and Ryan appeared ever more sweet as acouple when they attended the Urian awards—holding hands and hugging each otherevery now and then.
Judy Ann received a Best Actress award, her first-ever GawadUrian for her movie Sabel (2004).Her acceptance speech gave an additional clue that she and Ryan werealready in a relationship. At the end ofher speech, she said, "Thank you, Ryan."Later on, when TV crews asked about it, she just said, "Alam na ni Ryan'yon kung bakit ako nag-thank you… at amin na lang 'yon."
ADVERTISEMENT - CONTINUE READING BELOW
Since the couple did not want to publicly admit theirrelationship, YES! interviewed Mommy Carol, mother of Judy Ann, for aconfirmation. Mommy Carol could not evenverify it, however, because when she confronted them, the two did not answerher directly.
She narrated in August 2005 issue of YES!, "Akalaniyo ba sinagot ako ng dalawa? Hindi! Pero anong sagot pa ang gusto mo, e, ayon athabang ini-interrogate ko, e, magka-holding hands at nginingiti-ngitian langako?"
KASAL, KASALI, KASALO. After Krystala, Juday and Ryan lookedlike they were inseparable in doing movie and TV projects. When Ryan starred in Umaaraw, Umuulan(2006), Juday made a cameo appearance.They even had another TV series together, Ysabella, on ABS-CBN in2007.
Then their fans got even more excited when the couple teamedup in the movie Kasal, Kasali, Kasalo (2006). Since they would be playing the role of acouple who would get married, Juday and Ryan were again asked about theirwedding plans. But they said they didn't have any definite plan yet.
ADVERTISEMENT - CONTINUE READING BELOW
The following year, a sequel for that movie was made, Sakal,Sakali, Saklolo (2007). In thestory, Juday and Ryan were already playing the role of a married couple. Again, they were asked about marriageplans. There were even rumors that thewedding would happen this year, November 5, 2008. But the couple denied this and said that theyhave to save up for it first.
THE MUCH-AWAITED ENGAGEMENT. Ryan finally popped the question thateverybody had been waiting for during the 30th birthday of hisgirlfriend last May 14 at the Antulang Beach Resort in Dumaguete City,Negros Oriental.
Even before the actual birthday of Judy Ann, there werealready rumors that Ryan would give a diamond ring to his girlfriend as hisgift. No one could verify if this wasalready an engagement ring. A PEPsource, who was close to the couple, was not even sure about it when asked aday after the birthday of Judy Ann.
ADVERTISEMENT - CONTINUE READING BELOW
In fact, the source said, "As to your question, kungengagement ring ba iyon at kung may wedding proposal na ba si Ryan kay JudyAnn, hindi ko iyon masasagot. Siguro, hintayin na lang natin kung kailan silababalik from Dumaguete."
Fans waited patiently for Juday and Ryan to talk about thering. Although the engagement rumor keptgetting stronger, people respected the couple for being mum about it.
The waiting game took more than a month before they finallygave the full details of the engagement in a tell-all interview with YES! magazinein this month's issue.
In the interview, Juday explained why she and Ryan chose tokeep it a secret for a while. She said,"High pa ako, e. Sabi nga ni Rye [Ryan Agoncillo] saakin, 'Sabihin mo na lang kung handa ka nang magplano.' Ine-enjoy ko pa talaga'yong feeling na engaged na ako, kaya hindi ako makapag-isip pa,"
ADVERTISEMENT - CONTINUE READING BELOW
NEXT, WEDDING BELLS.Fans are now just waiting for the exact plans for their wedding. What's definite thing is that it's going tobe a simple wedding.
Ryan told YES!, "Very simple. Very simple. Do'n kami swak din. Kaya ano, e… Wala pa. Wala pa.Basta definitely, simple siya.And then, it's gonna be very private and solemn."
As to the exact date, Ryan said in an exclusive interviewwith Ms. Sharon Cuneta on her show Sharon, last July 6, "I wanted it tocome from her, na she will sit me down and tell me what her plans are. 'Pagnarinig ko 'yon kung mag-meet kami half-way, then at least narinig ko sa kanya.Kasi if I make suggestion at this point, at least narinig ko sa kanya."