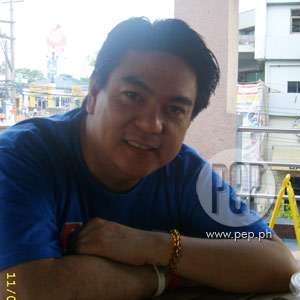 IMAGE 0
---
It was an omen of things to come. Three days before October 19, 2004,actor Raffy Romillo told his mother while watching TV, "Ma, 'pag namatay akogusto ko cremation ako, ha."
Later that day, Raffy broke his estrangement with long-lost high schoolfriends. "Talagang iniiwasan ko na sila nun e. So that day, tinawagan ako, sabinila, 'Magpakita ka naman dito.' So nagpakita ako. Nagpa-foot spa ko,nagpa-body spa. The next day nagpa-haircut na ko."
But the most telling of all the signs happened at around 3 o' clock onthe afternoon of October 19. "Binuksan ko 'yong DVD [player] tapos may ginalawako, nakuryente ako... ano na 'yan, di ba, warning na 'yon," said Raffy withwide-eyed amusement.
Raffy brushed off the "warning," a minor electrical shock, as a pettyaccident. "After four hours, ligo na ko, prepare ako dahil I have visitorscoming."
At the time, Raffy was staying at a fourth-floor condo unit in MakatiCity. He had the habit of tossing his keys downstairs to waiting friends forthem to come in. "Kasi may gate sa baba and walang elevator, so itataponko lang 'yong susi."
ADVERTISEMENT - CONTINUE READING BELOW
On that fateful day, his keys gotentangled in a "high tension wire." He grabbed a floor mop and tried toretrieve the keys with it.
Instantly, as the tip of the moptouched the already grounded keys, 14,000 volts shot up through Raffy's body,electrocuting him.
Pausing a bit while in deepthought, Raffy recounted the unfortunate incident: "14, 000 volts pumasok sakatawan ko, went through my finger where my nail had to be amputated."
So intense was the electric shockthat the current escaped through the side of Raffy's stomach. "It popped out ofmy stomach," he vividly described without flinching.
SHOWBIZ LOOK-BACK. In 1986, then 16-year-old Raffy first caught theattention of TV impresario Eddie Ilarde. Raffy was enrolled in a summer classon Radio-TV Newscasting and Broadcasting conducted by the renowned broadcaster.
"Sabi ni Eddie Ilarde sa akin ifI wanted to be an actor. Immediately bingiyan niya ako ng role sa Kahapon Lamang. While taping Kahapon Lamang, may nakapag-spot namansa akin for a commercial. Tapos, while shooting the commercial nagtuloy-tuloyna. Nagkaroon ng audition for a new show. It's called CATS."
ADVERTISEMENT - CONTINUE READING BELOW
Raffy passed the audition but CATS, asitcom aired after StudentCanteen, lasted only six months. The volatile economic and politicalsituation of the country, leading to the EDSA Revolt, consequently affectedvarious media.
As soon as the situation quieteddown a bit, Raffy was hired by German Moreno as one of the mainstays of That's Entertainment. He also became aRegal Baby and did about six movies. He was supposed to do more. But in 1991,tired and craving for something new, Raffy left for the U.S.
Admittedly, Raffy enjoyed hisanonymity in a foreign country. When Mt. Pinatubo erupted (also in 1991), thereluctant actor decided to prolong his stay abroad.
"Nine months ako sa States.Pagbalik ko dito medyo nanaba na ko. Pero nakakapag-guest pa ko. Kinukuha padin akong leading man nila Aiko Melendez. Basta tuluy-tuloy pa rin ang actingko. Pero sabi ko, hindi, I like it better in the States. So, balik na naman akosa States. Every three months nasa States ako."
ADVERTISEMENT - CONTINUE READING BELOW
Raffy shuttled back and forthbetween Manila and the U.S. Showbiz took a backseat as the former That's Entertainment alumnus venturedinto managing a bar, and then working in Senator John Osmena's staff, beforesettling temporarily in Dubai where he supervised an arcade center.
By 2004, Raffy missed being inshow business. The soap-opera craze was in full blast and he was lured intotrying his luck to get his showbiz career back on track.
But tragedy struck.
CHEATING DEATH. Raffy suffered third-degree burns. The only way hemanaged to survive was through his family's financial and emotional support.
The ordeal left him feelingdepressed and desperate. He even contemplated suicide to end his misery.
"Nagsuot ako nung burn-compressorna clothing na napakainit, talagang tight yon para di mag-keloid. Na-depressdin ako, siyempre. Gusto kong magpakamatay kasi di ko matanggap, kasi datisira-sira din ang mukha ko. Bumalik lang."
After staying briefly at theAsian Hospital, Raffy went to the States to fully recuperate over oneyear.
ADVERTISEMENT - CONTINUE READING BELOW
"I suffered third-degree burns.Mga forty percent of my upper body, though my face was also affected. I didn'thave my eyebrows; my eyelashes, nawala din 'yan, kinalbo ako.
"Siguro I stayed in AsianHospital for about five weeks. Kung walang pera ang family ko, patay na ko,kasi it cost them P3 million for me to survive."
Throughout the treatment andtherapy, various complications brought about by skin grafting also surfaced."Actually three times ako na-ICU and CCU... tapos may sinaksak sa aking worthhalf a million na antibiotic, bagong labas sa market. Kung wala 'yon, malamangpatay na ko."
BACK ON HIS FEET. Barely four years after the unfortunate incident,Raffy is back on his feet. Luckily for him, there are no evident scars on hisarms and face. "Sa katawan lang talaga," he smiled, "pero okay lang din sincenatatakpan naman ng clothes.
Raffy's life story was featuredin the now defunct Magpakailanmanback in 2006 as part of its Holy Week special presentation. The show paved theway for his long overdue showbiz comeback. Still good-looking at 42 and despitethe freak accident, Raffy was included in GMA-7's afternoon soap, Maging Akin Ka Lamang, where he played adoctor. A new soap is also currently under negotiation, but Raffy would ratherkeep the details to himself, saying, "Baka maudlot."
ADVERTISEMENT - CONTINUE READING BELOW
He now lives in Cavite togetherwith his mom. During weekends, Raffy makes it a point to visit friends inManila and relax through their favorite recreation: mahjong.
"I must enjoy lang my life more,"he beamed when asked what important life lesson the accident brought him."Basta hindi ako nakakasakit, mag-i-enjoy na lang ako. Sabi ko, life is short,I'd rather enjoy my life to the fullest. I'll do whatever I want to do, bastahindi ako nakakatapak ng tao."
Raffy Romillo's outlook,including his tolerant attitude towards people, also assumes a widerperspective.
"Mas malalim ako ngayon," smiledRaffy. "Bago ako magalit sa isang tao, ayokong magalit kasi hindi ko alam angpinagdadaanan ng taong ito, 'yong mga ganoon. Mas alam ko na ngayon 'yong valueng bawat character ng tao... tumaas ang pasensiya ko."