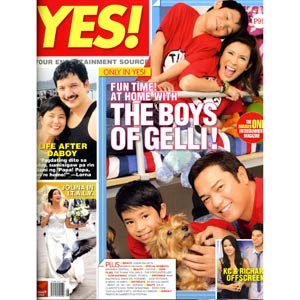 IMAGE 0
---
Ariel Rivera and Gelli de Bellen are one of the fewcelebrity couples that never got involved in any controversy. In fact, the August 2008 issue of YES!magazine describes the Riveras as "A Regular Family."
Seven years after the magazinefeatured the house of Ariel and Gelli,YES! comes back to see the renovations and, of course, totalk about their relationship as a couple and about their boys—Joaqui, 9, and Julio,7. The family has been together for ten years.
"Boyfriend-girlfriend! 'Yong pa-cute naboyfriend-girlfriend? Sumiryus. 'Tapos,nagkahiwalay. 'Tapos nagkabalikan. 'Yan-sixteen years, all in all. Ten years nang mag-asawa," Gelli recounts their love story with a happy ending. .
What makes them different from some celebritycouples, who often catch public attention because ofintrigues, is their decision to live a simple life. For Gelli and Ariel, showbiz is just a workplace.At the end of the day, theycome home to spend quality time with their kids.
ADVERTISEMENT - CONTINUE READING BELOW
The couple is so compatible that they both have similarpriorities in life—their kids and each other. Gelli says, "Some people, 'yon ang kaligayahan nila. Hindi 'yong family life. E, di, doon. Doon kayo. Maligaya kayodoon. Ako, dito. So, ganoon lang 'yon. Kanya-kanya lang, kanya-kanyang ligaya."
Like his wife, it has always been Ariel's goal to be a goodhead of a family. "My goal in life—andthis has never changed—to be a good father and a good husband . That's my only goal in life," says Ariel.
Gelli and Ariel haveplanned their kids' future. This early, they have already a blueprint for Joaqui and Julio's education untilthey reach college.
In 2015, the couple plans to migrate to Canada to give theboys a Canadian education. "When theygraduate from college, bahala na sila if they want to stay there. Nasa kanila 'yon kung ano gusto nilang gawin," Ariel reveals.
ADVERTISEMENT - CONTINUE READING BELOW
The YES! August 2008 issue also featuresan exclusive interview with some of the people who were very close to the lateaction star Rudy Fernandez. Thisincludes, of course, an interview with his loving wife Lorna Tolentino.
The veteran actress remembers unforgettable moments with her"Papa." She even recalls the strugglesof her husband in fighting the Big C, which made their relationshipstronger.
Now, more than 40 days after Daboy's passing, Lorna realizes thatshe needs to move on with her life—something that Rudy would want her todo. According to her talent manager andStartalk co-host Lolit Solis, Lorna will resume hosting the weekend talkshow soon.
In continuing her life after Rudy's death, the actress profusely thanks friends for all their help and support. "I really thank God for friends. Amy, Jinggoy, lahat sila. Lahattalaga. Sobra, sobra!"
ADVERTISEMENT - CONTINUE READING BELOW
Read parenting tips from Ariel and Gelli and seemore memorable photos of Rudy Fernandez when you grab a copy of
YES!
August 2008issue.