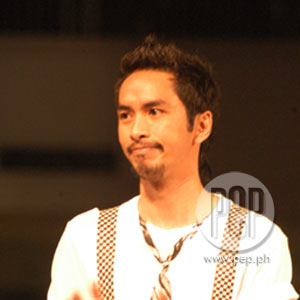 IMAGE 0
---
Rivermaya was not meant to last long. Snubbed by some of itscontemporaries during the height of the band music explosion in the '90s, theband was dubbed as a "manufactured" outfit formed to cash-in on the thrivinglocal rock scene.
Despite the criticisms, the band then made up of Bamboo Mañalac, NathanAzarcon, Perf de Castro, Mark Escueta and Rico Blanco rose to become one of themost competent bands during the era. In popularity and chart ranking, Rivermayawas placed by observers as second only to the phenomenal act, the Eraserheads.
Bamboo however left the band in 1998 as the band's U.S. tour came to aclose. Prior to Bamboo's exit, guitarist Perf also left the band due tocreative differences. Deserted by its charismatic frontman, the bandcourageously carried on and released a string of successful hit albums andsingles with Rico Blanco assuming the vocal chores.
The band would continuously be plagued with line-up problems as theystruggled to keep Rivermaya's career afloat.
CREATIVE FORCE. Many attributed Rivermaya's accomplishment tochief songwriter Rico Blanco's uncanny ability to write good songs that turnedout to be big hits.
In the clichéd world of rock n' roll, it always easy to single out goodlooks, coupled with rock star bravado, as the main ingredients for success. Butgenuine critics would be the first to say that an artist, regardless ofanything, should be measured solely based on his or her art.
A true artist at heart, Blanco authored most of Rivermaya's memorablesongs like "Bring Me Down," "Ulan," "214," "Awit ng Kabataan," "Himala,""Kisapmata," "Elesi," "Hinahanap-hanap Kita," "Kung Ayaw Mo, Huwag Mo,""Rodeo," "Shattered Like," "Umaaraw, Umuulan," "'Wag Na Init Ulo Baby," "A Loveto Share," "241 (My Favorite Song)," "Balisong," and "You'll Be Safe Here."
Blessed with pop sensibilities sharpened even more by his love for poptunes, Blanco continuously churned out radio-friendly hits, which allowedRivermaya to weather personnel problems.
ADVERTISEMENT - CONTINUE READING BELOW
"Rivermaya survived the departure of Perf de Castro, Bamboo Manalac, andNathan Azarcon simply because they're not the chief songwriter," commented amusic journalist to PEP (Philippine Entertainment Portal) in a casualconversation last year.
The implication of that statement was dead clear: Rico Blanco, being thechief songwriter, was the heart and soul of Rivermaya.
NO LONG GOODBYES. As 2007 unfolded there was little to suggestthat Blanco should relinquish his title as the band's main man.
In fact, he didn't have to. 2006 was a good year for Rivermaya and themomentum was expected to carry over as everyone welcomed the New Year. After afew hits and misses, Rivermaya was finally at the cusp of achievinginternational recognition. Bolstered by previous singles written in English,the band's popularity in Southeast Asia swelled considerably via the hauntingballad "You'll Be Safe Here." Rivermaya even performed the song live at the2006 MTV Asia Awards held in Bangkok, Thailand. The quartet was also scheduledto embark on an Asian tour.
But while everything was turning up rosy for the band, Rico, unknown tohis band mates and the management team, wanted out of the entire Rivermayabusiness. It wasn't a hasty retreat as Rico made known his heart's desire toeveryone inside their camp.
During the early morning of May 4, 2007, The Dawn guitarist Francis Reyesreportedly received a text message saying that Rivermaya's scheduled gig thatevening at the Metro Bar in Quezon City would be Rico's last with the group.
Intrigued and raring to find out the validity of the message, Franciswent to the venue that evening. A few hours later, Francis texted The Dawn'sdrummer J.B. Leonor with the words: "Confirmed! It's Rivermaya's last gig!!!They're breaking up!"
GOING SOLO. Weeks after the reported final gig, themanagement of Rivermaya refused to either deny or confirm the rumor.
ADVERTISEMENT - CONTINUE READING BELOW
On June 19, co-manager Lizza Nakpil finally issued an official statementconfirming Rico's departure from the band after 14 years of playing music.
The letter was scathing and optimistic at the same time. "We confirm thatMr. Blanco has written us a letter of resignation from Rivermaya. We are unableto give an explanation for this action since Mr. Blanco's statements areinconsistent with the facts. For the record, Mr. Blanco did not make anyannouncement of his leaving Rivermaya as early 2005, or in 2004 or 2006, forthat matter," wrote Nakpil.
She further stated that Rico willingly participated in all of the plansmapped out by management, making his decision to split abrupt. Managementadmitted that they tried to persuade Rico to reconsider his decision so as notto impede their success in the international scene.
But the enigmatic frontman apparently had enough of his role and wasraring to live outside the shadow of the band he tirelessly led for more than adecade.
Rico immediately delved into his other hobbies like designing andphotography. Perhaps hoping to recharge his batteries, Rico reportedly went tothe States while contemplating his next move. Rivermaya meanwhile soldiered onand found a new vocalist in the person of Jayson Fernandez.
After months of keeping a low profile, reports of Blanco sightings becameabundant. He was spotted by PEP watching Duran Duran when the iconic '80s bandstaged a concert here last April 10 at the Araneta Coliseum.
Given the guy's talent, many were certain that Rico would re-emerge doingwhat he does best: making music. Known for his nationalistic sentimentsmirrored through his art, the former Rivermaya leader sang for the embattledSumilao farmers—the group who walked 1,700 km from Bukidnon to theDepartment of Agrarian Reform office in Quezon City.
But what truly marked Rico's comeback as a performer was the release ofhis first single titled "Yugto" recently, after a year of seclusion. Rico isreportedly busy recording his debut album as a solo artist. Intriguingly,Rico's upcoming record will be released under Warner Music Philippines—the samelabel that houses the present Rivermaya.
ADVERTISEMENT - CONTINUE READING BELOW
Documenting his studio exploits, Rico wrote in his multiply account thepains and excitement of being inside the studio once again.
"I'mgetting somewhat impatient though, as I've been itching to finish the damnthing and start playing live. So far I've laid down basic tracks and roughlymixed the bulk of the album so we should take just a couple more weeks, barringany more studio schedule glitches. Thank you for your patience."
A new album. A new chapter. Whether Rico's solojourney as a musician would be as successful and fulfilling as his stint withRivermaya, however, is yet to be seen.