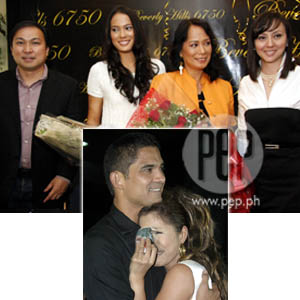 IMAGE 0
---
Beverly Hills 6750—thecontroversial aesthetic and cosmetic surgery clinic once affiliated withex-athlete David Bunevacz and wife Jessica Rodriguez—is now looking for a freshstart.
Yesterday, July 16, BeverlyHills 6750 officially launched the mother and daughter tandem of Gloria Diazand Isabelle Daza Diaz as its new endorsers. The press conference was held atthe Executive Lounge of the Ayala 6750 building in Makati City.
The occasion also marked BeverlyHills 6750's return to public eye after getting involved in an ugly controversyagainst David Bunevacz late last year. David, who once served as company president, wasbooted out after management alleged that he was using company funds to supporthis lavish lifestyle.
In a statement given to PEP (PhilippineEntertainment Portal) last December 21, 2007, the high-end aesthetic clinicconfirmed that it severed ties with the former decathlete turned corporatehead.
Part of the statement reads: "BeverlyHills 6750, an aesthetic center specializing in cosmetic surgery, dermatology,cosmetic dentistry and cosmetic gynecology put up as a collaboration betweenbusinessmen and physicians, has been in the news lately ever since celebritycouple, David and Jessica Bunevacz, was reported to have left the company (andthe country) because of alleged anomalous transactions which have cost BH6750 aconsiderable amount of money.
"The management of BH6750confirmed that Mr. David Bunevacz has indeed resigned from his position asPresident of the corporation. The board of directors and owners has appointed amanagement committee to oversee the day-to-day operations of the center and anew election of officers will be held January next year."
LEGAL UPDATE. Beverly Hills 6750 immediately filed the necessarycharges against David, who, together with his family hastily left the country toshun media attention. Since then, the company, including its lawyers, chose to remainquiet so as not to impede court proceedings.
Months after the controversy,Managing Director Eduardo Santos faced the media after the presscon to providelegal updates.
ADVERTISEMENT - CONTINUE READING BELOW
"The company has actually filedfive cases, 'yong limang 'to revolve around estafa cases. From ourunderstanding siguro may mga dalawang kaso that were already up for resolutionwithin the next weeks and the third case siguro after another week is up forresolution. So ibig sabihin lahat ng pleadings have been filed already so nasajudge na lang," shared Dr. Santos.
The business executive alsoclarified that the cases pending on court are "mainly just againstDavid"—meaning that Jessica is completely cleared of any involvement as far aslegal liabilities are concerned.
Explained Dr. Santos, "I can'treally say whether she was an owner, but the beneficiary at that particulartime, ten percent of stock ownership was to David and the position that Jessica had atthat time was director for marketing."
As for the exact monetary figure,Dr. Santos politely begged off from revealing details, saying, "I don't wantto cite the exact peso value. I don't want to exactly quote how much. We couldhave filed more cases. But we didn't want to end up filing 20 cases."
ROAD TO RECOVERY. David's alleged transgression took its toll onthe business. During that particular "dark period" Beverly Hills 6750experienced a lull in terms of customer turnout. The controversy surroundingDavid's departure caused an 80 percent plunge in sales, according to Dr. Santos.
Being the main face of thebusiness undoubtedly helped the company gain ground particularly during itsinfancy. But it also turned out to be dilemma in the end as the publicdeveloped an impression that David and wife Jessica were "Beverly Hills 6750and because wala na sila, we're closed."
"So we had to spend some timetrying to tell the public that we're open and it's business as usual. Again I'dlike to thank our loyal clients who supported us during our initial crises. Itwasn't a very long crisis. I would probably put it at about a month before wewere able to pick up on sales again," Dr. Santos related.
ADVERTISEMENT - CONTINUE READING BELOW
And of course, there's a lessonlearned brought by the entire experience. "Well, prudent financial managementis a key... there's certain measures that we've done to assure more financialcheck and balance," said Dr. Santos in closing.