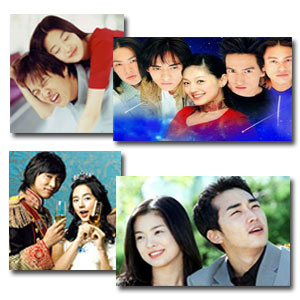 IMAGE 0
---
Music is a universallanguage and we Pinoys have our own ways of enriching it. Not only do we haveOriginal Pilipino Music (OPM), local composers/singers have creatively written their ownPilipino versions of foreign songs. Poets, too, have done many translations,although these have yet to reach wider audiences—Pete Lacaba, YES! executive editor, for one. It washe who coined the term salinawit forhis unpublished volume of "tagalized" love songs.
.
PEP's Top List this weekcovers the more popular salinawits of soundtracks for foreign television shows.But, first, just to warm up—
Recently, Warner MusicPhilippines released a music album that contains ten "tagalized" versions offoreign songs. Among these are "Lawlaw"("Low" by Flo Rida), "Payong" ("Umbrella" by Rihanna), "Binibining Ganda"("Beautiful Girls" by Sean Kingston), "Sundalong Bata" ("Crank That" by SouljaBoy), and "Isisi Mo Sa Akin" ("Sorry, Blame It On Me" by Akon). It also has "Lampa" ("Clumsy" by Fergie),"Sa'yo" ("With You" by Chris Brown, "Sugat sa Puso" ("Bleeding Love" by LeonaLewis), and "'Wag Mong Pigilan" ("Don't Stop the Music" by Rihanna).
Before this album wasreleased, some Pinoy music artists already used the lyrics of some foreignsongs to create a new ones. Some ofthese popular translations were derived from old songs—"Hindi Ako Si Darna" by Janine Desiderio (from thesong "Superwoman" of Karyn White) and "Banyo Queen" of Andrew E (from the song"Stand By Me"originally sung by Ben E. King).
Some listeners find thesesongs annoying while the others just laugh about them. Anyway, as we mentioned, this is not thefirst time that Filipino music artists "tagalized" foreign songs. There are also original soundtracks offoreign TV series and movies that are worth noting for their Pilipinotranslations. Here are the songs:
"Ang Puso Ko'yTutuloy." Noguessing needed here—of course, it's "My Heart Will Go On," from the super-blockbuster Titanic (1997).
ADVERTISEMENT - CONTINUE READING BELOW
Comedian-singer-composerMichael V takes the credit for writing "Ang Puso Ko'y Tutuloy." It premiered inthe longest-running gag show Bubble Gang, which often features songs withspoofed lyrics that make the audiencelaugh. But Michael V's version of Celine Dion's hit retains its romantic feel.
He translated the song word forword. For example, the chorus: "Malapit,malayo, sa'n ka man naroon (Near, far, wherever you are) / Alam ko na puso aytutuloy (I believe that my heart does go on) / Minsan pa binuksan ang pinto(Once more you open the door) / Nandito ka sa 'king puso (And you're here in myheart) At puso ko'y tutuloy-tuloy (And my heart will go on and on)."
"Ikaw." This song was used in the local version of Autumn in My Heart,the first installment of the four-part Koreanovela Endless Love. Faith Cuneta, known for singing most ofthe theme songs of Koreanovelas shown in the country, gave her Tagalogrendition of Song Hye Kyo's "Reason." This was one of the original soundtracksof Autumn in My Heart.
The tragic love story ofJohnny and Jenny made viewers cry, especially during its tear-jerker ending. And through the lyrics of Faith'sversion "Reason," the words clearly showed the promise that Johnny and Jennymade to each other.
"Sa umaga at gabi, sa bawatoras / Ikaw ang nasa isip ko / Sa lungkot at ligaya, hirap at ginhawa / Tayo aymagsasama / Ikaw ang nais ko / Ikaw ang inaasam / Sana'y paniwalaan mo / Ikawang iniisip ko / Ikaw ang inaasam / Sana'y paniwalaan mo... Ikaw lang ang buhayko / Ikaw lamang ang mahal ko."
"Can'tHelp Falling in Love." Following the success of theTaiwanese TV series Meteor Garden, Josh Santana (under Star Records) performedthe Tagalog version of one of the show's original soundtracks titled "Qing FeiDe Yi," which was originally sung by Harlem Yu.
ADVERTISEMENT - CONTINUE READING BELOW
Thelyrics are quite simple, which others may find "corny and cheesy" about a boywho admired a girl but could not tell her. It was so easy to sing that it immediately became a hit among music lovers, especiallythe teeners who loved the show and the boy band called F4.
Thefirst two stanzas go: "Alam mo ang ganda mo pala / Pag tumawa ang yongmata / Hinahabol ko'ng bawat mong tingin / Ngunit ito'y di mo napapansin / Walaakong maipagmamayabang / Porma ko pasimple-simple lang / Sino ba ako / Walangdating sa 'yo / Di tayo bagay sobra mong ganda / Talaga."
"Ang Hanap Ko(Ang 'Yong Pag-ibig)." While JoshSantana sang the salinawit of the upbeat soundtrack of Meteor Garden, MichelleAyalde performed the Tagalog version of this other original soundtrack ofthe phenomenal Taiwanese series.
"Ang Hanap Ko" used the lyrics of Penny Dai's mellow songtitled "Ni Yao DeAi." This was one of the reasonsMichelle, former member of the quartet called Full Circle, was hailed as the"Princess of 'Tagalized' Pop" during her time.
Thesong's lyrics evoked the feelings of Shan Cai and Dao Ming Si, the mainlove team of Meteor Garden. Theirs was a simple love story of a poor girl-rich guy always being tornapart by Dao Ming Si's mother.
Thechorus goes: "Ang hanap ko / Ang 'yong pag-ibig / Magkasama natingdamhin / Ang pag-ibig ko / Para lamang sayo / Sa puso ko / Yakap mo ay / Sabikna hinihintay / Pagkat sa buhay ko / Ang pangarap ko / Tayo lamang hanggang samuli."
"IBelieve (I Love You)." This Korean song was thetheme song of the popular Korean romantic-comedy film titled My SassyGirl. Just like the movie, Shin Seung Hun's song was translated intodifferent Asian languages, including Pilipino, which was performed by acousticsinger Jimmy Bondoc.
ADVERTISEMENT - CONTINUE READING BELOW
Themovie My Sassy Girl was such a hit that it even had a Hollywood versionwith the same title. Jesse Bradford andElisha Cuthbert played the main characters. The story was about a college student who met a drunken girl at a trainstation. Little did he know thismeeting would be the start of their "relationship" in the future.
Thefirst two stanzas expressed the feelings of the male lead star's character in themovie. Although he was not sure aboutthe girl's feelings towards him, he believed they were meant to be together:
"Ibelieve na ikaw lang at ako / Kung kaya't tayo ay pinagtagpo / I believekapalaran mo'y ako / At sana ay gano'n din ang puso mo / Noong una ay hindi moko gusto / Kaibigan lang ang turing mo, paano na ako?"
"Pag-ibignga Kaya." This love song was used in the Tagalogversion of the Koreanovela Princess Hours. It was one of the most popular television series inKorea in 1996.
PrincessHours isabout Crown Prince Gian who married a commoner named Janelle in order to takeover the royal throne in case the ailing King died. Despite Prince Gian's lack of feeling for her, love wouldeventually bloom between them and they would re-marry in the latter part of theseries.
The original theme song titled "Perhaps Love" (or "SarangIn Ga Yo" in Korea) was used to create a song performed in a duet by formerlovers Christian Bautista and Rachelle Ann Go. This was done with the permission of Munhwa Broadcasting Corporation,which ran the series on Korean television.
Here'sthe chorus of "Pag-ibig nga Kaya:"
"Pag-ibig nga kaya / Pareho ang nadarama / Ito ba ang simula / Di namapipigilan / Pag-ibig nga ito / Sana'y di matapos ang nadaramang ito / Pag-ibig nga kaya ito (pag-ibig nga kaya ito)/ 'Pagkat nararamdaman, pag-ibig ating natagpuan."
ADVERTISEMENT - CONTINUE READING BELOW
Asidefrom these original soundtracks, there are many other foreign songs that ourPinoy musicians have translated into our own language. For example, the ballad "Broken Vow,"popularized by Josh Groban, was given the Pinoy touch by Sarah Geronimo andMark Bautista.
Allthis just goes to show that no matter in what language a song is composed—English,Korean, Japanese, etc.—as long as it captures Pinoy music lovers, there willalways be salinawits.
Feel free to add in the comment box thetagalized songs that you remember.