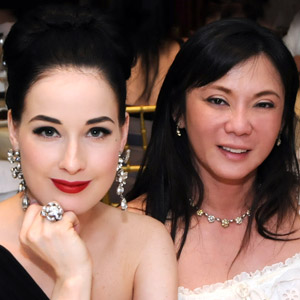 IMAGE 0
---
The country's ambassador of beauty, Vicki Belo, pulled outall the stops for the 18th anniversary of her beauty empire, Belo Medical Group. The Venus Ball (note theinitials V.B.) was held at the grand Rizal Ballroom of Makati Shangri-La lastAugust 8.
The night's theme was a Venetian Masquerade and the guests—amix of top socialites and celebrities—gamely dressed for the occasion.
Anne Curtis arrived looking in ethereal Dyosa form in a floaty gown with a golden breast plate.
Regine Velasquez looked stunning in a white embellished gownand a beautiful jeweled headpiece.
His physique in excellent condition after the recent BenchBlackout, Dingdong Dantes started the evening garbed in the costume of ancientRome (think Brad Pitt in Troy or the hunky men of 300) but later changed to adapper suit to be the perfect escort to sweetheart Karylle.
Angel Locsin, in a stylish, roughly cut and painted ballskirt, arrived with a very handsome Piolo Pascual.
Iza Calzado, the evening's host, looked stunning in a royal-purple gown.
Of course, Tessa Prieto-Valdes was not to be outdone as shefilled her candy pink Edwin Tan gown, with its matching cotton-candy MarieAntoinette wig, with authentic Venetian masks.
The place was set up beautifully. The foyer of the ballroomwas made to replicate Venice for picturesque photo-ops. Murals of the intricatecanals and ivy-covered windows of the Italian city lined the walls of the room.There was an actual gondola and handsome gondoliers to pose with. A maskedannouncer even called out the entrance of each guest, like they did at royalballs in the olden days.
Apart from the excellent food and overflowing bubbly wine, guests were treated to performances by the country's top acts. SarahGeronimo clad in a striking Rajo Laurel ball gown, embroidered with roses,showed off the strength of her voice, singing "Time to Say Goodbye," which hasbeen sung by greats like Andrea Bocelli and Sara Brightman.
ADVERTISEMENT - CONTINUE READING BELOW
Regine Velasquez, one of Belo's oldest clients and topendorsers, and Lani Misalucha each gave brilliant performances as well. Hip-hopsensation Billy Crawford kept it upbeat with his team of dancers.
The much-awaited performance was that ofinternational burlesque star Dita Von Teese. According to Saga Events headhoncho Robbie Carmona, it was a long-time dream of Dr. Vicky to bring Ms. VonTeese to the country to perform and she finally did it for her special anniversary.
The pin-up star performed twice, first at 9:30 p.m. and later again at 11:30p.m. Twenties-style pin curls, porcelain skin, and deep-red lips made her looklike a Vargas painting come to life.
Her first act revealed her in a brilliant crystal covered bustierwith a train of lush red feathers. She was seated coyly on a swing in a goldenbirdcage. Her dance was simple and mesmerizingly sensual and she made the actof stripping down to her jeweled undergarments look utterly glamorous and classy.Even the women were entranced by her every movement.
The finale showcased her very famous martini glass routine.Again Dita came on stage wearing an evening gown covered in pure crystals. Evenher long gloves and evening shoes were studded in the same crystals. She performedevery act so lovingly and gracefully that even the art of removing herstockings was done elegantly. She finished off by swimming in a largemartini glass, popping the champagne in celebration. The crowd was on its feet, applauding when she was through.
If anyone knows how to celebrate, it's Vicki Belo. With acaptured audience of 700 guests, she also took the chance to tell everyoneabout her new foundation, Ike and Nena Belo Foundation, named after herparents. The charity will focus on helping people withcleft palettes, burn victims, and other deserving patients who truly need herhelp.
ADVERTISEMENT - CONTINUE READING BELOW
A final line from the AVP cleverly quotes her saying, "I want to make thecountry more beautiful, one person at a time." Cheers to that!