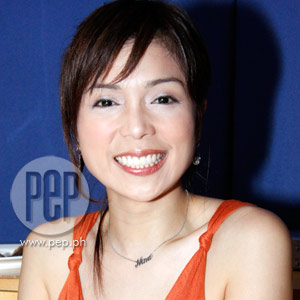 IMAGE 0
---
Nina is back with a brand new album under Warner MusicPhilippines, Nina Sings the Hitsof Diane Warren. This time the Soul Siren pays tribute to the critically-acclaimed American songwriter whose past hits include "When I See YouSmile," "Because You Loved Me," "How Do I Live" and "Love Will You Lead Back,"and a string of others.
Nina first rendered a Diane Warren number back in 2004 whenshe recorded "I Don't Want to Be Your Friend" for the compilation Diane Warren Presents: Love Songs. TheSoul Siren is actually an ardent fan of Warren since way back. Nina and Diane have yet to see each other in person, although they talked once on the phone whenNina thanked the Grammy Award-winning songsmith for allowing her to record thesongs.
In a very touching gesture, Diane even wrote a letter toNina saying: "A few years ago Nina cut, 'I Don't Want To Be Your Friend,' oneof my favorite songs. I am very happy that she is now coming out with an entirealbum filled with the songs that I'm proud of. Hopefully, this is just thebeginning of a lot of hits together. Thank you."
ADVERTISEMENT - CONTINUE READING BELOW
The message was printed in full and was included in thealbum's inlay.
NEUTRAL FEELINGS. Despitepopularizing original songs like "Jealous" (2002) and "Someday" (2006), Nina'sbiggest selling record Nina Live!released in 2005 contained covers of popular love tunes. One of the singles"Loves Moves In Mysterious Ways"—a Julia Fordham original—was so successfulthat the song became associated with Nina as if it were her own.
Last year, Nina paid tribute to American singer-songwriterBarry Manilow by dishing out the album NinaFeaturing the Hits of Barry Manilow. With the release of her latest disc,many were left wondering if the Soul Siren is resigned to do predominantlycover songs instead of risking an original number.
"It's fulfilling to sing any song, maybe a cover or anoriginal song, just the fact that I'm singing is fulfilling enough," she toldthe entertainment press yesterday, July 29, at Red Box in TriNoma Mall inQuezon City.
ADVERTISEMENT - CONTINUE READING BELOW
She is not worried about being typecast as a singer known forrecycling previous hits. Being a music fan and an entertainer, Nina doesn't seeanything wrong in rendering cover tunes.
"Wala naman akong fear na ma-typecast," she told PEP(Philippine Entertainment Portal). "Kasi ang humihingi naman no'n (cover songs)mga supporters din, fans, so kahit papaano wala pa naman kaming reklamo nanatatanggap. Kasi sa kanila din galing 'yon, kung ano 'yong ilalabas namin.
HAPPY IN LOVE. Ofall the songs in the album, Nina's favorite is "I Could Not Ask ForMore." The song was popularized by alternative-rock singer Edwin McCain.
Blushingly, Nina described the song's significance in herpresent situation: "If you are in a situation where you're happy, of course youcould not ask for more. And if there's a person who could make you smile, justfeel blessed that this person could turn around a sad moment into happymoment."
ADVERTISEMENT - CONTINUE READING BELOW
PEP got curious and asked her to elaborate afterthe press conference. "I'm happy talaga," she smiled, "may mga shows ako hindiako ngaragan, unlike before noong nagsisimula ako, talagang may show ka dito,after lilipat ka dito. Ngayon talagang plantsado lahat. If they want to get meon this date, kung meron akong show dito sa ibang day pumapayag naman sila."
Even her love life is turning up rosy and that explains evenmore why she could relate to the message of "ICould Not Ask For More."
"It has something to do with that also because siyempre mayinspiration ka. Happy din kasi kahit papaano meron kang reason why you aresinging this song."
Nina admitted that she and ex-boyfriend singer Nyoy Volantehaven't spoken to each since their bitter breakup. The two singers separatedlast year, blaming lack of time due to their busy schedules. But a rumor also came out saying that Nina broke up with Nyoy because shefell in love with someone else.
ADVERTISEMENT - CONTINUE READING BELOW
"Siguro magtu-two years na kaming hindi nag-uusap ever sincethe breakup kasi nagpalit din ako ng phone nu'n," explained Nina.
She has moved on obviously and has found a new love in thearms of a non-showbiz boyfriend. "Siya [Nyoy] din naman," Nina quickly added.
Clarifying the third party issue, the Soul Siren continued, "Kasiganito, parang hindi naman siya tinatanong or siya hindi niya masyadongbinu-broadcast na meron na siya, kaya ang dating sa akin parang playgirl ako,kasi parang ako 'yong naunang nagkaroon [ng boyfriend] pero meron, meron nasiya parang ayaw niya lang sabihin, parang ganoon lang siguro 'yong dating saakin pero sa akin okay lang."
Asked if she's willing to greet Nyoy if ever their paths cross sometime in the future, Nina playfully replied, "Oo naman.Siguro tinginan [then] okay, bye."