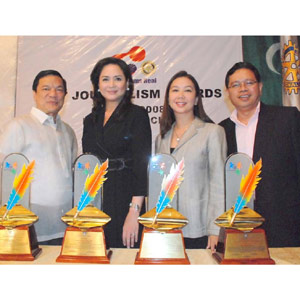 IMAGE 0
---

ABS-CBN and DZMM bagged four out of five awards forbroadcast journalism given by the Rotary Club of Manila in the 2007 Journalism Awards. TheRCM presented the awards in a luncheon ceremony at the Manila Polo Clubyesterday, July 31.
The Kapamilya Network was named TV Station of the Year whileABS-CBN News and Current Affairs chief correspondent Korina Sanchez was hailedas the Broadcast Journalist for TV. DZMM, on the other hand, was proclaimedRadio Station of the Year and its Station Manager Angelo Palmones won BroadcastJournalist of the Year for Radio.
GMA-7's Sandra Aguinaldo bagged the Investigative Reporterof the Year for Television. Last year, the Kapuso Network was the recipient ofthe TV Station of the Year Award.
For the print industry, Business World was chosenNational Newspaper of the Year while William Esposo of the Philippine Star wasOpinion Writer of the Year.
"The men and women of ABS-CBN are sincerely honored andhumbled by this award," said ABS-CBN President Charo Santos-Concio duringthe awarding ceremony. "We are encouraged because we know that with everytrail that we blaze, we help connect more Filipinos to one anotherworldwide."
This is the third time that DZMM won the said award. Basedon a survey conducted by TNS Household Data, the AM radio station of ABS-CBN isthe leading Cable News Channel in Mega Manila (as of June 2008).
The Rotary Club of Manila Journalism Awards was organizedto honor outstanding contributions of individuals in print, television, andradio and adopted as the perpetual participation of the Club during the annualobservance of National Press Week. The RCM began awarding individual journalistsand organizations in 1966, suspended the practice when Martial Law was declaredin 1972, and resumed in 1986.