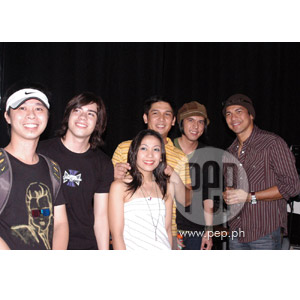 IMAGE 0
---
Gary Valenciano is a certifiedpop singer. A man epitomizing what a textbook mainstream entertainer shouldreally be: clean, likable and pleasant at all times—far from the cliché image of a young, delinquent rock n' roll musician.
But good music is always goodmusic regardless of image, labels or genres. And it's a credit to Gary V thathis songs have been able to transcend barriers and generations to withstand thepassing of time, not to mention fast-changing music trends and fads. Althoughit is hard to imagine a guitar slinging heavy rocking musician bopping away (ormushing) to a Gary V tune, fact remains that the man dubbed as "Mr. PureEnergy" influenced a lot of artists, including a slew of contemporary bandstoday.
PEP (Philippine EntertainmentPortal), in celebration of Gary's 25 years in the entertainment industry, askedsome of our local rockers about their most favorite Gary Valenciano song andwhy.
MARK ESCUETA. The drummer and co-founder of Rivermaya cited "NatutulogBa Ang Diyos?" as his favorite Gary V. ditty.
"Siguro favorite song ko ni GaryV. 'yon kasi ang galing lang! Pasok 'yong tono niya sa message nung kanta, patisa lyrics parang everytime naririnig ko siya nakaka-inspire," shared Mark.
JOREL CORPUS. For a band known for dishing out hard rocking tunes servedwith in-your-face riffs and straightforward lyrics, it is quite surprising toknow that Kjwan are avid fans of Gary.
Guitarist Jorel Corpus mentioned "'DiBale Na Lang" as his favorite. The amiable axeman explained the song'ssentimental value to him: "Kasi 'yong bata ako, 'yon yung pinapakinggan ko. Iseriously grew up listening to him kasi siyempre icon siya noon hanggang ngayonand nung bata ako, siya 'yong naririnig mo sa radyo tapos alam mo so ito 'yongfavorite song ko. I remember performing this song sa mga Christmas party 'pagpinapakanta ka and stuff."
ADVERTISEMENT - CONTINUE READING BELOW
J-HOON BALBUENA. Kjwan drummer agreed with Jorel's choice. "Myfavorite?" he asked back, "'Di Bale Na Lang."
J-Hoon described the song as a carefreenumber. "Gary V to me is very inspirational to the people, with his calling andeverything. He's got the whole Philippinesin his songs, so this song is very innocent, away from the serious message."
He also said that although Kjwanhas always been typecast as a heavy sounding unit, all five members maintain asoft spot when it comes to good pop songs with irresistible hooks.
"It's nice," J-Hoon said, stillpertaining to his fave Gary V. song. "It's a light song even though we make alot of heavy songs, still any light song always catches us."
EBE DANCEL. A self-confessed lover of pop tunes, Sugarfree main manEbe Dancel confessed that "Sana Maulit Muli" and "Narito" as two of his faveGary V songs.
"Meron kasi akong thing for listeningto a song for the first time," said the talented songwriter. "'Pag gusto ko,cassette pa 'yon, e, 'pag gusto ko 'yong kanta binibili ko agad 'yong buongalbum tapos yong song na 'yon is on repeat the whole day and those two songs ["SanaMaulit Muli" and "Narito"] were paulit-ulit dati sa player ko."
PAOLO VALENCIANO. Inheriting his father's love for music, PaoloValenciano is part of the band called Salamin. As for his favorite Gary V song,"It would have to be 'Take Me Out of the Dark.'"
The young Valenciano admittedthat he is not particularly fond of some of his dad's Christian singles, but hesingled out "Take Me Out of the Dark" as "something else talaga."
QUARK HENARES. Maverick director Quark Henares is considered in thescene as the quintessential "rock n' roll director." Aside from directing ahandful of music videos from mainstream to underground bands, Quark is alsoknown for his off-beat movies mirroring his obscure influences. He currentlyshares frontman duties with designer Mich Dulce in a band dubbed as Us-2Evil-0.
ADVERTISEMENT - CONTINUE READING BELOW
As for his most-loved Gary Vsong, Quark replied "'Di Bale Na Lang'" instantly. His fascination for the songeven extended beyond the radio, "Tapos pinanood ko 'yong movie with Gary V andJestoni [Alarcon], mga three times 'yan. 'Yon 'yong first Filipino film napinanood ko sa theater, six o seven ako nun."
AIA DE LEON.Imago's vocalist Aia de Leon counts Gary V's "Take Me Out of the Dark" asan inspirational hymn that saved her life during her angst-filled days.
"Nung bata ako it always remindsme nung maliit ako na there's always somebody up there, who's taking care ofme, who loves me no matter who I am. So, nung time na lumabas 'yon [the song]marami akong naging problems nun so that song kind of anchored me into a Godthat is all powerful, that is above everything else."
JAYSON FERNANDEZ. Rivermaya's frontman, Jayson Fernandez, looks tooyoung to even be paying tribute to a veteran artist like Gary Valenciano but heswears that he is a fan and that he's familiar with the songs of Mr. PureEnergy.
Turning nostalgic, Jayson sharedhow "Natutulog Ba Ang Diyos?" played a key role during his much younger years.
"Noong grade school ako, nilabanko 'yon sa singing contest na pambata," he smiled in vivid recollection. "Sotuwing naririnig ko 'yon naaalala ko 'yong mga araw na, 'yong childhood ko,alam mo na, 'yong bata ako...'tsaka maganda yong lyrics and meaning."
JULIANNE. For a female performer, Julianne could definitely giveany male guitar virtuoso a run for his money. During the time she was juststarting to play the guitar, one of the first few songs that Julianne learnedto pluck was "Take Me Out of the Dark."
"Kasi I remember singing that asa teenager back in Church, tapos naaliw ako kasi parang 'yon 'yong unang kinapakong song na Gary V dahil sobrang naka-relate ako, super personal," thetalented singer-songwriter narrated.
ADVERTISEMENT - CONTINUE READING BELOW
GABBY ALIPE. Urbandub's Gabby Alipe credited Gary Valenciano as oneof the local artists who truly inspired him to create music when he was a kid.There's a lot of Gary V songs to mention but one that really caught hisattention was the infectious single, "'Di Bale Na Lang."
"Maybe 'yon ang una kong namulatanna song niya kasi '80s kid ako, e, so more or less yon yung mga first nanapakinggan ko that really got me in interested in Gary Valenciano."
YAEL YUZON. Gary V's passionate delivery of his signature ballad,"Sana Maulit Muli," never fails to give Sponge Cola frontman Yaez Yuzon goosebumps. He animatedly referred to the number's climactic shift as the song's emotionaltempo rises leading to the touching end.
The articulate frontman explainedto PEP, "Kasi everytime na kinakanta niya 'yon especially 'pag siya 'yonggumagawa, actually kahit hindi nga siya ang gumagawa, e, parang nga sa sobrangganda na ng song 'pag ginagawa ng ibang tao naalala mo pa din si Gary V.
"Nakakakilabot talaga 'pagtinatamaan na niya 'yong mga matataas na notes na 'yon kasi parang 'yong soundniya parang hindi falsetto, e, parang it's from another dimension. It's like atotally different plane of music, na parang it's a different note. Basta ang galing,nakakakilabot."
What about you? What's you favorite Gary V. piece?