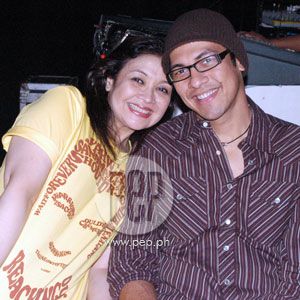 IMAGE 0
---
Singer-performer Gary Valencianoand wife Angeli Pangilinan went through more than just the usual trappingsencountered by a celebrity couples.
Considering Gary's well-publicized battle with diabetes, adisease he has successfully managed since it was diagnosed in 1978, it is easy to understand why the couple would rather treat showbiz-related issues in a trivial manner.
ON SOLID GROUND. Aside from celebrating his 25 years in showbusiness, 2008 also marks Garyand Angeli's 24th year as a married couple. The grand celebration isof course being reserved for next year, in time for the couple's silver weddinganniversary.
Though still one year short ofthe milestone, a handful of the recent Gary V tribute events inevitably put the spotlightalso on Angeli and their solid union.
"Si Gary as a husband is a very loving, intense,very passionate father and husband. Very committed to what God's will is," saidAngeli endearingly about her husband.
Gary's commitment as a father was testedrecently when he decided to skip a late night dinner appointment just toaccompany his son, Paolo, inside the recording studio for six hours straight.Paolo, at the time, was cutting his own version of his dad's classic single,"Look in Her Eyes." The version is included in the recently released Gary Vtribute album, GV 25 (A Gary Valenciano All-Star TributeCollection) under Star Records.
Angeli recalled Garypolitely calling off the supposed dinner date by asking, "'Okay lang ba?' Sabiko, 'Okay lang, Gary.'Kasi nakita ko 'yong pagmamahal niya sa anak niya na gusto niya perfect 'yongrecording."
WIFE-MANAGER RELATIONSHIP. Angeli is not just Gary's loving and devoted wife. On theprofessional level, she is also her husband's manager and adviser.
"As a talent, siya na siguro 'yongpinaka-mahirap i-manage," laughed Angeli in an interview with the press lastAugust 6 at the Conway'sBar of the Makati Shangri-La Hotel.
ADVERTISEMENT - CONTINUE READING BELOW
Angeli confirmed Gary'sreputation as a perfectionist, saying, "Ako 'yong type na 'Gary, gawin mo na please' Siya, talagang 'Hon,hindi puwede kasi ganito e, hindi tama 'yong sound system. Ayoko ng script,ayoko ng ganyan...' Pero si Garytalaga is sobrang perfectionist."
Like most professionals, however,Gary is stillwilling to compromise, but only after exhausting all possible efforts to makethings at least a bit better to suit his meticulous taste. That's where hisprofessionalism as a seasoned performer comes in.
Angeli proudly enthused, "Peroalam mo, even if he's difficult, you know what I love about Gary? He allows himself to be managed. When Itell him, 'Gary,you have to do it', he just breathes and then he walks and does it."
Honesty, according to Angeli, isvery essential to keep a marriage running, and they don't take it against eachother when one corrects the other: "Garymakes me pagalitan, I make him pagalitan, too."
As a talent manager, Angeli earneda reputation for being strict when it comes to her talents and their deals. Butoutside work and contracts, the often misunderstood manager claims that sheplays the traditional role expected from a wife and mother.
"I'm part of the management teamof Gary pero sabahay, siya ang boss talaga. And I always tell these sa mga tao, kung wala angDiyos, wala kami. Talagang sa isang marriage, dapat tatlo kayo, e, parangtriangle, ang nasa itaas ang Panginoon. And kahit nagkakamali ako, nagkakamalisiya, if you know how to forgive each other and love each other...Love does notkeep a record of wrongs so ang pagkakamali ko, hindi niya nari-remember andlikewise si Gary,"she explained in closing.