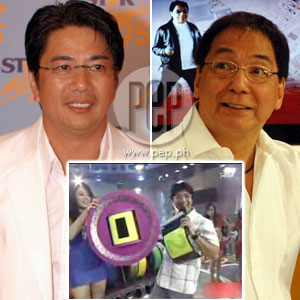 IMAGE 0
---
Variety show hosts Joey de Leon and Willie Revillame recentlyhit the showbiz headlines once again . Joeyallegedly referred to Pokwang when he said "aswang" in his Pilipino version ofJohn Lennon's "Imagine."
Earlier this month, a video started to circulate a monthafter Eat Bulaga had a special episode in Los Angeles, California. The video captured Joey singing his views onwhat would happen if there's no GMA network.
Reacting immediately was Willie who appeared in Wowoweelast August 19with his co-host Pokwang to defend her from Joey'smockery.
"Ipagtatanggol ko ito dahil kilala ko ang pagkatao ng taongito," he started. ""Sana ho kungmagbibiro tayo, puwede naman kayong mag-compose ng kantang hindi kayonakakasakit ng kapwa n'yo, e."
Pokwang kept her chin up but not after her daughter reportedthat her schoolmates teased her forhaving a vampire as mom.
Joey never answered back. However, in Eat Bulaga's comedy skit "Ang Joke Ko," Joey de Leonagain used the word "aswang." In the said segment he, together Vic Sotto andJimmy Santos, was bragging about his grandmother's confrontation with an"aswang."
When asked what her grandmother's name was, he quipped, "Po...Po... Puring!"
But one year ago, the fight between the Wowowee and EatBulaga hosts was no joke.
Remember the "Wilyonaryo" scandal? PEP (Philippine Entertainment Portal) looks back to the incidentthat ignited the war between Joey de Leon and Willie Revillame.
THE VIOLET WHEEL. Last year's conflict between the two comedians started with Wowowee'sgame segment "Wilyonaryo."
One of the wheels used in the game contained both the numbers"0" and "2". These numbers represented the money a contestant could possibly takehome, either zero or two million.(Click here to read related story)
"Wilyonaryo" let the contestants chose of the colored wheels,and then asked if he or she wanted "Wilyonaryo" or "Winame."
ADVERTISEMENT - CONTINUE READING BELOW
The winner of the game that day could choose "Winame" (meaning,"Uwi na 'ko") and take home Willie's offer. Or he could say "Wilyonaryo," whichmeant the chance to win P2million.
Willie was supposed to show where the two million wasplaced. He took the violet wheel and repeatedly said thatinside was the P2 million jackpot. Whenhe pulled a card from the wheel, however, it showed "0" instead of "2."
In the background, co-host Mariel Rodriguez was heardsaying, "Ah, 'yon, walang laman!"
Willie, on the other hand, instantly said while laughing,"Mali, mali, sandali... ang two million... ay hawak ko na!" Then, he handed the film in his hand, whichcontained the number "2," to one of the dancers of the show.
When PEP tried to get the side of Wowowee with regardto this incident, an ABS-CBN executive said that it was an honest mistake and thatWillie unintentionally pulled the strip that contained number "2" so the number"0" appeared, which was said to be the base of the wheel. (Click here to read related article)
"KAYO NA ANG NUMBER ONE!" After the "Wilyonaryo" controversy came out, Joey de Leon wrotein his column "De Leon's Den" (Manila Standard)his scathing take on the "Wilyonario" scandal, titled"Transfer-mers."
In the last paragraph, he wrote, "Alam nyo, may art din yungpagsundot at patama. But naturally, all these are 'tuksuhan lang.' Tayong lahatay may mga pinagsamahan. Magkikita at maaring magkasama rin tayo balang araw.Kaya, walang pikunan. Paliwanagan lang. Biruan lang. Teasing is not bad.Cheating is... on TV!" (Click here to read related article)
That same day, Willie was in tears as he shared his feelingsabout the "Wilyonaryo" controversy and Joey's constant remarks about it.
"Hindi po ako nandadaya. Kung naniniwala kayo na nandadaya ako, iwanan n'yo po ako, iwanan n'yokami dito."
ADVERTISEMENT - CONTINUE READING BELOW
After a while, he turned his attention to Joey, "Ikaw na angbida, ikaw na ang number one, sa iyo na ang ratings, ikaw na! Sige, EatBulaga! na ang number one!
"Ako nagsimula ako sa Channel 7. Ni wala akong sinabi ni isang salita na masama sa Channel7...kaya malaki utang na loob ko sa Channel 7, diyan ako nagsimula. Sana Joey,katulad ko nagsisimula, katulad ko na humahanga sa iyo, ginagabayan mo."
While his last words for Joey were, "Ganunpaman, Mr. Joey deLeon, nirerespeto pa rin kita. Huwag mong hintayin na mawala respeto ko." (Click here to read related article)
"EXPLAIN BEFORE YOU COMPLAIN." On the following day, Joey retorted in Eat Bulaga: "Hindi pa popinapaliwanag ng taong ito bakit nagkagulo-gulo... Bakit hindi n'yo munaipaliwanag bago [ninyo] ipasa ang sisi at para malihis ang atensiyon nghumihingi ng tanong na bakit nagkaganun. Inuna n'yo pang tirahin 'yung ibangtao para, ano ba, malihis ang atensiyon?"
"Ang pagsasalita ko pong ito ay alang-alang samilyun-milyong Pilipino na nanonood ng telebisyon at humihingi ng paliwanag.Sigurado po 'yon, humihingi kayo ng paliwanag. Bakit nagkaganun? Para lang saspirit ng fairness siguro dapat natin paliwanag."
And then Joey uttered the phrase that became popular duringthis controversy: "Kaibigan, parasa 'yo 'to, explain before you complain. Paliwanag mo muna. Pag naipaliwanag mona nang maayos 'Ah kasi ganito kasi e, nagkamali, o, ganun.' Wala, e, angnangyari parang binalewala mo ang gusto ng Pilipino at ng mga sumusubaybay dinsa 'yo na ipaliwanag mo 'yung detalye." (Click here to read related article)
MTRCB MEDIATES. Chairperson Consoliza Laguardia of the Movie and Television Review andClassification Board (MTRCB) intervened in the endless word war. She commanded the two hosts to stop hittingeach other on television.
Joey promised to refrain from making snide remarks about Wowoweeand its host Willie. At the same time,he also asked, "Sana, tumigil na rin ang ibang mga kakampi niya, yung mgacohorts ba? Kasi pagkatao ko na angsinisira nila, e." The comedian-TV hostwas referring to entertainment columnists associated with Willie.
ADVERTISEMENT - CONTINUE READING BELOW
Willie also had a meeting with Chairperson Laguardia aboutthe issue. Since then, there were nocomments coming from both parties that came out in noontime shows. (Click here to read related article)
GOVERNMENT REACTS. This controversy did not only draw the attention of MTRCB but alsothe other government offices.
During the exchange of words between Joey and Willie,Senator Manuel "Mar" Roxas, chair of the Senate trade and commerce committee,expressed his intention to investigate the alleged rigging of ABS-CBN noontimevariety show Wowowee.
He even said that it would start once the necessaryinformation had been collected from the Department of Trade and Industry (DTI)and other concerned parties.
This order was given hours after Joey stated in EatBulaga, "Inuuna n'yo 'yang 'Hello, Garci.' Bakit hindi n'yo muna unahinitong 'Hello Pappy'?"
(Click here to read related article)
The DTI organized a fact-finding team to investigate theincident. It was composed of theConsumer Welfare Trade Group, Bureau of Trade Regulation Protection of DTI,representatives of the MTRCB, Kapisanan ng mga Brodkaster ng Pilipinas (KBP),and a consumers' organization.
The panel probed the controversy for two months and releasedits recommendations on November 9, which led to the filing of administrativecase against ABS-CBN in connection with the defunct "Wilyonaryo" segment of Wowowee. (Click here to read related article)
AFTERMATH. Althoughthe word war stopped, a viral video was released in YouTube showing Wowowee hostsand a contestant rehearsing for the "Wilyonaryo" game.
In that video titled "Kita Mo?" Willie Revillame was seenpracticing pulling the film strip from one of the wheels. On his first try, the wheel showed a boldblack line. On the second pull, itdisplayed a different figure.
DTI saw this video as evidence that would support theallegations against the "Wilyonaryo" game. Undersecretary Zenaida Maglaya said in a statement, "Lumalabas namukhang merong probable cause na 'yong August 20 incident ay nag-violate ngConsumer Act."
ADVERTISEMENT - CONTINUE READING BELOW
In a different press statement, however, ABS-CBN stood firmin saying that the Kapisanan ng mga Brodkaster ng Pilipinas (KBP) had cleared Wowoweeover the "Wilyonaryo" scam. KBP was oneof the members of the fact-finding panel organized by DTI.
In fact, its legal counsel, Atty. Rudolf Jularbal,reiterated in a press statement that their Standards Authority Committee found thatthere was no cheating, after the Committee investigated the equipment used inthe game and interviewed Wowowee's production staff.
After the "Wilyonaryo" controversy, both Joey and Williestopped making sarcastic comments about each other. The battlefield was silent until another viral video started tocirculate the "aswang" issue. And asthe saying goes, history repeats itself.