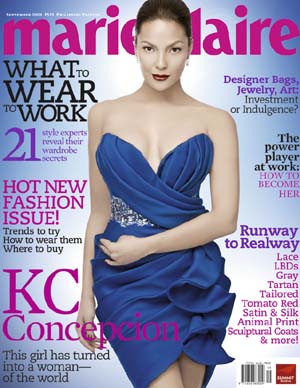 IMAGE 0
---
To say that KCConcepcion lives a life in the public eye is merely stating the obvious. Onewould expect a fishbowl existence for the daughter of Megastar Sharon Cuneta andmatinee idol Gabby Concepcion.
"It's kind of like The Truman Show," she tells MarieClaire magazine in their September issue, "When I saw that movie, I wasmoved because I felt like a big chunk of my life isn't like the rest."
It's anextraordinary life, indeed.
KC has what most young ladies her age can onlydream about: a thriving showbiz career, prized endorsement deals, an adoringpublic, and the attention of the most sought-after bachelors.
But she surprisesus by moving away from the glitz and glamour, and towards something that bringsher right back down to earth—working for the U.N. "I always remind myself thatmovies and music are entertainment, but my work with the U.N. is reality," shetells Marie Claire, "But I also knowI wouldn't have been in that position had I not been exposed in entertainment.So I know that they kind of work together in that way."
KC is seriousabout her role as Philippine ambassador of the U.N.'s World Food Programme,which runs projects for children in Mindanao. One of her advocacies is endingworld hunger. She explains, "It's the most logical thing to fight for. [But] toend hunger, you have to inform yourself, do research, know what the situationis, just how bad it is in the Philippines; or how much better or worse it iscompared to Africa and Myanmar."
Her advocacy has become more importantfollowing the fighting since August between government and the Moro IslamicLiberation Front in areas of North Cotabato, Lanao del Sur, Lanao del Norte andMaguindanao. The World Food Programme is giving rice to the 220,000 peoplethere that have been displaced by the fighting. KC also remains committed tothe Virlanie Foundation, one of her favorite charities introduced to her by Marie Claire in 2006.
ADVERTISEMENT - CONTINUE READING BELOW
Find out moreabout KC in the September issue of MarieClaire. A Fashion Special with tips on how to take trends from the runwayto real life, the September issue of MarieClaire magazine is available in newsstands and bookstores nationwide atP125 per copy.