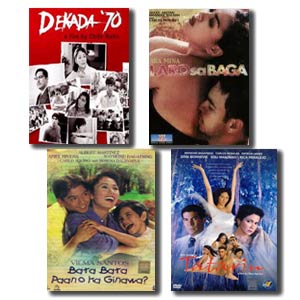 IMAGE 0
---
Novels, short stories, legends, and folklore have been partof people's lives since childhood. These literary works bring readers into aworld that they imagine for themselves as they visualize scenes and get to knowthe characters.
On the other hand, filmmaking is an artistic genre in itsown right (although not as old as novels or our own indigenous epics).Producers, directors, and screenwriters who adapt novels for the big screenface a big challenge—translating literature into sensual images with immediatemass impact.
Creative filmmakers have the artistic license to modify theplot and characterization, and to exclude details of the novel. Yet successfuladaptation means that the movie retains the original message and general flowof the story, while giving moviegoers a completely new experience.
Indeed, who can argue that the movie adaptations of J.K. Rowlings's Harry Potter series, and of J.R.R. Tolkien's trilogy Lord of the Rings, weren't blockbusters of all time?
Locally, directors and screenwriters take pride in adaptingnovels; for instance, Jose Rizal's Noli Me Tangere and ElFilibusterismo. Stories from comicbooks, like Mars Ravelo's Darna and Dyesebel,have also appeared severaltimes on the silver screen.
PEP (Philippine Entertainment Portal) lists down more novelsturned movies, which left their mark on Pinoy audiences.
Maynila sa mga Kuko ng Liwanag (1975). This FAMAS award-winning film was basedon the novel Sa mga Kuko ng Liwanag,written by Palanca literary awardee Edgardo M. Reyes.
Renowned film director Lino Brocka dramatized the tragiclove story of Julio (Bembol Roco), who came to Manila to find his long-lostlove, Ligaya (Hilda Koronel). On ashoe-string production budget, cinematographer Mike de Leon, who directed hisown great films in the '80s, depicted the poverty and filth of urban life asorganic setting for the tragedy .
ADVERTISEMENT - CONTINUE READING BELOW
This film won the Best Picture, Best Screenplay, Best Actor,Best Cinematography, Best Director, and Best Supporting Actor at the 1976 FAMASAwards. It has been consistentlyincluded in the world's 100 films of all time, the only Filipino film enteredin the book 1001 Movies You Should See Before You Die.
Bata, Bata, Paano Ka Ginawa (1998). Originally written by novelist LualhatiBautista, this movie gathered more than 10 major awards from differentaward-giving bodies: FAMAS, FAP Awards, Star Awards, and Gawad Urian.
Bata, Bata, Paano Ka Ginawa, as in thenovel, depicted a woman'sempowerment. If in the past, women wereperceived as followers of male members of the society, in this moving picture,a new-aged woman was presented through the character of Lea (played by veteranactress Vilma Santos). The heroine Lea (Vilma Santos) starts out as anold-fashioned wife whose only goal is to take care of her children and servethe needs of her man. (Not that it's wrong per se.) But eventually she realizesher own worth as a person and becomes involved with social issues, like women'srights.
The movie gave several acting awards to Vilma Santos andAlbert Martinez; and directorial awards to Direk Chito Roño. It also gave way for then young stars CarloAquino and Serena Dalrymple to show off their acting skills.
Laro sa Baga (2000). This film adaptation was another directorial work of Chito Roño. Based on the novel by Edgardo Reyes, the story is about a young couplewho fell in love while exploring the politics of sexual awakening and socialrelations. The political dynamics led to deceit and violence. This sex-themedfilm won the Best Picture award during the Gawad Urian 2000.
The cast was top-billed by sexy actors Carlos Morales andAra Mina. Supporting them were AngelAquino, Cherrie Pie Picache and Monique Wilson, who took home the BestSupporting Actress award in Gawad Urian 2001.
ADVERTISEMENT - CONTINUE READING BELOW
Tatarin (2001). Thismovie adapted the short story of National Artist Nick Joaquin, "Summer Solstice." It was directed byAmable "Tikoy" Aguiluz from the script by screen writer Ricardo Lee.
Tatarin was about the relationship of a husband andwife in the 1920s. It showed thetransformation of Lupe (Dina Bonnevie)after she took part in the liberating sacred feast called "tatarin." From being a submissive and devoted wife toher husband Paeng (Edu Manzano), Lupe became a rebel by attending the finalrite of "tatarin" with Amanda (Rica Peralejo).
Dekada '70 (2002). Another movie based on the novel of the same title by LualhatiBautista, who also wrote the screenplay, and directed by Chito Roño. Set in 1970s, the story showed how themiddle-class family of Amanda (Vilma) and Julian Bartolome (Christopher deLeon) struggled and faced the challenges during the Marcos dictatorship.
As in her other novels, Lualhati used a female character towitness the changes in Philippine society during Martial Law. Amanda was a housewife who had to deal withher five sons, each having different traits and orientation in life—a governmentreformer, a U.S. Navy man, a human- rights activist, a delinquent, and aninnocent teenager.
This historical film tied with another movie titled MgaMunting Tinig for the Best Picture award in the 2003 Gawad Urian. Besides the acting award given to the Starfor All Seasons, Piolo Pascual received the Best Supporting Actor award for hisportrayal of Jules Bartolome, the eldest son of Amanda. Dekada '70 was the Philippine'sofficial entry to the 76th Annual Academy Awards, Foreign LanguageFilm category.
Hihintayin Kita sa Langit (1991). This tragic-romancemovie, directed by Carlos Siguion-Reyna, was based on Emily Bronte's only novel Wuthering Heights. Although the movie was not based on a localnovel, we've added it to the list because it's considered one of the mostunforgettable Filipino movies. Itfeatured the tandem of Richard Gomez and Dawn Zulueta.
ADVERTISEMENT - CONTINUE READING BELOW
The movie was about the passionate love between a rich girlCarmina (Dawn Zulueta) and an abandonedchild named Gabriel. Their love storydid not have the usual happy ending because a series of events separated themfrom each other and turned the love into hatred and revenge.
Hihintayin Kita sa Langit earned Richard Gomez anacting award in 1992 Gawad Urian, while Dawn Zulueta was hailed as FAMAS' BestActress in 1992. The movie's theme wasthe classic Pinoy song Hanggang sa Dulo ng Walang Hanggan, which wascomposed by George Canseco, arranged by Ryan Cayabyab, and performed by RichardReynoso.
The movie was so memorable for GMA Films President AnnetteGozon-Abrogar that she asked its screenwriter, Racquel Villavicencio, torewrite it for another film adaptation titled The Promise.
These movies have proven the creativity of our localdirectors and screenwriters to squeeze a novel or complex story into a two-hourfilm adaptation without losing the original emotional content.
With so many literary works around us, surely there willstill be more film adaptations in the future. What other literary stories do you think will make a good movie?