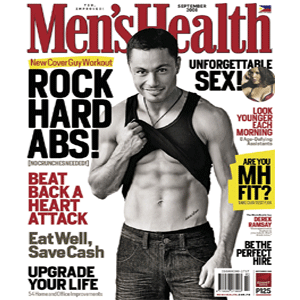 IMAGE 0
---
Life can change in just two short years.
Men's Health magazine first put Derek Ramsay on its cover in 2006,giving exposure to the upstart actor who was then just learning the ropes ofthe business—starting out as a fixture in TV commercials and as an MTV VJ.
Now,Derek has a string of both supporting and leading roles in TV shows and movies,and looks forward to future projects like soaps and movies where he'll be themain lead.
Derek is at a point in his career that some people take alifetime to reach, and he is well aware of that fact. He tells Men's Health in its September issue, "I do know that I'm being blessed and whatever work isgiven to me, I do it to the best of my capabilities."
Butfor Derek, being in showbiz is just a job. Outside the studio and away from thelimelight, Derek is just a regular guy who loves sports and has no qualms aboutplaying rough and getting dirty. "I don't even care if my toenail is dead!" heexclaims, "My manager thinks I'm a nightmare because I always play sports underthe sun—getting dark, getting injuries left and right." He grins, "But that's whoI am. And I remain that person."
As aMen's Health guy, Derek confesses to not being too fond of gyms andprefers to run outside in the sunshine, making the world his gym. He has wonMVP for numerous ultimate Frisbee tournaments, and says of the sport, "I'd loveto see the Philippines be one of the top Ultimate Frisbee teams in the world.And I wish I could be part of that, either as a player or as a coach."
Derekreveals his secret to rock-hard abs: a special, no-crunches workout! Read it tobelieve.
ADVERTISEMENT - CONTINUE READING BELOW
Grab your copy of the September issue of Men's Health magazine,available in newsstands, bookstores, and supermarkets nationwide at P125 percopy.